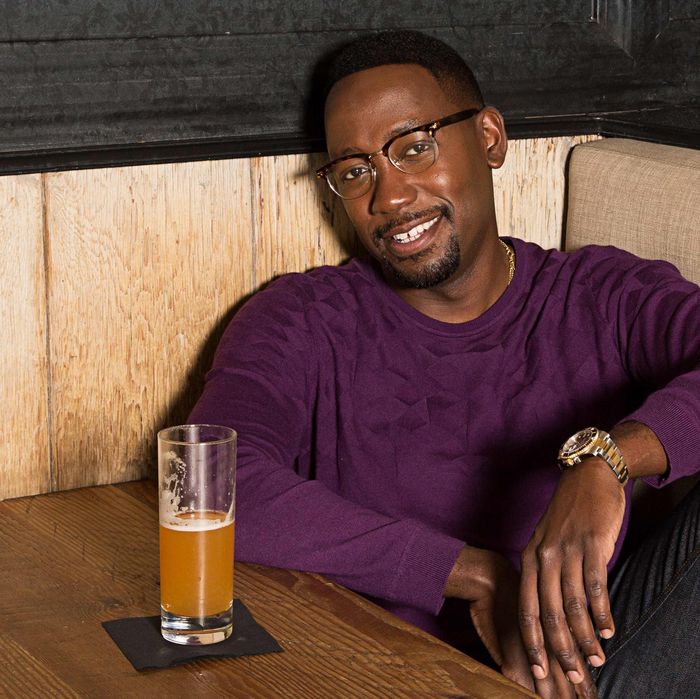 "I had been drinking, not going to lie. It was a midnight snack. Well, a 5 a.m. snack."
Photo: Bradley Meinz
Actor Lamorne Morris — best known as Winston on New Girl — made the most of his time off set this week: He went to Las Vegas with a power group of dudes that included Chord Overstreet and Nick Jonas (where they accidentally ordered way too much Wagyu beef). But Morris manages to keep things pretty tame at home — ordering sushi for delivery, enjoying Fox's catered eggs and bacon, and snacking on plenty of cashews. Read all about it in this week's Grub Street Diet.
Friday, February 26
I saw a nutritionist recently, and he said my body was in starvation mode, so it would just store fat. It was all confusing to me. Now I make these shakes that are high in fat — the "Fat Bomb Shake." It's half a cup of coconut milk, half a cup of water, something called MCT oil, a tablespoon of ghee, a tablespoon of coconut oil, cinnamon, nutmeg, and a scoop of vegan protein powder. I have that for breakfast pretty much every morning.
I had a photo shoot later that day. I'm always cautious of feeling sick on a shoot, so I just had chicken breast with these grilled mixed vegetables — carrots, beets. It was all fun and good, but it was kind of cold, so it annoyed me a bit. I hate cooked cold vegetables! If they're cooked, they should be hot.
I snacked on cashews. I used to hate cashews so much. I think when I was a kid I ate cashews once and then I threw up. Whenever I saw them, they made me nauseous. And then one day I tried them as an adult, and I said, "Jesus, these are delicious." Now I'm obsessed with them. The cashew wrappers are everywhere — in my bedroom, my car, everywhere.
Then I flew to Vegas. It was my buddy Chord's birthday, so I went to celebrate. This is a weird story: Chord said, "We're flying on my friend Nick's private jet; don't buy a plane ticket." This is going to sound terrible, but whenever you hear about planes going down, it's always those tiny planes. So I said no. And then I got to dinner, at the SW restaurant in the Encore casino, and I saw who "Nick" was. It was Nick Jonas. I thought, Oh, well, Nick Jonas doesn't die in a plane crash! There's no way God would take away Nick Jonas from us! He's so adorable.
Once we started ordering food, it got to be ridiculous. I think I found my new favorite drink: It's Don Julio 1942 tequila with cinnamon on the rim — Nick's recommendation. It's delicious. I think I had five, six, or seven throughout the course of the night. We had Wagyu beef, and what was so funny about it is that I think it was $200 for four ounces. Chord didn't look at the price and ordered 18 ounces. The waitress didn't say anything. He was eating it by himself, but it was so much. I had scallops and crab claws and all kinds of stuff, so I couldn't help him much. You should've seen the look on his face when he saw how much it was. But then the whole meal was comped for his birthday. I thought, This is amazing. If I could eat like this all the time, not only would I be morbidly obese, but I'd also be a very happy man.
Then we went to some club called XS, I believe. I'm not really a club person. I'm 32 years old — I like bars, maybe a lounge. We sat down and had a lot more of those 1942 tequilas with cinnamon. Then we smoked cigars. It was my first time smoking a cigar. It started off as unpleasant, but, again, Nick's favorite thing to do is smoke cigars, so he had an entire bag of them and kept handing them to us. At some point I started to enjoy it.
Saturday, February 27
I went with my friend Rick Glassman to a place called La Cave for brunch. It was a very quick meal. We had a long night, so I slept in. I had more beef and asparagus. I also had a vodka-tonic — hair of the dog. I had to keep it going. People think it's weird that Ketel is my vodka of choice. I've had every other vodka, but for some reason it just tastes better to me. Ketel-tonic. It kind of sounds like "catatonic," but I hope that's not the end result of a Ketel-tonic.
More cashews. And the dinner that night was interesting: It was at a place called Wazuzu. Probably some of the best Chinese food I've ever had. The orange chicken and the Brussels sprouts made me want to kidnap the chef and hold him hostage at my house and say, "Hey, man, just make this shit for me all day. You're going to see your family. Don't worry."
We did some light gambling. I don't gamble, but I thought I'd just try it. I took $100 out of the ATM, lost it in under a minute, and then of course went back to the ATM and got another $500. And of course I lost that, too, playing blackjack. I started playing roulette, and I was doing well — up $1,000 — and I got too cocky. Vegas really fucked me. I'm going to learn how to gamble. And then I'm going to come back. Overall, I lost $2,000, which I still think about. I'm like, Man, how do you people gamble?
Me and Rick and some random people we met took us to a restaurant inside the Wynn Hotel — it was like a diner almost. I think I ate calamari. I had been drinking, not going to lie. It was a midnight snack. Well, a 5 a.m. snack.
Sunday, February 28
Breakfast was water and peanuts. It was on my flight home.
I order from Postmates a lot. This was just laziness on my end, because there are sushi restaurants right by where I live, but I love Midori Sushi. I think my favorite item is albacore with crispy onions — anything that has eel or ponzu sauce on the side. When I go to Sugarfish, they don't have eel sauce, and that upsets me! I also got California and spicy-tuna rolls.
Monday, February 29
Morning on set. I had eggs, bacon, and cashews. That's my go-to, especially when I'm rushing. Maybe I should slow down on the bacon? I don't know. Bacon is delicious. It's the greatest food on the planet. It just is. If I could have bacon anything, I would. I've had bacon candy before. There's this place called Do-Rite Donuts in Chicago that my buddy owns. He asked me to create a doughnut. I told him I wanted it to be called the Lamorning After Pill. He said no. It had macadamia nuts, white chocolate, and bacon. It was delicious.
I had lunch with Chloe Blanchard. She works on the Fox lot. We were just catching up. I took her to the commissary, and I got a Cobb salad.
I was on set for 16 hours that day. I don't remember what time dinner was, but I had curry chicken and some brown rice. And then I also know I had a chicken Caesar salad. I ordered it for lunch but didn't get a chance to eat it because I went with Chloe. I murdered it for a second dinner.
Tuesday, March 1
Fat Bomb Shake again.
I was running around all day — wardrobe fittings, interviews. Before you know it, I hadn't eaten anything in a while. My buddy lives in West Hollywood, so I stopped by his house so he could help me read for an audition. We ordered Chinese food — chicken and broccoli, sweet-and-sour chicken — from this place called Hunan that he swears by, and it was really good. Though, I've had better Chinese food in Vegas.
Then I met up with Nasim Pedrad at a new restaurant on the bottom floor of Soho House. I go to Soho House all the time, but it was my first time eating here. Nasim and I hang out a lot outside of work. We're lovers. I'm kidding! We're not. We're really good friends. Even though we film with each other, our schedules are so busy that we try to set aside time for dinner once in a while to check in. Fox is creating a pilot for her, so it's getting even harder to meet up. We had Brussels sprouts, a cauliflower salad, tabouleh, Jidori chicken, and lamb chops. Everything was great.