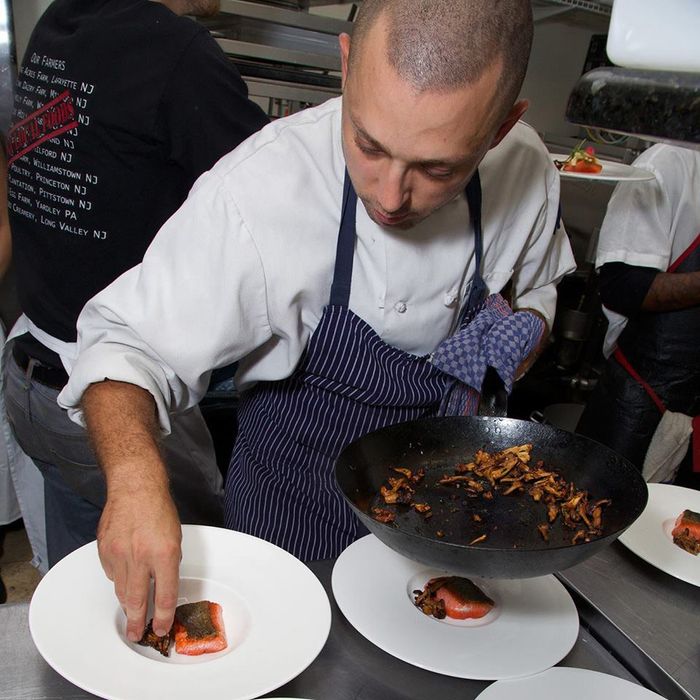 Justin Pehowic died suddenly at 37.
Photo: Justin Pehowic/Facebook
Restaurant staff often refer to themselves as a "family," but in the case of acclaimed New Jersey restaurant Jockey Hollow Bar & Kitchen, they actually appear to act like one. A New Jersey kid raised in nearby Madison, sous-chef Justin Pehowic was part of the restaurant's staff from its opening in 2014 until this weekend, when he suddenly died at the age of 37. The cook died of an apparent heart attack following a Saturday night shift, which head chef Kevin Sippel says went off without a hitch. Now, to pay tribute to him, the restaurant's staff are hanging his chef's whites and mounting a striped bass, in honor of his love of fly-fishing, in the kitchen.
In comments to the Morristown Green, Pehowic was described by his colleagues and owner Chris Cannon, a partner in All'onda, as a "pasta wizard" who was both a hardworking, serious chef and a lighthearted, consistent prankster — someone who could find humor in the high-stress environment of an intense kitchen. Sadly, he was, Cannon says, three weeks away from a promotion to chef de cuisine, certainly no small achievement at a restaurant that was named one of the country's best by Esquire. It's a touching tribute to a chef who died too young.