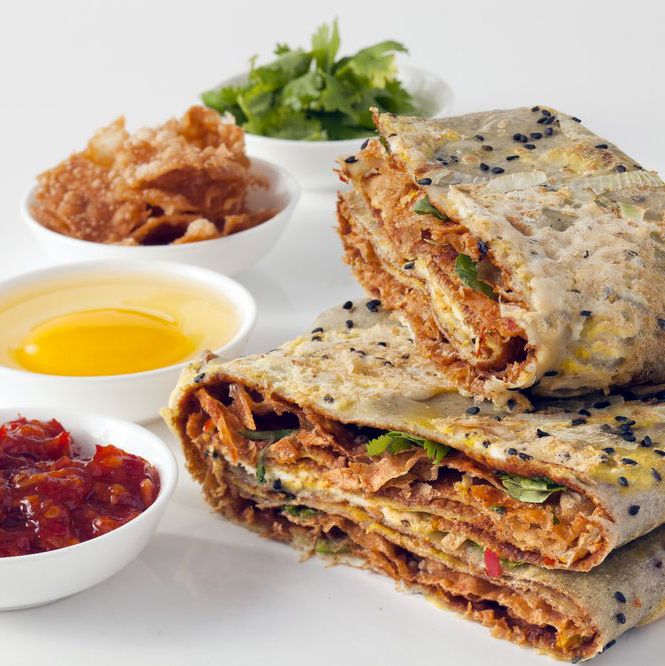 More jian bing, please.
Photo: Mr. Bing/Beijing Bites
New Yorkers are pretty good at assembling the first meal of the day, what with the city's bacon, egg, and cheese mastery, or its bagel-and-smoked-fish-fueled appetizing tradition. But there's always room for improvement. As some of New York's food-obsessed dwellers know, the city's been wanting for something essential: jian bing. A sort of savory crêpe associated with Beijing and nearby Tianjin, jian bing is made by first pouring a thin layer of batter (which can be made from Chinese black bean or mung bean with or without wheat flour) over a flat griddle. Topped with an egg, chili sauce, hoisin, cilantro, scallions, and fried wonton crisps, the whole thing is then folded up into a wraplike shape, resulting in an extremely appealing day-starter, a street snack that hits all the sweet, savory, spicy notes with a dose of crunchiness, too. In its home land, jian bing inspires the same kind of obsessiveness that pizza, soup dumplings, and tacos do here. And yet, for all the tasty things New York's Chinese-food boom has brought to the city, finding jian bing has up until now proven difficult. Google "jian bing new york" and you'll find stories of its frustrating absence. The place to find it here was, for years, a hot topic on the food-enthusiast forum Chowhound. Occasionally, jian bing were spotted in Flushing, where more people of Northern Chinese descent live, and a few places have served them over the years. The response to most of these versions, though, with one exception, appeared to be unenthusiastic.
Now New York's jian biang field could finally be heating up. In October, a food truck specializing in jian bing called the Flying Pig opened, serving Columbia students and midtown lunchers alike. A stall in Flushing's famous Golden Mall serves what is generally agreed to be a solid rendition, while a new business Jian Bing Company, started by a couple of Americans who fell for Shandong-style jian bing in Shanghai, will host a pre-launch party this Saturday.
Also entering this budding fray is Mr. Bing, currently popping up from 11 a.m. to 10 p.m. through March 31 at downtown events space Open House Bowery. A New York native who spent a year studying abroad in Beijing, owner Brian Goldberg originally launched the business in Hong Kong, though his plan appeared always to bring the food back to his hometown. Like the guys behind Jian Bing Company, Goldberg offers both the traditional jian bing and some nontraditional flavors that, in this case, include Peking duck, barbecue roast pork, and sweet versions (which seems like it defeats the point). He also, at a previous pop-up at the Garment Street Holiday Market in December, offered a bacon, egg, and Swiss-cheese version, which sounds pretty rad.
Goldberg certainly seems committed. Speaking with the South China Morning Post a couple of years ago, he said he brought in a "master jian bing maker" to train his staff — and it appears to have mostly paid off. The mildly bean-y crêpe isn't too thick or thin but has good chew, while the wonton is delightfully crispy and the sweet-spicy mix of sauces is tasty, if a little salty. The Peking duck, if you're looking to go nontraditional, is good and crunchy, if a little sweet. It's also, thanks to the lightness of the crêpe and the judicious application of the toppings, not a totally overwhelming gut-buster. Eating one will make it clear why everyone who ever goes to Beijing obsesses over this street food so much, and why you should hope New York can finally get its jian bing act together once and for all.