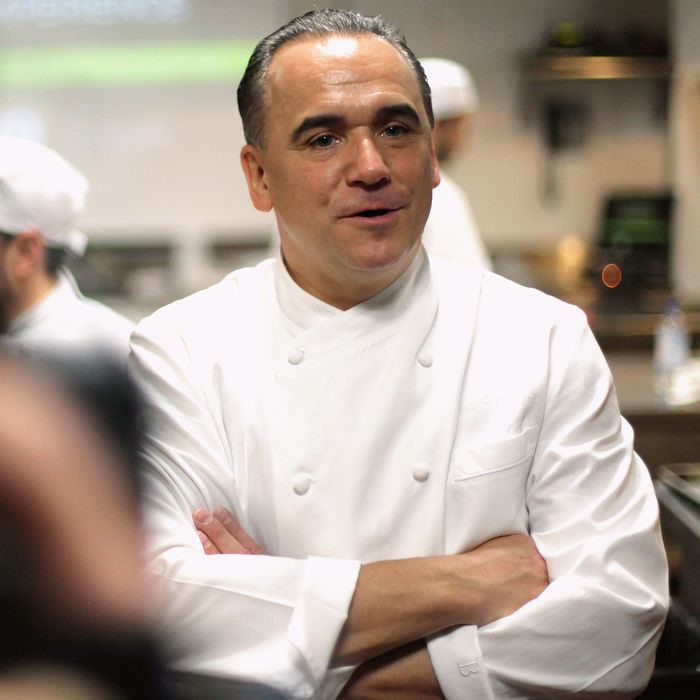 This guy is actually everywhere right now.
Photo: Neilson Barnard/Getty Images
Ever-busy empire-builder Jean-Georges Vongerichten is taking on more New York projects right now than an overcaffeinated version of the Major Food Group. Along with his long-in-the-works vegan restaurant, ABCV, and the 10,000-square-foot restaurant and 4,000-square-foot market he'll bring to the South Street Seaport in 2017, it's been revealed that Vongerichten will helm the food operations at Ian Schrager's Public Hotel on the Lower East Side.
This is a redux for the two power players: Vongerichten previously joined forces with Schrager for the Pump Room at the other Public Hotel in Chicago, where he got into the comfort craze and served a New American menu. At 215 Chrystie Street here in New York, the three-pronged operation will include an almost-2,000-square-foot market and coffee bar, with 40 seats and proposed hours of 6 a.m. to 4 a.m.; a 1,500-square-foot restaurant with seating for 114 customers; and a 1,800-square-foot garden with seating for an additional 74 people.
While the planned restaurant is described as serving "wood-burning pizzas" and "other unique and original gourmet Italian specialties," a look at the menu reveals Vongerichten won't shy away from his trademark style. Take the raw-tuna-and-wasabi pizza, the green chili in the kale salad, or the sushi rice served with the steamed skate. All in all, it's shaping up to be a busy couple of years for the chef and his crew — especially if ABCV can actually open sometime soon.