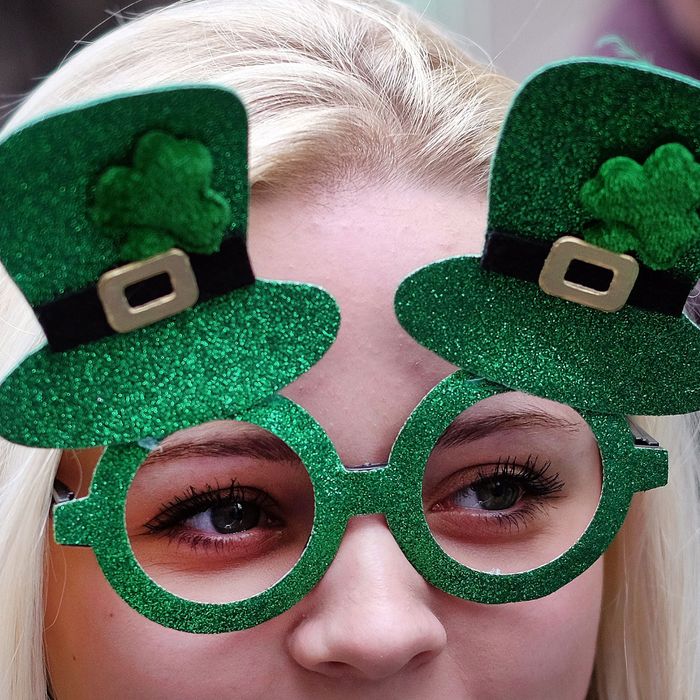 Sure.
Photo: Jewel Samad/AFP/Getty Images
In case you didn't notice the parade or the people with green beards running around, today is St. Patrick's Day. A religious holiday that Americans have dutifully turned into a celebration of beer colored with food dye. In other words, it's a day that most reasonable people know requires avoiding local pubs and beer halls at all costs. Still, you can't stay just cooped up in your apartment all day. For one, there's work. Maybe you really like corned beef and would like a civilized place to have a sandwich — or you just want a drink that first and foremost was created to taste good. Well, you're in luck because Grub has assembled a handful of reasonable, excellent-sounding specials.
Corned Beef Sandwich
Where: Bunk
Price: $11 or $15 with a Guinness
You don't have to know how to step-dance to get down with corned beef. At this Portland import, they're serving a special featuring housemade corned beef on marbled rye with bacon-braised cabbage, Gruyère, and mustard aïoli.
The Final Say
Where: Le Garage
Price: $12
Green drinks can have their virtues. The Bushwick bistro will stick to its French roots in the kitchen, but the bar has a special cocktail, the Final Say. A riff on the Prohibition-era cocktail the Last Word, their version subs in rye for gin, keeping the Luxardo maraschino liqueur, lime juice, and green Chartreuse for a hot, herbal kick.
Soda Bread
Where: BKLYN Larder
Price: $2.75 each
Irish soda bread is, undoubtedly, one of the Emerald Island's top contributions to the culinary world. At this upscale Park Slope grocery, they're getting real fancy with theirs, serving it with local flour and real buttermilk, both from upstate New York.
Chocolate Stout Éclair
Where:Dominique Ansel Bakery and Kitchen
Price: $6.50
Don't subject yourself to shamrock-themed cupcakes and mint-whatever cookies. You'll be much happier satisfying your sweet tooth with Dominique Ansel, who's marrying French technique with Irish ingredients. At both of his bakeries, he's serving a twist on the traditional chocolate éclairs, piping in a chocolate ganache accented with stout, and making four-leaf clover macarons ($14.50) filled with Irish whiskey chocolate ganache.
Caribbean Corned Beef Sandwich
Where: Lolo's Seafood Shack
Price: $10
The Irish aren't known for their love of the sun, but chef-partner Raymond Mohan doesn't mind. He's giving traditional corned beef a Caribbean touch, serving it on an islands-style Johnny cake, a cornmeal flat bread, with pickled cabbage and traditional "green seasoning," a herb-packed condiment given a kick by jalapeño peppers. It comes with a side of sweet potatoes with herbs and honey butter.

Irish Spring
Where: The Gander
Price: $14
Here's the excuse you needed to check out the Gander's new front bar room. For the holiday, they're offering a special cocktail, Irish Spring, made with Jameson, Fernet Branca, and fresh lime juice. Stay festive by getting yours with a plate of chef Jesse Schenker's corned beef and cabbage ($22).
Corned Beef and Cabbage
Where: The Breslin Bar and Dining Room
Price: $32
April Bloomfield is a Brit, but her restaurant in the Ace Hotel has embraced the holiday. They brined brisket in-house for 15 days, then slow-braised and wrapped it in cabbage leaves for today's special. It's served with Thumbelina carrots, baby potatoes, and Brussels sprouts along with house mustard, Irish soda bread, and — why not? — brown bread with Kerrygold Irish butter.
The Green Green
Where: Piora
Price: $15
At the New American restaurant, bartender Shinya Yamao has debuted a very green-hued but not cheesy highball made with tonic water, fresh mint, sudachi (a type of citrus) juice, and green Chartreuse.