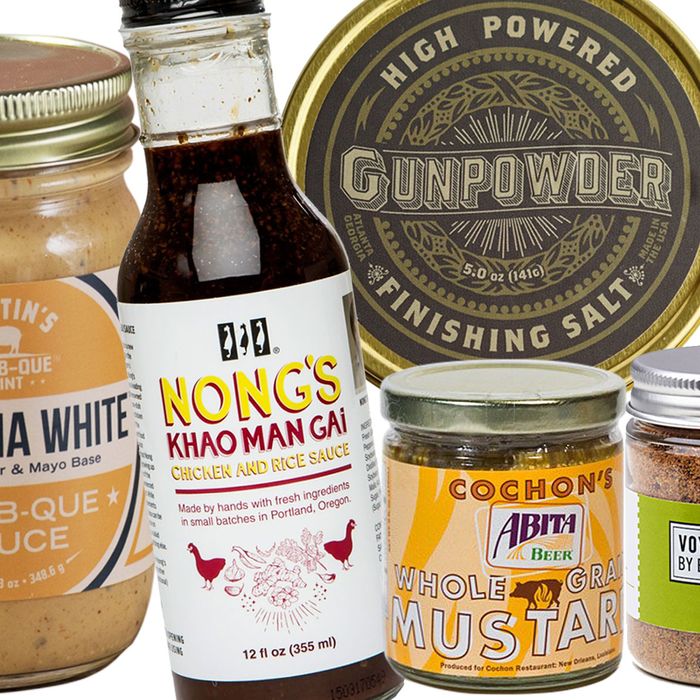 Better cooking, way less effort.
Photo: Courtesy of the Vendors
More and more fantastic restaurants are opening all over the country, making it harder than ever for industrious food lovers to try out every possible mind-blowing dining experience (and making it nearly impossible to achieve the coveted regular status at all but a handful of spots). There is, however, at least one way to get some of those spots' mojo into your kitchen: by grabbing a few specialty products that bear the restaurants' culinary sensibility, and using them in your own cooking. Here are a dozen next-level condiments, sauces, and seasonings that will help you do exactly that.
Cochon's Abita Beer Whole Grain Mustard
Price: $9 for six ounces
At the pork-first Cajun restaurant Cochon, chef Donald Link reworks and refines the dishes of his childhood without compromising their traditional flavors. Bring a little bit of the modern Cajun kitchen into your own with his whole-grain, German-style mustard spiked with local beer from Abita; it has a sharp and sweet flavor that will cut right through fatty meats.
Fat Rice's Green Dragon Kecap
Price: $10 for eight ounces
If you're looking for a new sensory experience after years of sriracha and garlicky gochujang, try this extra-floral hot sauce. One of several hot sauces produced by Fat Rice, Chicago's unstoppable Macanese hot spot, it's a combination of South American aji amarillo peppers, funky cane vinegar, and complexly sweet cane sugar.
Franklin Barbecue's Espresso Sauce
Price: $33.30 for a three-pack of five-ounce bottles
Austin's Franklin Barbecue rose to the status of an essential stop on the Texas tour de brisket thanks to its rigorous approach to slowly smoked meats. The lines there are notoriously long, even for this age of long lines, and that can make it hard to get your hands on Aaron Franklin's brisket — especially if you're in town on a short visit. Get a taste of the Franklin Barbecue experience without having to wake up before the crack of dawn only to wait several hours with his espresso-powered sauce. Flavored with brisket drippings, ketchup, soy sauce, two types of vinegar, and seasonings, it's practically a required condiment for your next meat feast.
José Andrés's Pedro Ximenez Sherry Vinegar
Price: $10.95 for eight and a half ounces
Famed celebrity chef José Andrés has partnered with gourmet Spanish foods retailer La Tienda to sell his product line in the States. For his dry vinegar, they use figgy Pedro Ximénez sherry, which they age in oak barrels until its nice and smooth. It's the kind of vinegar you'll want to apply judiciously, as a finishing, and to break out when you're looking to show off.
Guelaguetza's Mole Negro
Price: $12 for 16 ounces
Oaxacan food can be almost impossible to find even in cities like New York, but don't let that stop you from cooking it at home. Named one of the James Beard Foundation's America's Classics last year, the iconic Los Angeles restaurant Guelaguetza sells three of its famous moles in paste form. Making mole takes a ton of time, but their standard-bearer negro variety will let you cook with those complex, smoky flavors without any of the labor.
Girl & the Goat's Saute Sauce
Price: $6 for 16 ounces
A purée of fish sauce, Dijon mustard, and chili sauce, James Beard Award–winning chef Stephanie Izard's "the Sauté" was inspired by the sauce she uses at Girl & the Goat in her popular sautéed green beans with cashews. Don't limit yourself, though, as you should drench all sorts of vegetables in it.
Gunshow's Gunpowder Finishing Salt
Price: $15 for five ounces
The culinary minds behind Atlanta's compelling dim sum–style Gunshow, owner Kevin Gillespie and executive chef Joey Ward, developed this unique finishing salt, which mixes Hawaiian volcanic salt with seasonings including smoky chipotle, black pepper, garlic, onion, and lemony sumac. Grilling season is around the corner, so go get some of this right now.
La Boîte and Eric Ripert's Hanguk
Price: $15 for two ounces
As you may have heard, seaweed is the new kale, but maybe you can't figure out creative ways to incorporate aquatic greens into your cooking. The answer comes by way of this recent addition to Le Bernardin chef Eric Ripert and La Boîte spice king Lior Lev Sercarz's Voyager collection of high-end spice mixes. Meant to mimic the heat and sourness of Korean cooking, it combines chili flakes, "seafood essence," unnamed spices, and a pungent dose of seaweed.
Martin's Bar-B-Que Joint's Alabama White Sauce
Price: $6.95 for 12 ounces
Alabama's white sauce doesn't have the name recognition of certain other barbecue sauces, but some would argue it deserves its turn in the spotlight. Nashville's Martin's Bar-B-Que, which has opened three more locations in Tennessee and West Virginia, does its part to spread the gospel. Made with mayonnaise, cider vinegar, Worcestershire sauce, cayenne, and other ingredients, it's served there with smoked chicken, chicken wings, and smoked turkey. But you should certainly not limit yourself to using it in those ways.
Nong's Khao Man Gai's Sauce
Price: $9.99 for 12 ounces
Portland, Oregon's Nong Poonsukwattana has built a rags-to-riches mini-empire on the back of her acclaimed, meticulously prepared Thai-style chicken and rice at Nong's Khao Man Gai. Heavy on the ginger and garlic, her entrancing sauce is made with vinegar, fermented soybeans, aged and sweet soy sauces, palm sugar, red chilies, and other ingredients. But you should use the versatile sauce in any way you like: as a marinade, in sandwiches, with dumplings, or in pretty much any other way you want.
The Shed's Red Chile Sauce
Price: $7.95 for 16 ounces
New Mexico is first and foremost the land of green chilies; overlooking the red sauce, though, would be ignoring the smoky and sweet complexity that comes from the deeply colored peppers. Santa Fe institution the Shed's red chile enchiladas are beloved, not to mention the carne adovada and huevos rancheros, and this bottled version of the sauce will make your food taste like you're dining out with a few members of a New Mexico artists' colony.
Woodberry Farm's Snake Oil Hot Sauce
Price: $12 for six ounces
It's a hot sauce for culinary historians. At his acclaimed Woodberry Kitchen in Baltimore, chef Spike Gjerde went to the trouble of reviving the local fish-pepper communities for this product. In the style of classic American hot sauces, it's made with nothing but fermented chilies, salt, and vinegar, so the flavor of the pepper really shines. Think of it as the Chesapeake locavore's answer to Tabasco.