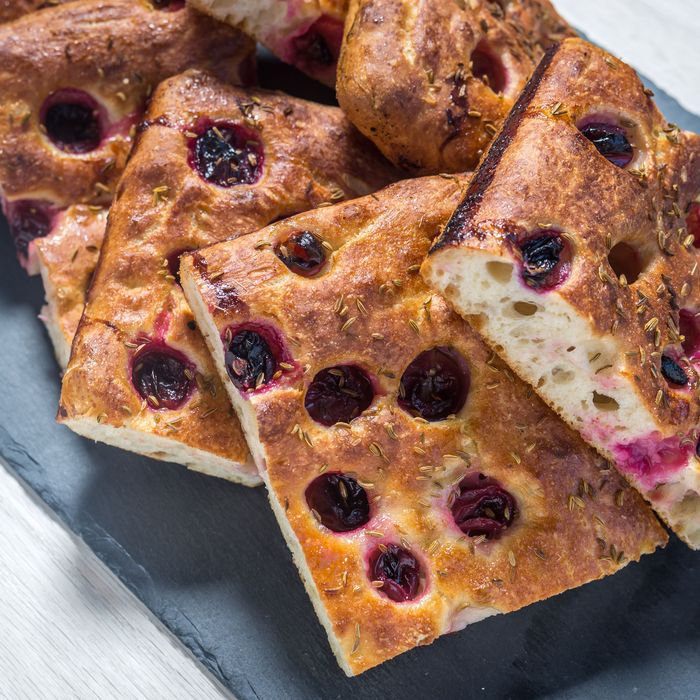 Lilia's grape-and-fennel focaccia.
Photo: Paul Wagtouicz
Considering how passionate New Yorkers are about breakfast, it's rare that people actually sit down and fully savor the meal. Given that most typically only ever eat it in a rush on the street or over a sink, there's a good chance you and your friends deserve to treat yourselves to a special morning meal once in a while. (Besides, you need to eat it.) And that's probably true even if it's a solo meal, which isn't so bad after all. Thankfully, a number of New York's more exciting new openings are trading in all-day service, high-caliber brunches, or simply tossing locals a bone by offering a few pastries in the morning. Here are ten for you to check out right now.
Egg-in-a-Hole
Where: Tekoá
Price: $8
At their new Cobble Hill café, tapas masters Alex Raij and Eder Montero are tweaking breakfast classics ever so slightly. For their version of egg-in-a-hole, the usual toast is swapped out for a griddled spinach pie from the longtime local Middle Eastern bakery Damascus. It's one dish that should become a trend.
Huevos Divorceados
Where: El Atoradero Brooklyn
Price: $10
Mexican food may be the ultimate brunch cuisine. For the first time ever, Denisse Lina Chavez, described by the Underground Gourmet as an "aspiring Lidia Bastianich of home-style Mexican cooking," has turned her attention to the meal. Her wonderful chilaquiles and restorative consommé de pollo will certainly do the trick, but if you want eggs consider the huevos divorceados. It's served with both red and green salsa, as well as beans, making it perfect for those who just can't make up their minds.
Grape-and-Fennel Focaccia
Where: Lilia
Price: $3.75
Starting at 7 a.m., a side nook of Missy Robbins's big, sunny Williamsburg restaurant operates as a makeshift café, doling out pastries that lean toward the light and Italianate. That means there's an excellent grape-and-fennel focaccia and another with cheese, as well as orange-flavored brioche with cream — not to mention specials like airy frittelle di Giuseppe. The coffee is solid, too, so post up at one of the few counter seats and linger for a while.
Harissa Baked Bean
Where: Two Hands Restaurant & Bar
Price: $14
There's avocado toast on the menu at the new Australian café, obviously, but that's not all. They're also spicing up baked beans with a dose of harissa, and serving with them with chorizo, goat cheese, and toasted buckwheat and ciabatta.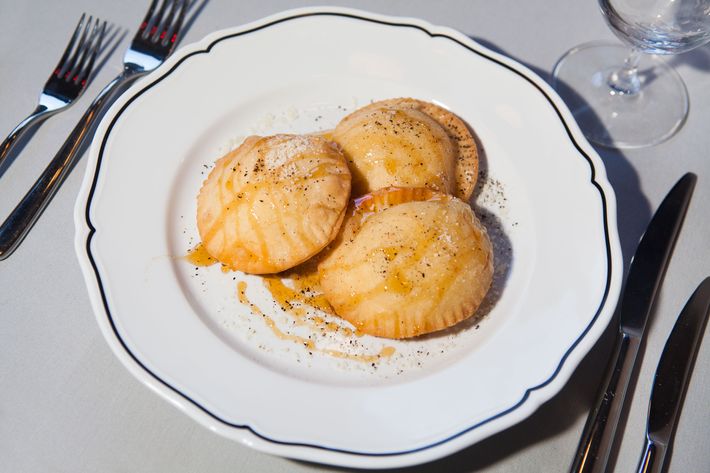 Sebadas
Where: La Sirena
Price: $17
Served three to an order, this rightfully famous Sardinian pastry is definitely the most alluring item on the menu at Mario Batali's new hotel restaurant. The fritter is made by sandwiching sheep's-milk Pecorino between semolina dough, then frying it in olive oil, and, after cooking, drizzling it with hot corbezzolo honey. Why waste your time on eggs?

Steak and Eggs
Where: The Four Horsemen
Price: $25
Need an excuse to drink a few glasses of natural wine in the morning? Head to the Williamsburg wine bar for their new brunch service, where you can indulge your inner child with a plate of steak and eggs. The cut of beef is the bistro-style bavette, which they serve with sunny-side-up eggs and spruce up with the nontraditional addition of tomatillo.
"Ramen"
Where: Kingsley
Price: 12
Sometimes you just want some noodles for breakfast. At this French-American restaurant in the East Village, the staff indulges that desire with a spin on ramen made with egg noodles, consommé, nori, pork, enoki, miso, and egg. Sounds about right for when you need to recover from a long night but don't want to pass out immediately after eating an ultra-heavy bowl of milky tonkotsu.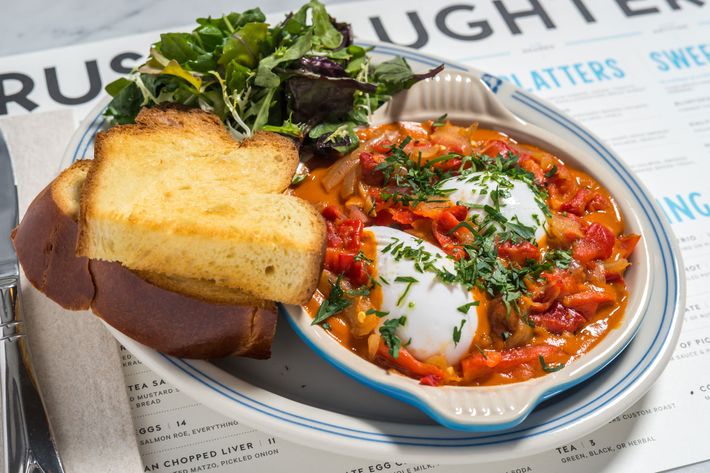 Shakshouka
Where: Russ & Daughters at the Jewish Museum
Price: $22
Along with the familiar fish and bagels, fans of the storied appetizing giant will find some brand-new dishes on the menu here. Going beyond their Eastern European roots, they're serving the Tunisian favorite shakshouka. Their version has poached eggs served in a chunky tomato sauce with caramelized onions and roasted peppers. For good measure, it comes with a couple of slices of toasted challah.
Italian Baked Eggs
Where: Ludlow Coffee Supply
Price: $10
Start with a couple of pastries at this new café from the Sweet Chick team, then make it a real meal with their "Italian" baked eggs. Cooked in a bed of marinara sauce that's topped with nutty Parmesan cheese, they're served with a side of toast for sopping up the red sauce.
Pulled-Goat, Egg, and Cheese Sandwich
Where: The Cecil
Price: $16
Chef Joseph "JJ" Johnson has turned underutilized goat into a signature of his, earning praise for dishes like goat dumplings and udon noodles with braised goat. He may have recently reworked the menu at his Afro-Asian-American restaurant, but the goat is here to stay. For his brunch menu's breakfast sandwich, pulled goat subs for bacon or sausage, the egg comes fried, the cheese is Gruyère, and there's mesclun microgreens for good measure.