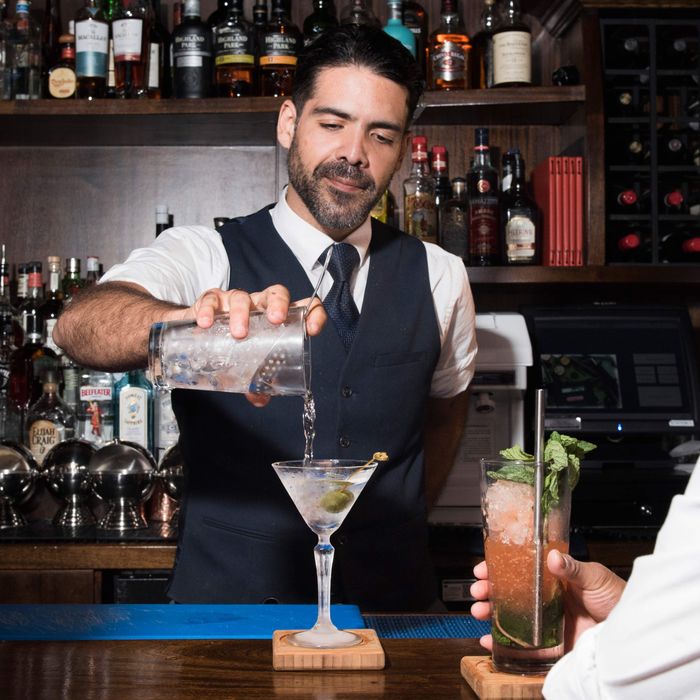 Giuseppe González has worked in basically every fantastic cocktail bar in New York.
Photo: Liz Clayman
Giuseppe González lights a Parliament as he asks if it's all right to smoke. He's not really asking. This is his bar, Suffolk Arms, which finally opened in February after months of delays. He takes a swig of coffee from an oversize Kylo Ren mug and drops his ash in a Darth Vader cup. He's a Dark Side guy. He's also what tourists and City Council members would call "a real New Yorker." Thin, with short, tar-black hair, he seems to always be doing a tough-guy character — Scarface as played by a young John Leguizamo — the kind of New Yorker who needs you to know how amazing he is as badly as he needs you to know he doesn't give a shit. And now he's got his own bar, and a lot to prove, since his career up to this point has been defined by his unique ability to make excellent drinks and to piss off basically everyone he works with.
"I have nothing nice to say about Giuseppe González, so I'm afraid that I am going to have to take the high road and plead the Fifth," one of his former business partners wrote back to me when I requested an interview. It was a typical response. "That motherfucker?" a bartender replied when I asked about González. "No. You can stop talking."
González has made his name working at some of the most renowned bars in the city — Clover Club, Dutch Kills, Flatiron Lounge, Pegu Club, the late PKNY (née Painkiller) — but it's been a rough-and-tumble run. Raised in the Bronx's Mott Haven, the poorest congressional district in the country, until he was 9, then Puerto Rico until he was 17, González calls himself "Sorta Rican" (he was born José Caravello, is known as Joey to his friends, but his Boricua mother calls him Giuseppe, he says). Family legend has it that he sneaked out of his parents' home when he was 3 and walked the streets of New York solo, over to his grandparents' place down the block. He stayed with the grandparents after that; they formally adopted him at age 9, when he picked up their surname. He says matter-of-factly that he remembers first visiting a bar at age 5, with his Italian father, a heroin dealer and user who contracted HIV and died in 1994.
González eventually attended Cornell University but never graduated (he says he's 11 credits shy), and his actual interest in drinks came even later: In 2005, González had an Old Fashioned at Milk & Honey, Sasha Petraske's fabled bar that kicked off the entire cocktail revolution. It was the aha moment. Soon he was making drinks at Flatiron Lounge for Julie Reiner, and eventually worked his way through the city. He's been a serial winner of cocktail competitions, and he invented his most famous concoction, the bitters-heavy Trinidad Sour. Eventually he knew he needed his own place, but he was banned from being part of a liquor license because of a criminal record of possession of stolen property (he served six months in jail at a work-release program for violating probation). He couldn't fully own a bar, and, he says, he was always kept "disposable" by partners who took advantage of his sweat-equity enthusiasm. In 2010, he was one of the principals at Painkiller, an underground tiki bar that ran into trouble almost immediately. It had to change its name to PKNY because of a lawsuit, got shut down by the Health Department for operating without a permit, faced underage-drinking charges, and then was denied a lease renewal.
He next helped open the bar Golden Cadillac in 2013, where he says he refined the concept for three years, only to be booted three weeks after it opened. (That bar is now called Boilermaker.) He got his ass kicked, basically. "I hated everyone in the industry," he says. "I hated everything it's about. But I loved making drinks." So, after a call from Pegu Club owner Audrey Saunders, he ended up taking a job in Pegu's service well, a dark corner tucked behind the actual bar, away from customers. "The best job I ever had," he says, "because I could focus on the craft and didn't have to talk to anyone."
It wasn't exactly rock bottom, but it did give him time to plot his next move more carefully. His record is now clear (so his name can appear on the liquor license), and he's in business with Ruben Rodriguez, who owns Bronx Havana Cafe and has been González's friend — a virtual brother — and a fellow member of the Lambda Upsilon Lambda fraternity.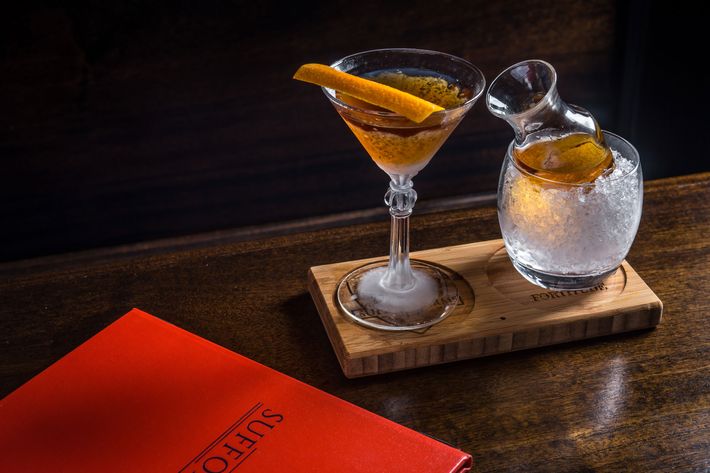 Their spot, Suffolk Arms, is inspired by the Churchill Arms, a pub in London where the vibe is Irish, the staff is Australian, and the food is Thai. Similarly, Suffolk is a paean to the eclectic and ecumenical ethnicities of the Lower East Side: the menu includes salchipapas (shoestring fries with chopped fried hot dogs), Thai chicken wings, matzo-ball soup, a Chino-Latino platter (seasonal dumplings made with, among other things, Cuban pork), and a smoked-fish platter from Russ & Daughters. Its mottos and mascots are Patience and Fortitude, the lions who guard the flagship New York Public Library.
In other words, it's not a fake speakeasy; it's another excellent cocktail bar that moves away from most of the tropes of the "mixology" movement, which now feels like a parody of itself. (In San Francisco, the Library is a standing-room-only faux speakeasy inside faux speakeasy Wilson & Wilson Detective Agency, which itself is inside faux speakeasy Bourbon & Branch.) Instead, Suffolk Arms sits comfortably beside other bars that ditch the frippery and handlebar mustaches in favor of an aesthetic that highlights owners' distinct points of view on carefully made cocktails. Look, González says, at Attaboy, which is in the old Milk & Honey space and run by Michael McIlroy (who sometimes goes by Mickey) and Sam Ross.
"What we're seeing now is everyone who came up together spinning off and doing their own thing with their own personality," González says. "Attaboy is what Mickey and Sam wanted Milk & Honey to be. Bar Goto is Kenta's take on being a Japanese New Yorker; it's how he would do Pegu." He points to Ivy Mix's pan-Latin drinks at Leyenda in Carroll Gardens, too. "It's not that the bars we came from have no personality. We're just adding in our own directions, evolving into our niches. I love Pegu. It's the best bar in the world. Perfect. Fricking flawless. But it's not whatchamacallit — it's not mine."
Suffolk Arms is his, which means he can't really take the scorched-earth approach to his fellow bartenders that he was once known for. That, too, seems like it's changed.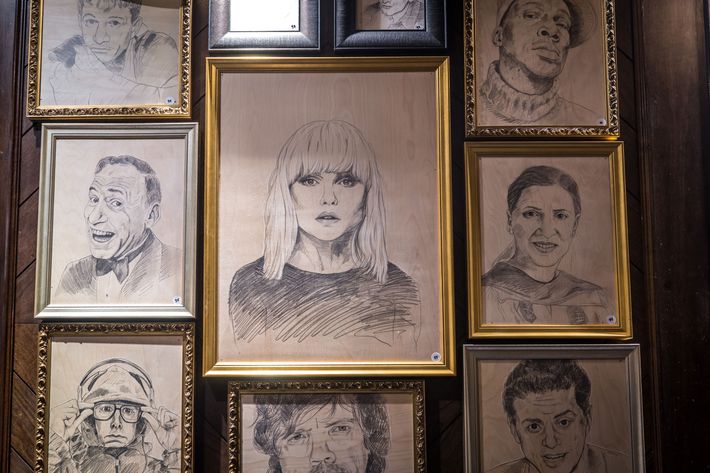 "He's a boss," says Pegu Club's Saunders. "He was always meant to be." Reiner, who now runs Clover Club, agrees: "He's not looking to make millions. He's looking to make impact." The admiration goes both ways: The portraits of both women appear on Suffolk's menu, alongside the historic New York restaurateur Bernard "Toots" Shor. González explains the grouping: "Julie, who started me; Audrey, who saved me; and Toots, who inspired me."
Suffolk's most striking décor is 83 (and counting) hand-drawn portraits of famous New Yorkers of the sort ignored by Sardi's: Neil deGrasse Tyson, Sonia Sotomayor, Peter Dinklage, Bobby Fischer, Langston Hughes, Lin-Manuel Miranda, KRS-One (he plans on hanging Robert Moses in the bathroom). Bartenders like Petraske are there, too. His menu pays similar tribute to those who came before him. The classic cocktails all include shout-outs to the mixologists and bars of their origin.
It's all part of Suffolk's main idea: to create a bar that values authenticity and New York's heritage above all else. González knows that being a New Yorker isn't about being in love with yourself as much as it's about being in love with your city, and he doesn't want his bar to succumb to the fate that has befallen other Manhattan drinking dens. González gives the example of Pete's Tavern, the Irving Place spot from 1864 that bills itself as the oldest continuously operating restaurant and bar in the city. "You go there and you're listening to Prince! There are no uniforms. There's chicken fingers. There's ESPN." He puts out his cigarette and finishes his coffee. "What's the point of being the fricking oldest bar in the city if you're gonna go down like that?"