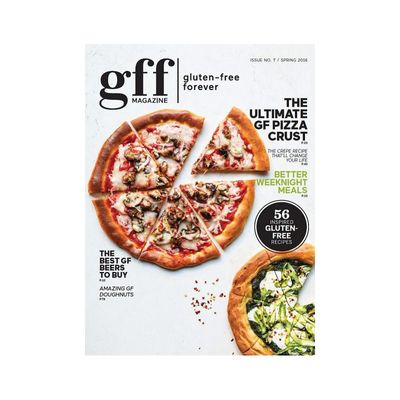 GFF's upcoming spring 2016 issue.
This is convincing evidence that the gluten-free movement isn't going anywhere. Meredith Corporation — owners of brands including Every Day With Rachael Ray, EatingWell, and Shape — will distribute San Francisco publication GFF: Gluten Free Forever beginning April 19, with the magazine's spring 2016 issue. Launched in October 2014 during the indie-food-rag boom, GFF had until now a relatively minor circulation of 12,000 copies. The magazine will move far beyond the select Whole Foods and specialty food retailers that have carried it so far, as distribution will skyrocket to 250,000 copies and be done on a nationwide, mass-market scale.
The magazine might have been an upstart focused on a niche, if growing, market, but its founders certainly weren't. Editor-in-chief Erika Lenkert, who says she has been gluten-free since 2001, has an extensive résumé that includes stints as executive editor at Glam Media, the North Bay food critic for the San Francisco Chronicle, and a recipe developer for the likes of Every Day With Rachael Ray and InStyle.
Glossy and manicured with high-quality paper and attractive photography, the magazine certainly taps into the current vegan-glow moment. There are recipes from chefs such as Delfina's Craig and Annie Stoll or 2014 JBFA winner Shauna Ahern; product guides to cake mixes and an upcoming gluten-free-beer roundup; travel tips and guides for places like Luang Prabang in Laos and New Orleans; and entertaining guides for all sorts of occasions. It's basically a one-stop shop for gluten-free living, and, with a still-growing market, it could be big.