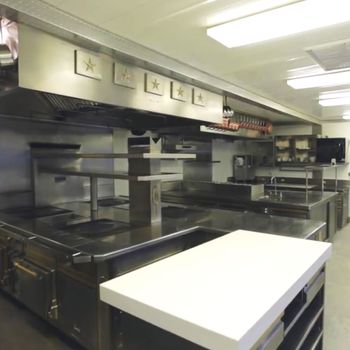 Thomas Keller says put those kitchen-renovation plans on hold: The 1,120-square-foot space the French Laundry team has occupied while they await their new kitchen digs is officially for sale. Keller says it's an everything-must-go situation — all of what's currently housed in the four shipping containers he installed a year ago will become property of the highest bidder. Which is what makes it such a rare buy: The equipment inside is the same stuff Keller and his team have been using for the past decade. The whole shebang was simply relocated into the containers out back so the restaurant could undergo a thoroughgoing refurbishing. But that work's almost done, and on Facebook Thursday, Keller announced this means the time has come to say good-bye to the containers and their contents.
The time has come for us to find a new home for The French Laundry's temporary kitchen. As of today, this kitchen, the…Posted by Thomas Keller on Thursday, March 17, 2016
The post gets understandably nostalgic. Keller writes that this kitchen has "touched lives" and "holds a lot of sentimental value, not just for me, but for the restaurant and our entire team, who have prepared food in it, passed between it and the dining room countless times, and washed dishes here, keeping it orderly and clean." The new owner will get the iconic five brass stars above the pass, the "Sense of Urgency" plaque, and the ability to remind guests whenever he or she wants that they're eating food cooked in a three-Michelin-star kitchen. People who earnestly want it are encouraged to contact Keller's restaurant group through a special email address, tempkitchen@frenchlaundry.com.
[SFGate]