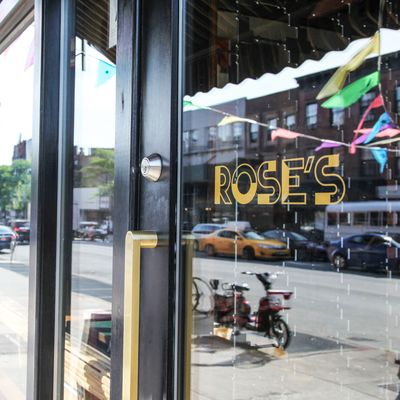 The new owners aren't changing too much.
Photo: Hannah Mattix
The space that housed the original Franny's — the excellent locavore-leaning pizza place that all your Park Slope friends still love — has gone through a couple of iterations since owners Francine Stephens and Andrew Feinberg moved it to a bigger location down the street. First, it was Marco's, an upscale trattoria that was maybe just a bit too upscale to be the go-to neighborhood spot people wanted. So, Stephens and Feinberg turned it into Rose's, a bar and restaurant with a streamlined menu and the distinct appeal of an American tavern. (As is the case with all taverns worth discussing, the burger has developed a following of its own.)
Now the couple has decided to sell Rose's to the current managers, Alicia Nicolette and Kate O'Connor Morris. The plan, Morris says, is to keep things pretty similar, such as the name, which won't change. When the duo officially takes over on April 1, though, there will be some tweaks, starting with food service that runs later, ending at midnight on weeknights and offering a "whimsy" bar food menu that goes until 2 a.m. on weekends. Speaking of food, there will also be a new executive chef, Buzz Frazier, who is currently the chef at Bklyn Larder, the Flatbush grocery also owned by Stephens and Feinberg.
With Frazier in the kitchen, the menu will go through more of an evolution than a full-on overhaul (in other words: the burger isn't going anywhere). "We're going to keep pushing it in the way that it's elevated bar food that isn't pretentious, with a heavy emphasis on seasonality," Morris says. "Kind of what you want bar food to be now — healthy but sleazy."
In any event, it all seems like an affable changing of the guard, one that isn't likely to alter the overall Rose's experience too drastically. "Franny and Andrew are people that really foster talent within their company," Morris says."We opened Rose's together, and then Franny and Andrew kept saying, 'We really feel like this place is yours.' We always sit down for a meeting after the new year, and we pitched them this idea, and they thought it seemed reasonable, so that's what we're in the process of doing now."