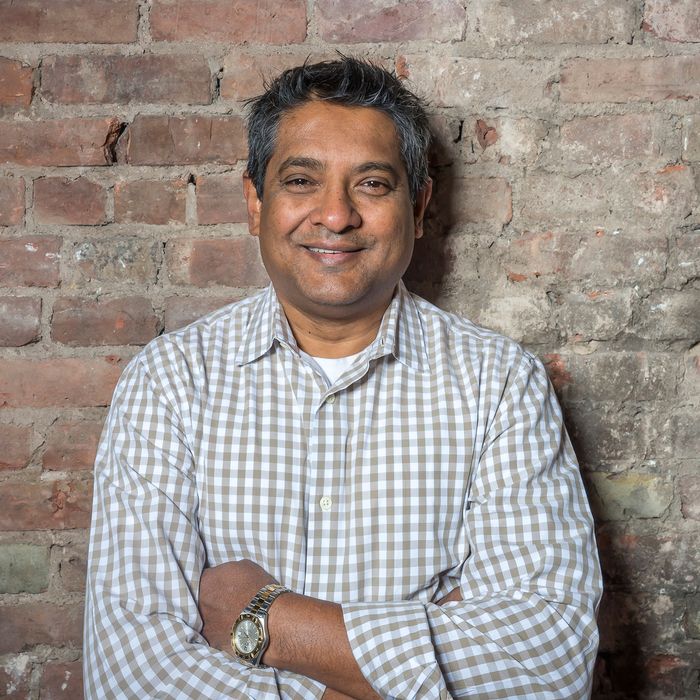 Cardoz opened the Bombay Canteen in Mumbai.
Photo: Noah Fecks
Even without a New York restaurant of his own right now, Floyd Cardoz remains one of the city's most recognizable, celebrated chefs. It's been half a decade since he closed Tabla, the highly decorated modern-Indian restaurant he ran with Danny Meyer next door to Eleven Madison Park, but even as he spent that time moving through several other kitchens — and winning a season of Top Chef Masters — he never fully returned to the elegant, thoughtful Indian cooking that first made his name. It's one reason why anticipation is high for Paowalla (named for Mumbai's bread vendors), the restaurant he'll open in Soho later this year.
When it opens, Paowalla will join a fast-growing roster of ambitious new Indian restaurants in New York. Babu Ji, which was opened last year in the East Village by Jessi and Jennifer Singh, is one of the city's biggest success stories. Many people say it does for Indian food what Momofuku did for ramen, and New York's Adam Platt called it one of 2015's best new restaurants. Just a few weeks ago, Delhi-based chef Manish Mehrotra opened a midtown outpost of his own high-minded gastronomic laboratory, Indian Accent, which has been named among the best restaurants in Asia. (It's also worth noting the success of high-end Indian joints like Dishoom in London and MG Road in Paris.)
That's no guarantee that pappadams will become the next pork buns, but it does feel like the making of a full-blown trend. And Paowalla is being hailed by some watchers as Cardoz's big return to the kaleidoscopic flavors of his home country — even though he already had that return with his restaurant the Bombay Canteen, which he opened to great acclaim in Mumbai last year, three decades after the chef first left.
Cardoz says he first got the idea for a restaurant in India when he was working at Tabla: "I always told Danny I wanted to do a restaurant back in India," he explains. The chef waited, though, until he found a partner familiar with working "in the system," as he puts it. When CEO Sameer Seth, who opened North End Grill with Cardoz in 2011, and COO Yash Bhanage, then based in Singapore, approached him in 2014 with their plan to start something in India, he knew he'd found his team.
The restaurant celebrated a year in business last February, and it is still the toughest reservation to get in India's biggest city. Ask Seth why he thinks it's so successful, and he might as well be talking about the farm-to-table movement that took hold of Manhattan in the last decade: "It's important to get the flavor of the place you're in," he says. "You see the inspiration we have here. The small restaurants are the best ones."
Before Bombay Canteen's opening, high-end restaurants in Mumbai were, with few exceptions, aping cuisines from other countries, more likely to serve imported asparagus than crisp roundels of bitter gourd, or overpriced salmon in lieu of the fiery fish curries you'll find at no-frills, fluorescent-lit canteens all over town. "It was high time people went back to Indian food," Seth explains of their decision to focus on the country's native cuisine. So Cardoz's menu, which he developed with chef de cuisine Thomas Zacharias, is full of adaptations of regional delicacies that make the most of India's bold, brash flavors.
There's a salad made from baby fenugreek, delicate and bitter, like a cross between alfalfa and watercress, and deep-fried golden anchovies make the case that all fries should be prepared with tiny fish; there are also gussied-up versions of quintessential street foods, and witty updates of anachronistic Raj-era snacks — ingredients and dishes that, before the Canteen, were too humble for most high-end kitchens. Roshni Bajaj Sanghvi, one of the city's most prominent food writers, says it "epitomizes everything about food in Bombay today." She adds, "I can safely say 20 other places have opened since, trying to do what the Canteen does." Rahul Akerkar, whose restaurant Indigo is the granddaddy of India's fine-dining scene, described the Canteen's cooking as "friendly, familiar — fun food. We have a word in Hindi — chaatpath — it sits well in the mouth."
Cardoz, meanwhile, says the appeal is something even simpler: "If you tell the story of the provenance of a dish, people will eat it." He adds, "People need to believe that you're not being cute and you're not fucking with them." Paowalla won't be a new version of the Bombay Canteen, but it will be informed by that same ethos. "The really important thing at Bombay Canteen was using only Indian ingredients. So will [Paowalla] be adapted for New York? Yeah, it will be," he says. "There will be a lot of local, northeastern seafood. There will be a few Indian terms on the menu, but not too many, because humans don't want to feel dumb. I'm going to tell you what things are."
Paowalla will reflect much of what people loved about Tabla when it first opened, though without the table linens and Madison Avenue décor. Cardoz thinks the time is right for New Yorkers to embrace serious Indian cooking again: "People have tasted things now, they've traveled, they understand that there's more to Indian food than chicken tikka masala and naan." He laughs. "I didn't even eat naan until I was 19."
Even still, this is New York City, and diners have come to expect certain things. Cardoz clearly understands what makes restaurants work in Manhattan: "I have a wood-burning oven. I have a farmer who's growing me fenugreek. I want to try and use sorghum," he says. Also, because this is Soho, there will be brunch. "We do restaurants really, really well in New York," Cardoz explains. Yes, he wants to do things with Indian food that New Yorkers possibly haven't seen, but he also wants his new place to be as much a reflection of his adopted home as the Canteen is of his birthplace: "I want Paowalla to be a quintessential New York restaurant."