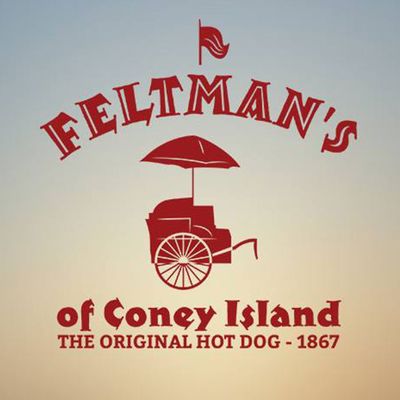 Although, Charles Feltman probably didn't do any pop-ups.
When people think of hot dogs, they likely think of the iconic Nathan's as the original, but fellow Coney Island brand Feltman's preceded it by half a century. It was founded in 1867 by German immigrant Charles Feltman, who is often credited with having invented the hot dog or Coney Island red hot. Feltman's went out of business in 1954, after which Nathan's, opened by a former Feltman's employee, assumed the mantle and later claimed that it serves the original Coney Island hot dog. And in that all-important mark of a famous New York City food brand's significance, there is even a European impostor. Last April, Coney Island historian Michael Quinn and his brother Joseph, who own the original trademark, promised to revive the historic brand, and, nearly a year later, they're ready to kick things into high gear.
The Feltman's revival went into action last May with a (very modern) pop-up at Ditmas Park bar Sycamore, which specializes in bourbon and is located in the back of a florist shop. Other pop-ups were hosted around town, and hot dogs were sold at St. Marks' Augurs Well — no doubt a statement to next-door neighbor and nouveau dog specialist Crif Dogs. The following month, Quinn set up shop on the Lower East Side, where Feltman's does thrice-monthly pop-ups at Parkside Lounge on Houston Street. At all of these pop-ups, they have served just hot dogs and housemade mustard.
Now Quinn says they're gearing up for the real comeback. The hot-dog entrepreneur tells Bowery Boogie that they're looking to expand big by Memorial Day weekend and that consumers will soon find Feltman's hot dogs at restaurants around the city. The wieners themselves are in good hands. To ensure the expansion is done right, Quinn has brought on sausage-industry veteran Josef Brunner, who helped make the hot dogs for the late Bark Dogs, to produce hot dogs according to the Feltman's recipe. A return to Coney Island is still in the cards, too, and Quinn launched a Kickstarter campaign to raise funds for the brick-and-mortar.
It's always a great thing to see a truly historic brand make a comeback, but Quinn appears to be going the extra mile to do it right. He didn't have to hire a guy with Brunner's pedigree and experience, after all. The return of the original hot dog couldn't have come at a more important time, either, what with Burger King's inexplicably successful dogs threatening to take over the country.