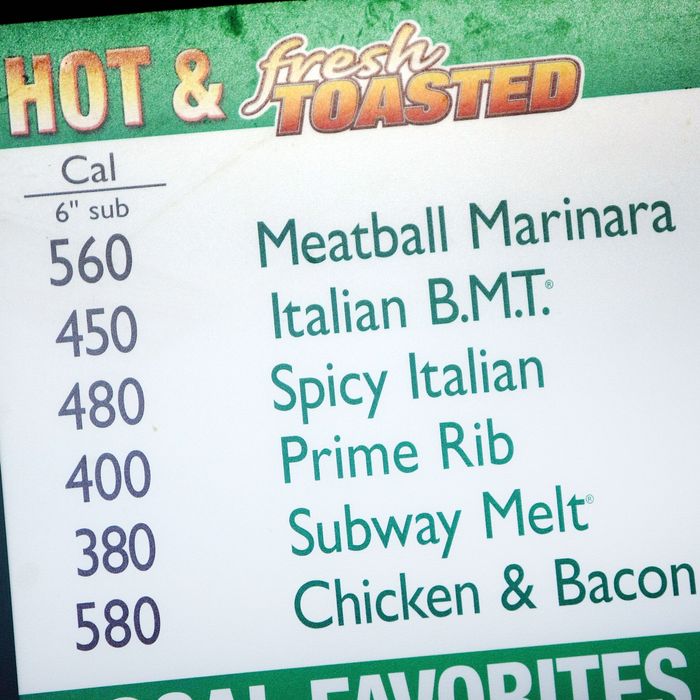 Too soon?
Photo: Mario Tama/Getty Images
The food industry's strategy of griping the FDA into submission has paid off once again. Restaurateurs, grocers, and others who sell prepared food have been opposed to a rule requiring them to "clearly and conspicuously" post calories on menus since it was announced in 2014, and their almost nonstop complaining has officially delayed its implementation for a third time. Originally set for the end of 2015, the deadline for complying was first bumped to the end of 2016, and now the AP says it's been pushed back to the vague date of "until next year."
There's a jumble of lobbying interests at work, which is surely complicating the FDA's job. Supermarkets, movie theaters, and convenience stores all insist the rule is unfair to them, and pizza chains claim it's silly and wasteful because nobody orders pizza in person anymore. Right now these groups are backing a bill in Congress meant to address several of these beefs, but, at this rate, it may end up on the next president's desk instead of Obama's.
The FDA says it's busy finalizing the labeling guidelines but "cannot speculate on the timing." Backers are getting kind of peeved, especially since industry lobbyists have made it clear no detail is too small to complain about. "The anxiety is that they're going to get it wrong," one tells the AP. "Maybe the font size isn't right for their label or they rounded the calorie count the wrong way."
[AP]