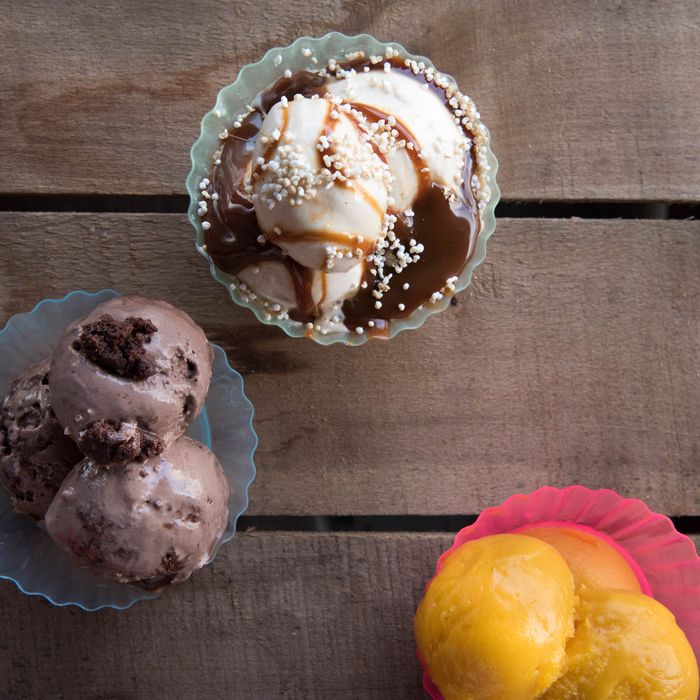 This is definitely good news.
Photo: Liz Clayman/©2016 Liz Clayman
Fany Gerson is a big name in the New York City sweets scene. She's the chef and a co-owner of the hugely popular Dough and the brains behind Mexican treats specialist La Newyorkina; she also did a stint at Eleven Madison Park and once developed recipes for Rosa Mexicana. A native of Mexico City, she's authored a pair of books on Mexican desserts as well — the Popsicle bible Paletas and the fantastic, James Beard–nominated My Sweet Mexico — and is currently working on a third about the country's ice creams. Now, five years after launching La Newyorkina, she's opening a Mexican-inspired ice-cream and sweets shop of the same name.
Set to open in late June or early July — a.k.a. peak ice-cream season — the new store is several years in the making. Gerson, who took over the recently vacated Peanut Butter & Co. space at 240 Sullivan Street near Washington Square Park, has been plotting the store since 2011, but she faced a long and rocky road to recovery after Hurricane Sandy wrecked her production facility. As such, this shop will be her first proper brick-and-mortar, though she has operated a retail counter, La Tiendita, out of her Red Hook facility since 2014 and pop-ups all around the city.
What to expect? Lots and lots of treats, frozen and otherwise, south-of-the-border style. There will be "at least" 30 to 40 different flavors of her acclaimed paletas as well as the fruit-flavored chamuyadas, which Gerson describes as a cross between shaved ice and a slushy. Ice cream will come in, Gerson expects, possibly 15 different flavors, and there will be a real emphasis on sorbet, which is a big deal in Mexico but she thinks is an afterthought in the States.
Most excitingly, she will debut a brand-new frozen dessert: nieve de garrafa, a more obscure treat that is probably unknown to most New Yorkers. Unlike traditional ice cream, it is not churned but hand-made with a paddle and — because it can't hold up overnight — has to be made fresh each day. Described by Gerson as "custard in its purest form," it will likely be available in three flavors: nut (such as pecan or pink pine nut); requesón, a salty ricotta-like cheese; and a creamy one with seasonal fruit.
Along with the frozen treats, there will be candies like spicy candied orange peels and sugar cookies during the summer, and toppings for the ice cream like cherry compote. Fruit will come first during the summer, the shop will be decked out for Day of the Dead, and during the winter they'll serve heavier flavors and treats like churros, Mexican coffee, and champurrado (a hot chocolate and masa beverage). "It's just really a celebration of Mexican sweets," Gerson says. "This is just the beginning, but for me this has always been the dream."