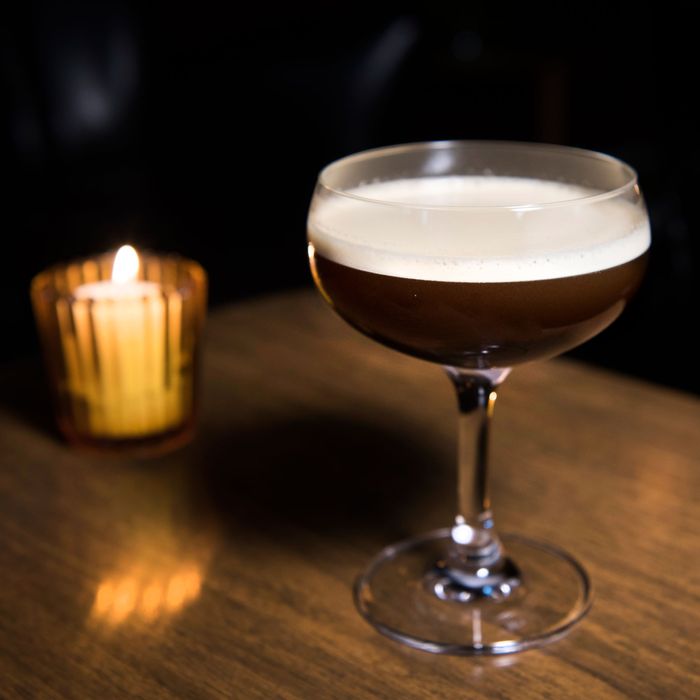 The thoughtful version of the drink served at Dear Irving.
Photo: Liz Clayman
An espresso martini is not the kind of drink you would have ordered at a serious cocktail bar a few years ago. To start, the main alcoholic ingredient is vodka — all but verboten at secretive bars that considered themselves to be among the mixological elite. It also has an air of frivolity to it, the kind of drink you'd order at a resort or on a cruise ship, more of a joke than a proper cocktail. But every good bartender knows that even the most reviled drinks can be saved if treated with the proper care and respect, and it seems the espresso martini is about to get the attention it's been missing all these years.
"It is one of my favorite modern cocktails," says Meaghan Dorman, who's offered a version of the drink on her Dear Irving menu since opening nearly two years ago. "I have a rule that if I see an espresso martini on a menu I order it, for better or worse. I love to try different versions."
The problem, of course, is that many versions of the drink aren't that good. It's a risky order, and it's entirely possible you'll wind up with a thin, cloying, murky mix of coffee liqueur, sickly sweet syrup, and vodka. There may even be a few (non-potable) coffee beans floating around in there, too. Such is the injustice inflicted upon a drink that, at its inception, was actually quite novel: The late, legendary London barman Dick Bradsell invented a proto-version of the espresso martini nearly three decades ago (the name would come later, though) when, according to legend, a supermodel asked for a drink that would "wake her up, then fuck her up."
The drink was a hit, and it's why Dorman saw an opportunity to take the espresso martini seriously once again. To start, she teamed up with Irving Farm Coffee Roasters, who happen to have a shop close to her bar. "There is such a serious coffee movement happening that we have great coffee and espresso to work with and baristas happy to help find the best element for cocktails." For her version, she starts with dark-roasted beans that are cold-brewed, then mixes the coffee with Galliano ristretto espresso liqueur, vanilla liqueur, and vodka.
When made properly, with thoughtfully mixed, high-quality ingredients, the espresso martini is an excellent drink, at once bitter and sweet, rich but still refreshing. It's on the menu at Giuseppe González's popular new Suffolk Arms, and Aaron Shuttleworth, the head bartender at the new Two Hands Restaurant & Bar in Tribeca, makes his with homemade coffee liqueur (which involves cognac and Carpano Antica vermouth) and cold brew.
It is true, however, that the espresso martini still has a certain stigma, so it's not exactly popping up on cocktail menus all over the city — yet. (The drink's continued popularity in Australia of all places is evidence that it's a cocktail people can get behind.) And bartenders have taken notice of the movement (or are maybe just sick of whipping up yet another pre-Prohibition creation with homemade bitters), even if they mostly still discuss it with each other.
In the same way bartenders used to offer shots of Fernet-Branca to other people in the industry as something of a secret handshake, so, too, has the espresso martini become the kind of drink that established professionals can order from each other with a knowing wink. Some have even taken to making espresso-martini boomerangs — the industry term for drinks that on-duty bartenders make for staffers at other bars, which are messengered over by friends and regular customers. Others make themselves the drink for more practical reasons, like staying alert during a long, grueling shift.
Mostly, though, the renewed interest in espresso martinis seems to be the inevitable reaction to the self-serious attitude that has permeated many cocktail bars in the last decade, where drinks were appreciated for their esoteric histories and unusual flavor profiles. "Let them jerk each other off over some obscure piece of shit that no one has ordered for 70 years," Shuttleworth says. "I'll be banging out 10 espresso martinis that taste great and leave people with smiles on their faces."