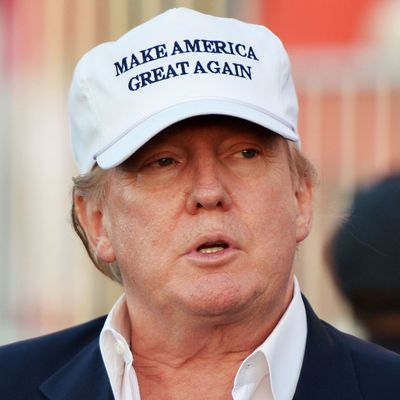 They'll meet in court on September 1.
Photo: Drew Hallowell/Getty Images
Fast-food panderer Donald Trump is busy rampaging across the country in his quest to become America's supreme leader, but he's still having a hard time with the hospitality industry. The presidential hopeful, along with his daughter Ivanka and son Donald Jr., is the target of a lawsuit filed by catering employee Deborah Garcia, who claims that Trump SoHo Hotel illegally stiffed catering staff out of tips. She hopes for the suit to go class-action, and the hotel's developers, the Sapir Organization and Bayrock Group LLC, and sushi restaurant Koi Soho's brass are also defendants.
According to the complaint, the hotel allegedly retained the mandatory 22 percent service fee attached to all bills, which the lawsuit argues a "reasonable customer would believe … was in fact a gratuity," in violation of state labor law. The service charge has been levied since February 2009 at least through the time of the lawsuit being filed. Garcia, who worked at the hotel in 2013, says it was not disclosed on bills, invoices, or menus that the charge would go to the hotel. A statement released by the hotel claims that Garcia was never employed by the hotel, and that the blame for any tip stiffing lies squarely on the shoulders of third-party contractors. The parties will meet again in court on September 1, after which point the Donald will likely have folded the Republican Party into the Trump Organization.
[DNAinfo]