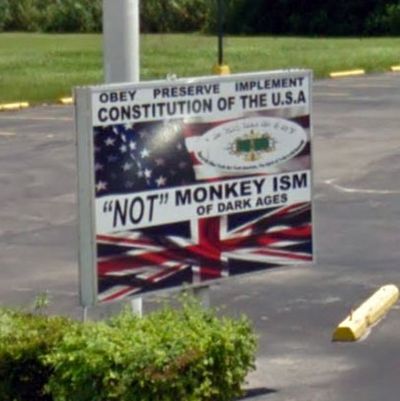 Maybe just go to Sonic instead.
A Dairy Queen in Texas is off to a pretty solid lead for this year's Most Offensive Soft-Serve Shop Award. Mohammad Dar, owner of the Houston-area franchise, has made his restaurant maybe the world's only one-stop shop for Blizzards and materials on the evils of "monkeyism," his preferred term for Hinduism. According to KPRC, Dar has not only papered his restaurant's interior with anti-religion posters, but he's also stuck more signage in the ground outside so that customers pulling into the parking lot are greeted by this mandate:
OBEY PRESERVE IMPLEMENT
CONSTITUTION OF THE U.S.A.
"NOT" MONKEY ISM OF DARK AGES
Once inside, it only gets weirder: Dar's diatribes are at the front door, by the cash register, and on the drive-through window, and they include a large Da Vinci Code–style sign titled "Manifesto of Illegality" that outlines a Hindu plot involving the Dalai Lama, the pope, the British flag, and Kim Jong-un. Though, as a local reporter for KPRC notes, it's "not exactly clear" what these things all have to do with one another. Dar's bigotry, on the other hand, is fairly obvious: "Racism is the foundation of Hinduism," he tells the station.He claims the signs have been up for six months, but people on Twitter have been posting pics in amazement for the past year:
Some people are obviously bothered by the signs, but Dar says they aren't coming down because they're "educational," and because only "about 1 percent" of the 200 customers he serves every day say they're offended.
[KPRC]