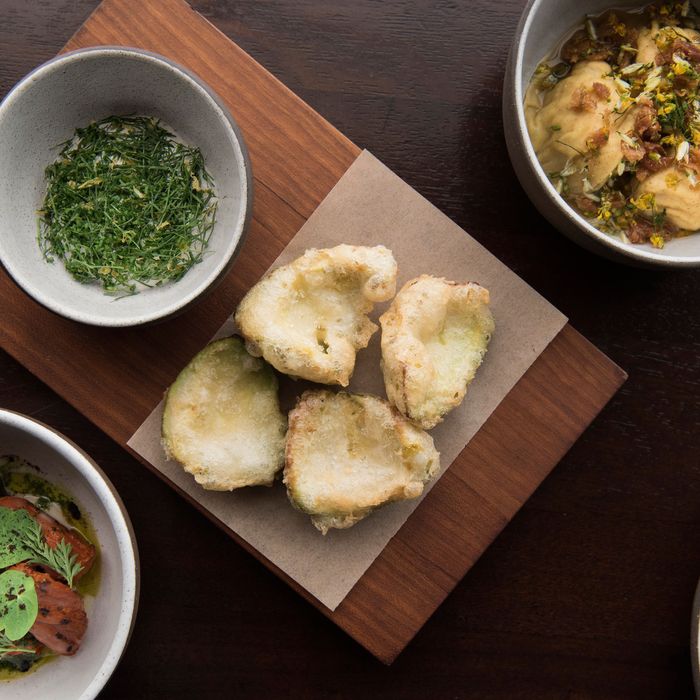 Dishes from the California chef's upcoming restaurant, the Charter Oak.
Photo: Liz Clayman
Christopher Kostow is, by all accounts, an extremely talented chef. The Restaurant at Meadowood, in Northern California, where Kostow runs the kitchen, is often cited as being among the best restaurants — if not the best — in the country. His restaurant holds three Michelin stars, is on the long list of World's 50 Best Restaurants, and is generally understood to be one of those restaurants that will happily serve you an unforgettable dinner. And now, as is often the case with highly decorated chefs, Kostow, along with business partner Nathaniel Dorn, will expand with a slightly more casual spot, the Charter Oak, which will be "a family-style restaurant with a massive communal table and glimmering hearth at its center."
Sounds charming! The problem, at least as far as eager diners are concerned, is that the restaurant isn't slated to open until late this year. (It will also be in California, which is a bummer for those of us who live on the other side of the country.) However, as of Thursday night, Kostow will offer a sneak peek of sorts and debut four dishes from his new menu at Daniel Humm and Will Guidara's Nomad Bar.
For the next month, in addition to all of the other usual menu items, you will also find small plates with a distinct California slant: There is a tempura-fried avocado, served with a dipping sauce of crème fraîche, oyster liquor, and chopped oysters (for $16). Another dish features carrots that have been cooked in their own juice, then cold-smoked and dried until they achieve what Kostow calls a "meaty" texture, served alongside charcoal-infused cream ("the cream smothers the charcoal and it takes on its smoky ember flavor," Kostow explains) and nasturtium greens ($14). Third is a dish described only as "chicken, rye pasta," which are in reality more like dark-rye chicken dumplings accented with homemade vadouvan that involves dried mustard and onion flowers sourced in Napa ($18 on that). Finally, for dessert, a grilled date cake topped with cream that's been flavored with nocino, the sweet liqueur from Emilia-Romagna.
If anything, it's a welcome spin on the usual guest-chef move, wherein a chef drops into a place for a night and offers some varying renditions of her or his greatest hits. Instead, this is a chance to try the food of a chef who doesn't cook all that often in New York, in a regular restaurant setting, and, if anything, offer some feedback on the food that might get served at one of the West Coast's most heavily anticipated new spots. Plus, they've got cocktail explosions at Nomad Bar, so, you know. Enjoy.