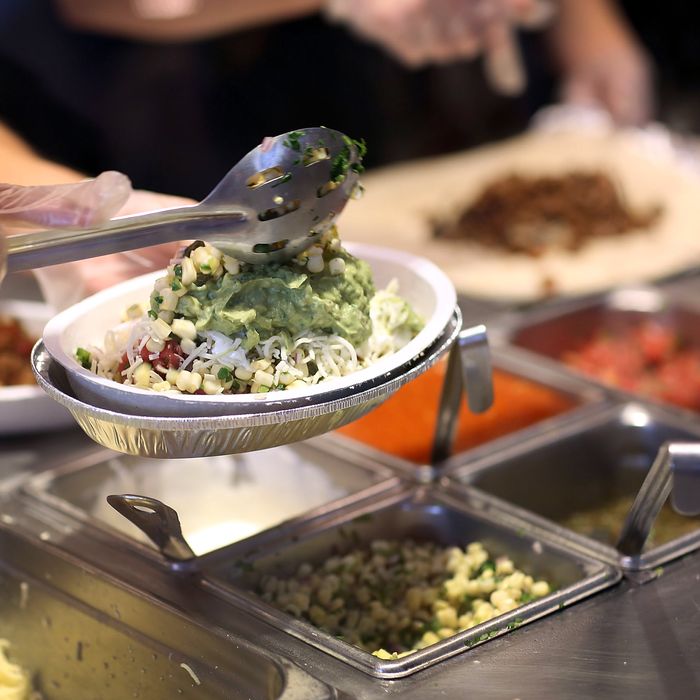 Is it time?
Photo: Joe Raedle/Getty Images
Some positive news for Chipotle-land: Financial analysts say the situation is finally looking up for the burrito chain. The latest survey, by investment company William Blair, suggests people are beginning to shrug if Chipotle gets mentioned. "It appears that sentiment bottomed in January," says the report, noting the willingness to eat at Chipotle increased "after the company's digital coupon for a free entrée." (Chipotle knows the way to a customer's heart is through their stomach.)
William Blair has been doing monthly surveys like this one since November, the month Chipotle kicked off by, out of nowhere, closing 43 stores linked to E. coli. Things of course just got worse from there, but the firm describes the current outlook as "slowly but steadily improving." Eighty percent of people polled say they're still fully aware of Chipotle's food-safety debacle, and a high percent remain so-called "rejecters," but people are cautiously returning nonetheless — and also stocks are up 9 percent so far this year.
It's enough to convince analysts "that Chipotle's recovery process has begun," but they also warn it's not all roses ahead. They predict the market gains will be walked back a little in March, a month that doesn't have a free-burrito day and is therefore likely to "show a sequential deceleration in traffic trends versus February."
[CNBC]