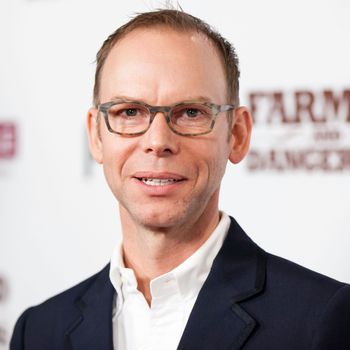 Chipotle's co-CEO Steve Ells.
Photo: Gabriel Olsen/Getty Images
Chipotle co-CEOs Steve Ells and Monty Moran are two of America's highest-paid executives: They reportedly each made more in 2014 than the heads of Starbucks, McDonald's, and Panera Bread combined. But as everybody knows, 2015 was not a banner year for the burrito chain, and it looks like both men's pay took a hit as a result.
According to a regulatory filing on Friday, their total compensation shrunk by more than half this past year as sales and stocks got hammered during the food-safety fallout. When salary, stock awards, and the rest of their pay packages are taken together, Ells still made $13.8 million, but it's a $15 million drop from the $28.9 million he got the previous year (and he actually raked in another $41.6 million by exercising past stock options, bringing his total payout to about twice what Goldman Sachs's CEO Lloyd Blankfein made that year). Moran meanwhile pulled in $13.6 million, which is down from $28.2 million.
While it's hard to imagine suddenly making half as much money, that prospect is a bit easier to handle for members of the eight-figure club. Also, they saw it coming: Shares in the company slipped by about a quarter last year, and Chipotle reported a 14 percent sales drop for the final quarter of 2015, the company's first number in the red since going public. (As is common, the bulk of Ells's and Moran's earnings are tied to stocks' market value, so, as Chipotle points out, investors got paid first.) That said, there haven't been any grumblings for the duo's heads yet, and in fact their base salaries got raises — a necessity, the company says, because neither man had seen an increase since 2012.
[WSJ]