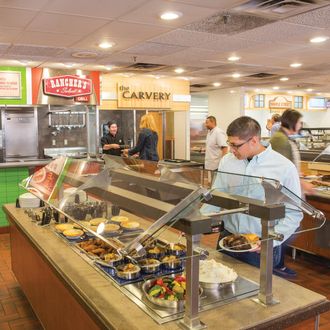 The warming trays have gone cold.
Photo: Old Country Buffet/Facebook
The all-you-can-eat buffet has morphed more into a publicity stunt these days, but restaurants owned by Ovation Brands are the masters. The company's empire includes Old Country Buffet and Country Buffet, Ryan's, HomeTown Buffet, and Fire Mountain Grill, and it had people gainfully employed at more than 300 locations — until this week. On Monday, the company declared bankruptcy, to the complete surprise of workers at 74 locations who got some bad news when they learned about the restructuring plan.
Food Management Partners, the Texas-based company that bought Ovation Brands last year, did hint that business was bad, and as a result some "under-performing locations" would have to close. But employees probably expected additional info would follow beyond that vague warning. As one worker told WREG: "I just went to work today. I was doing a double today as a server, and I came and there was a sign on the door that says we're closed permanently." The manager of another location, where 42 people lost jobs, said it's unclear what will happen to her co-workers, several of whom had worked there for decades. "We're family. We've known each other since we were 15," she said, adding, "We don't even know if we have severance benefits. I guess I'm going to apply for unemployment and look for another job. I don't know what's going to happen to the people who are single parents with one income."
USA Today notes this gives Ovation Brands the "dubious and relatively rare distinction" of entering what financial experts "jokingly refer to as Chapter 33 — that is, Chapter 11 bankruptcy for a third time." According to court documents, the company blames both the bad business strategy of selling gobs of food for next to nothing as well as "a crushing lawsuit that it 'apparently overlooked.'"
[WSJ, USAT]