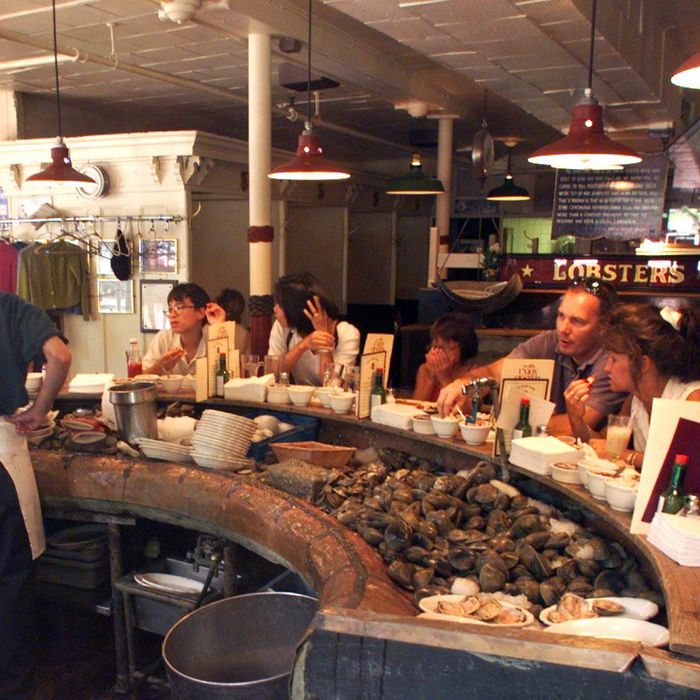 Reporter Nestor Ramos called the food an afterthought.
Photo: John Tlumacki/The Boston Globe via Getty Images
The Union Oyster House is as Boston as dumping tea into a harbor or flipping over cars after the Sox win the Series. Opened in 1826, one year before the original Delmonico's, it has been continuously operated ever since, is a national historic landmark, and was named by Condé Nast Traveler as one of the world's ten most ancient restaurants. With that history in mind, a no doubt innocent-minded Boston Globe reporter named Nestor Ramos decided to check in on the restaurant — and did not particularly like what he found.
Ramos trashed the restaurant, deriding it for having a kitschy gift shop with stuffed animals (the point of no return), mocking its reliance on history by referring to the restaurant and dishes as "ye olde," and generally deriding the food as an "afterthought." Lobster dishes varied from "adequate to bizarre"; the clam chowder was so salty one bowl could raise your blood-pressure levels; and the oysters were low-quality, served on warm plates and with mud still in the shells. Unfortunately for Ramos, he has only been at the Globe for a couple of years, and no self-respecting Bostonite lets some outsider trash a local treasure.
Unfortunately for him, the team at Union Oyster House will not stand for this mockery. One proud employee, bar manager Jim Sullivan, was so incensed that he wrote a letter to the Globe, which the paper published, ripping Ramos and upping the ante. Deciding the reporter's ethics are up for debate for negatively portraying a very pricey, very old institution with "pettiness and glee," Sullivan accuses him of taking his anger out on the restaurant because he has to deliver newspapers, and he calls the reporter's credentials into question because, Christ, who doesn't know lobster scampi?
Ramos, a two-year Globe employee with previous stints in gastronomical and historic meccas Rochester, N.Y., and Sioux Falls, S.D., decided a blind-side journalistic sucker punch with a side of snark might be his ticket to the full-time foodie gig at The Boston Globe.
He does not stop there:
Perhaps because Chipotle does not carry seafood and the Union does not offer ramen noodles and Red Bull, Ramos found himself out of his element.
And:
He denigrates, with great delight, an iconic Boston landmark, which has withstood the test of time for 190 years.
Skewering the whole article as nothing more than a "hatchet job" and "gotcha journalism," Sullivan says that Ramos isn't just insulting the restaurant but, duh, the dignity of the 500,000 guests who go to it every year and are totally psyched about the lobster and chowder. Also, they all work really hard, and Ramos is, anyway, just some dude who did stints in 15th-rate towns with no good food like, uh, Portland, Oregon.