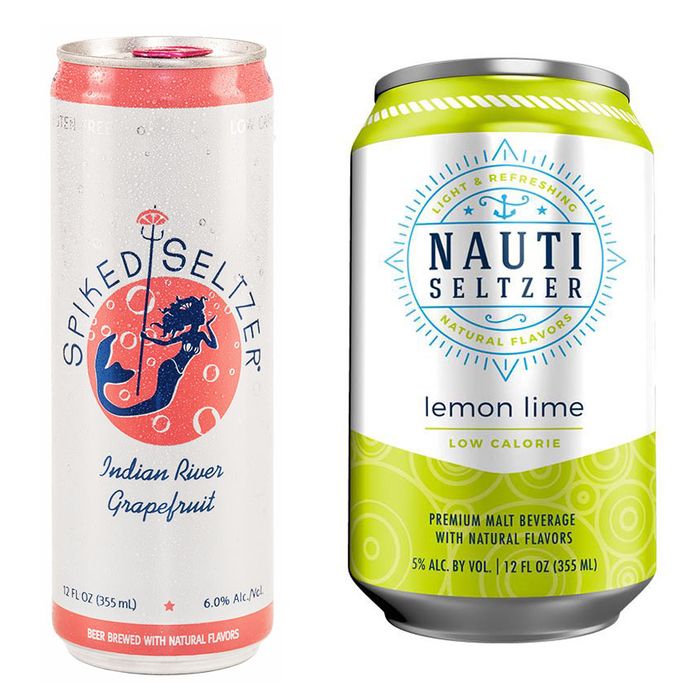 Like the 2015 version of Zima.
In keeping with these health-crazed times of bowls and activated charcoal, two companies think they're on to the next big thing in diet drinking: hard seltzer. Effectively, this mostly means that you don't actually have to spike your own Clearly Canadian, and you can get straight to business. It's also the next stage of the boozy-soda trend — see: hard root beer — but stripped down to the basics of fizz and alcohol.
The first entrant into the adult-seltzer arena is the three-year-old SpikedSeltzer. Its founder, Nick Shields, wanted to get woozy without also getting fat or having a terrible hangover. The good people behind this Westport, Connecticut, company describe their product in the parlance of health food, billing it as all-natural, low-carb, and gluten-free. They make the drink, according to the website, with cold-pressed citrus essence and offer it in flavors like Cape Cod Cranberry and Indian River Grapefruit. (The company also heretically brags that SpikedSeltzer doesn't taste one bit like booze, which sounds like a recipe for disaster for overconfident teenagers.)
There's more: Next month, Massachusetts-based Wachusett Brewing will release its cheekily named Nauti Seltzer in New England, available in flavors like raspberry, lemon-lime, grape, and cranberry. Wachusett's director of sales and marketing, TJ Morse, says his company taps into the new health-consciousness; they're doing a service to guys — and gals — who, like Shields, want to drink fizzy adult beverages without packing on the pounds. The company, Morse says, produced a hard root beer, but they were turned off by the amount of sugar — a pound per gallon, he says — used to brew it. The excessive calories also were a no-go, and Nauti Seltzer has a mere 110 calories per can, compared to boozy root beer's 400 per serving.
The appeal of the beverages to these producers makes sense, not just because of the current fixation on the vegan glow, but also because of the comeback of retro, vaguely healthy anti-sodas. SpikedSeltzer and Nauti Seltzer are, in short, Clearly Canadian for the people who actually grew up drinking it. Besides, the craft-beer market is saturated, and Anheuser-Busch InBev continues to absorb other macrobreweries and microbreweries in its quest for total domination of the market. It makes sense to differentiate, and it's only so long until someone realizes they can sell people that old bartender's favorite, bottled bitters and soda. Then again, how long will it be before Americans see the Zima comeback everyone's no doubt been hoping for?
[Boston]