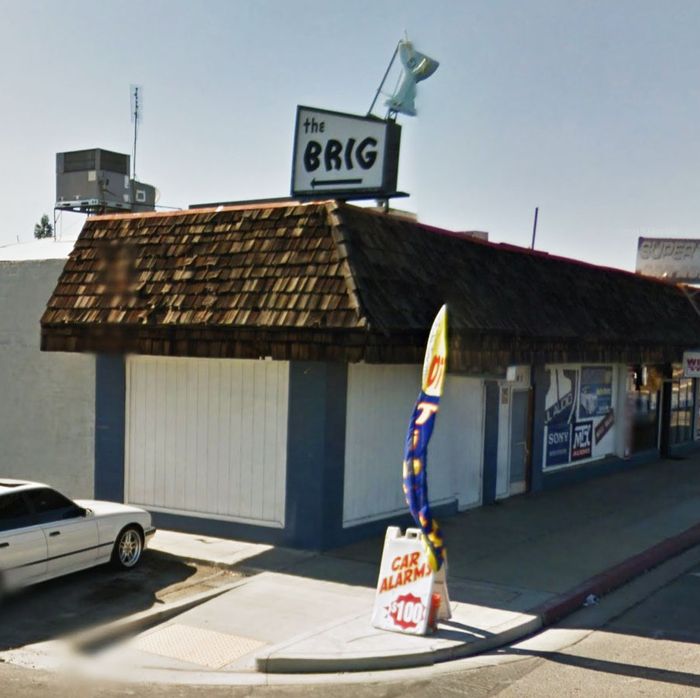 The scene of the incident.
Photo: Google
Maybe you've heard this one before: Two black customers walk into a bar. Staff kicks them out because of their skin color. They casually note, "What bad luck for you — we're lawyers at the ACLU."
It's a scenario California attorneys Abre' Conner and Novella Coleman allege actually happened when they visited a dive bar in Fresno. They showed up to do karaoke (TLC's "Waterfalls"), but claim the bar staff at the Brig enforced a supposed "drink minimum" as a ruse to kick them out because they're black. After waiting 30 minutes for their song, they checked with a bartender and were told everyone doing karaoke must always have a drink. (According to them, their group of three had already purchased two.) But they allege patrons' hands all around the room were empty, making it seem like the rule either wasn't real or was just being applied to the bar's only two black customers, so they refused to buy another round.
That's reportedly when things got a little out of control, according to a post they put up on Medium:
A second bartender —  a very tall and large man  —  shouted louder and louder that we were loitering and that the bar wasn't a hangout place. Over and over again he pushed his body up against Abre' —  who is just 5'4" tall — to force her out of the bar.

After Abre' repeatedly resisted, saying, "Don't touch me," he shouted that he was calling the police and stormed off.
Once police arrived, Conner and Coleman add that:
Several customers explained to the officers that the bar staff were enforcing the rule against us only. Some told the police that a one drink rule did not exist. Others even tried to buy us drinks. But the bartenders wouldn't let them.
They say the officers cited the Brig's right to refuse service, but they write they must have missed the day that right was explained in law school: "Businesses actually do not have a legal right to refuse service to anyone or treat people differently based on race," they argue, adding: "It's against the law for a bar in Fresno to force us, two Black women, to leave over a one drink rule that the bar only applied to us."
The Brig says Conner and Coleman's version of the events is "totally false." Manager Heidi Wilson tells the Daily Beast the bar asked them to leave because they were loitering. "They wanted to do karaoke for free," she claims. "It doesn't matter what nationality you are, you just have to buy something." She also maintains they called the police because Conner "chest butted my bartender."
The two women say they're trying to decide whether to sue, but Wilson says if they do, "We're going to countersue them for slandering our name."