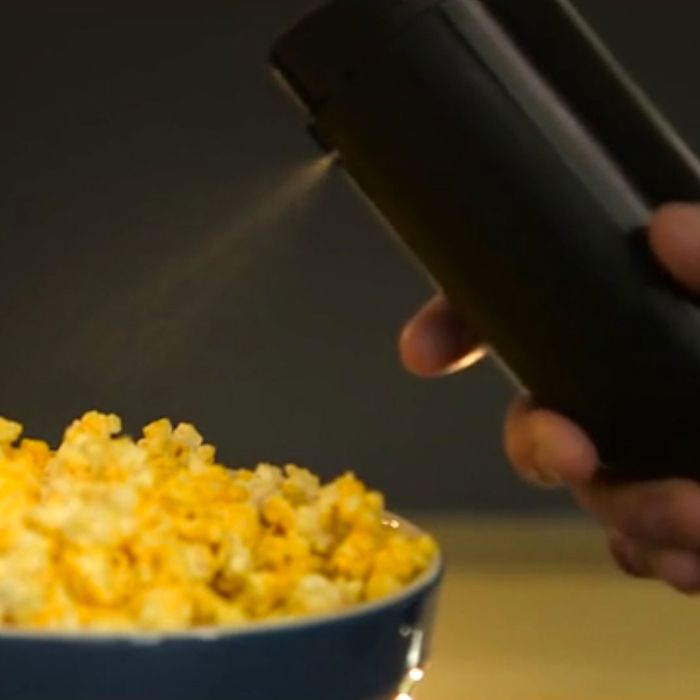 This popcorn's been Biēmed.
Who hasn't destroyed a piece of toast just trying to butter the damn thing? Well, this massacring need not continue any longer: Someone has invented a device that shoots a fine mist of butter. All a person does is drop a stick of butter in and press a button. According to Doug Foreman, Biēm's genius creator, butter will then rain down instantly.
It works by melting just the topmost layer of the stick to 95 degrees and spraying it out. There's no aerosol or chemicals involved, and the rest of the stick is left solid. Or it can work with olive oil or coconut oil in the reservoir.
Foreman gleefully notes that anything can be "Biēmed." Biēm bread, Biēm veggies, Biēm pasta. Biēm a pan, and you've got a nonflammable release. Biēm popcorn, and it won't get soggy. Biēm a turkey for a basting technique that you can do from three feet away in a La-Z-Boy. Based on the video demonstration, whatever's nearby will also get Biēmed, but maybe that's an acceptable loss for committed toast buffs. Certainly looks like that's the case, if crowdfunding is any indication: Right now, with 23 days left, Foreman's Kickstarter is up to $161,000, nearly quadruple his initial goal. The device is supposed to arrive sometime in September.
[Kickstarter via Contemporist]