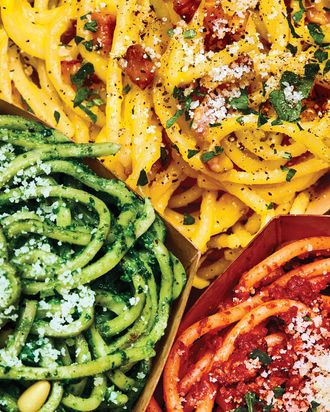 Spaghetti Incident's cones to go.
Photo: Bobby Doherty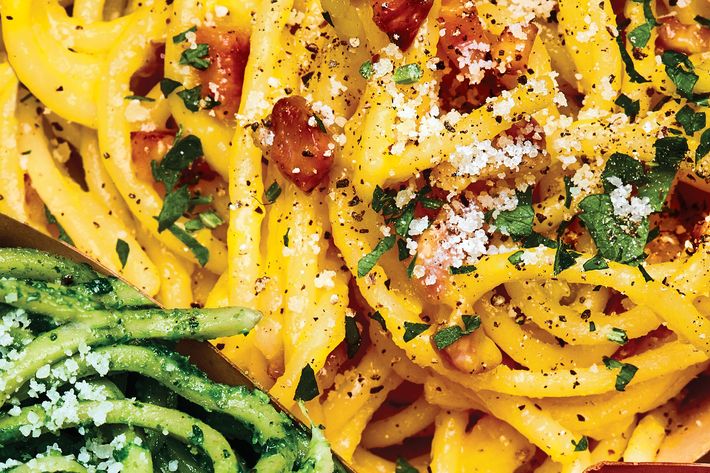 Takeout
Spaghetti Incident
231 Eldridge St., nr. E. Houston St. 646-896-1446
How do you eat spaghetti while ambling along city streets? Chef Emanuele Attala has come up with an elegant solution to a problem we didn't even know existed. Inspired by old photos of Italian beachgoers tucking into unspecified foodstuffs rolled up in butcher's paper, he devised the spaghetti cone. Now all his variously sauced spaghetti and bucatini is available to go via that format. And the extraordinary thing is that in many ways eating spaghetti from a paper cone is not only more fun, but neater and more efficient than eating it from a plate or a bowl. Hot dogs, meat skewers, and pizza slices pale in comparison.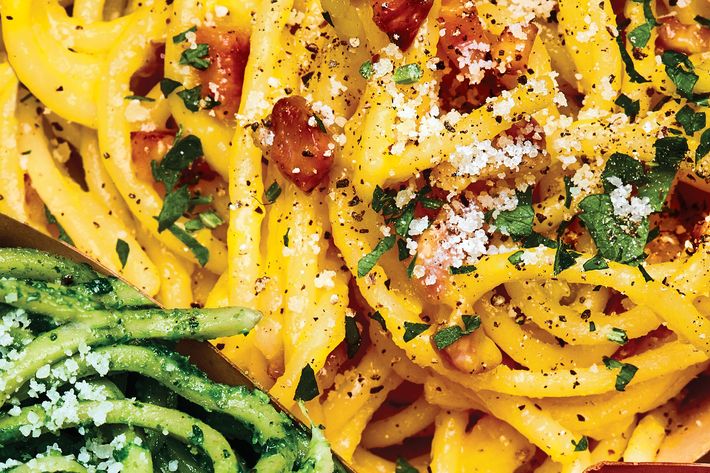 Matzo-Ball Soup
Del Posto
85 Tenth Ave., at 16th St.; 212-497-8090
As far as we know, Mario Batali hasn't turned Del Posto into a delicatessen. So why is the waiter presenting you with an amuse-bouche of matzo-ball soup? Correction: Make that "masa ball soup." It comes in a tiny cup with a featherlight, half-inch ball of corn-flour dough. The broth, which also serves as the base for some of the kitchen's sauces, is made from 90 hens, 30 at a time in a 50-gallon steam-jacketed kettle over the course of three days. One gulp is all it takes to finish it off, but it's the richest, purest, most soulful gulp of soup you've ever had.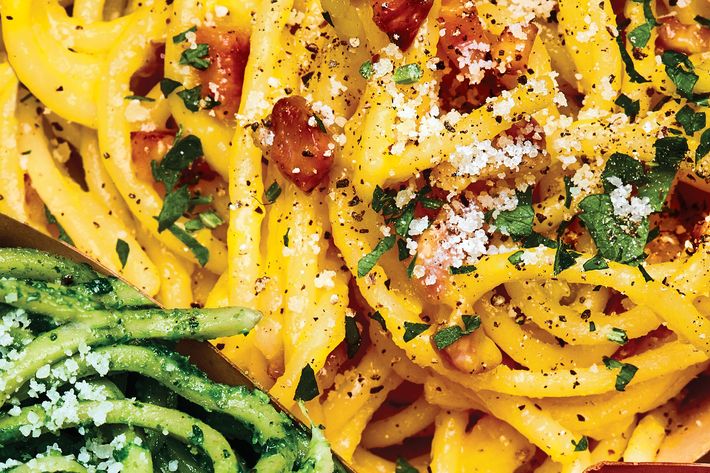 Ceviche
Llama Inn
50 Withers St., at Meeker Ave., Williamsburg; 718-387-3434
As any Peruvian-food fan knows, ceviche rises or falls on the strength of its leche de tigre, that citrus-sour, chile-spiked liquid in which the raw fish "cooks." Peruvian-American chef Erik Ramirez is sufficiently versed in the technique and lore of the ancient preparation to take certain liberties — namely, replacing the traditional fish stock with dashi, which adds a smokiness that he feels pairs well with bananas, especially plantains: While classic kitchens garnish their bowls with roasted corn and sweet potato, Ramirez adds plantain chips for crunch and fried ripe plantains for sweetness, a quirky complement to the dish-defining acidity.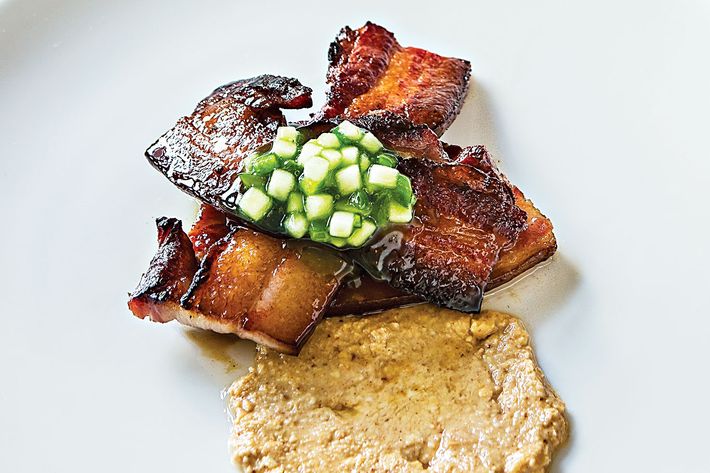 Fritters
Lilia
567 Union St., at N. 10th St., Williamsburg; 718-576-3095
When you think of Italian fritters, or frittelle, you think of grated zucchini dipped in batter and deep-fried. Or maybe you think of the tiny newborn fish Sicilians call neonate or bianchetti. But Missy Robbins's cacio e pepe frittelle are something else: airy, creamy puffs of choux pastry amped up with Asiago, Pecorino Romano, and black pepper, fried to order, then rolled in more pepper and Pecorino the way doughnuts are dipped in sugar and cinnamon. They come three to an order in a ceramic bowl, go way too fast, and taste like some kind of Franco-Italian super-gougère.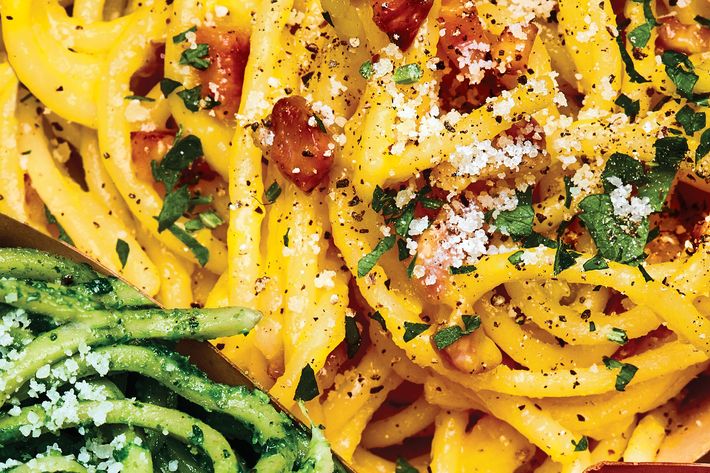 Sandwich
High Street on Hudson
637 Hudson St., at Horatio St; 917-388-3944
Why Philly's No. 2 hoagie, the roast pork with provolone, lives in the shadow of the cheesesteak is a mystery. It's the equivalent of what it would be like if New York were better known for calzoni and garlic knots than pizza. High Street on Hudson's souped-up version of this undersung sandwich (heritage-breed pork shoulder, sharp provolone, anchovy-enhanced broccoli rabe fermented like kimchee, fantastic house-baked sesame-seeded semolina) proves the point. True, it's about half the weight and size of standard-bearer John's Roast Pork in Philadelphia, but it's also an interpretation that won't leave you vowing to go vegan the next day.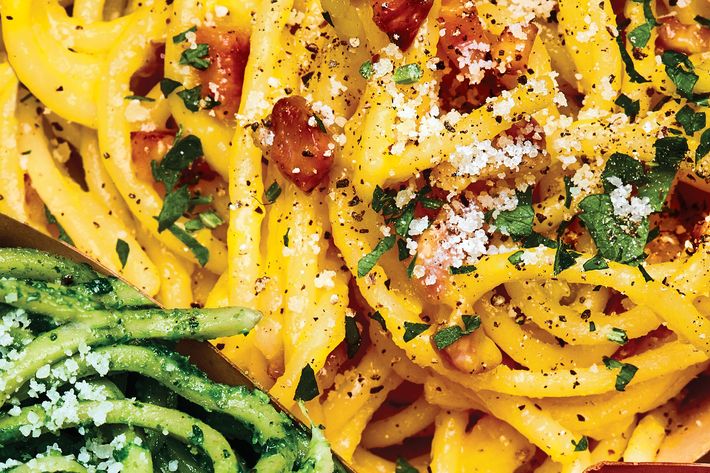 Cheese Course
Rebelle
218 Bowery, nr. Prince St.; 917-639-3880
Picture your dream cheese course, curated from a cart groaning with wheels and wedges in oozy states of ripeness. Rebelle's isn't that. "I wanted the choice to be simple," says chef Daniel Eddy. "Cheese — yes or no?" And so he offers only Comté, France's answer to Swiss Gruyère. But this Comté spends 18 months in the tunnel-cave of affineur Hervé Mons, where its rind is washed in vin jaune and its paste achieves an incomparably sweet, nutty flavor. Eddy serves it shaved into medium-thin, curling ribbons you can eat with your hands — silverware optional, as is the She Wolf Bakery sourdough and Ploughgate Creamery butter.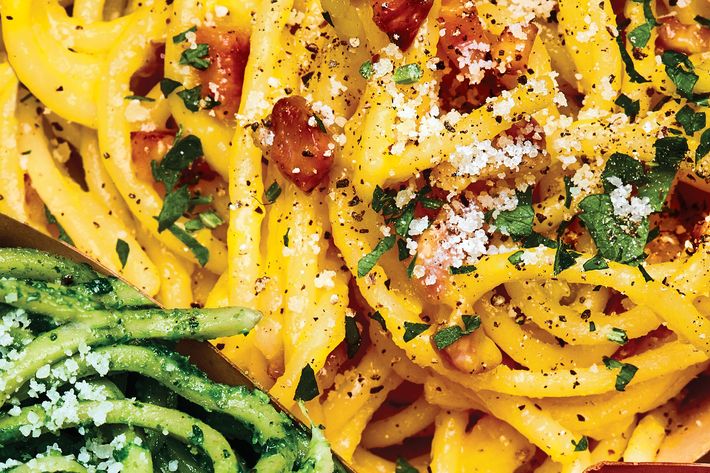 Bacon
Quality Eats
19 Greenwich Ave., nr. 10th St;. 212-337-9988
Michael Stillman has made it his mission to reinvent the stale old totems of the steakhouse experience for a new generation of beefeaters, and at this trendy West Village restaurant he gets up to all sorts of mischief ("scalloped sunchokes," anyone?). Instead of the usual preheated nitrate bomb (yes, we mean you, Peter Luger), the bacon in this addictive appetizer is a slab of sizzled Neuske's from Wisconsin. Its addictiveness is enhanced by jalapeño jelly and a radical dollop of peanut butter (crunchy, of course). Take one bite, and we guarantee you'll never see steakhouse bacon (or peanut butter) the same way again.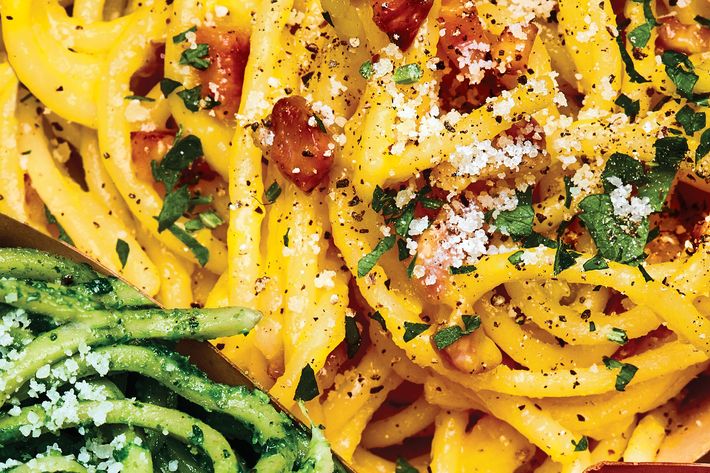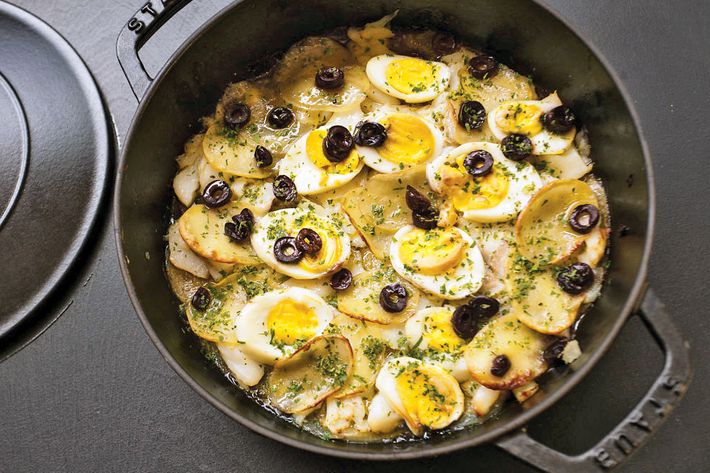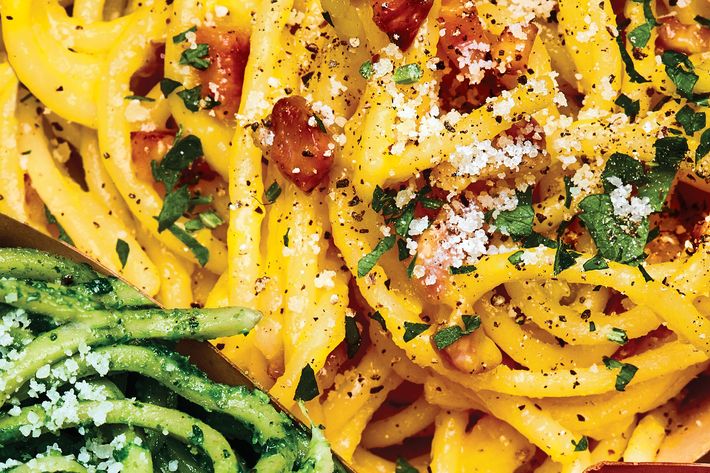 Chinese Barbecue
La Chine
540 Lexington Ave., nr. 49th St.; 212-872-4913
Any card-carrying pork fiend will tell you it's difficult to improve on the classic Cantonese barbecued char siu recipe, but this nouveau millionaire's version (it costs $30) served at the ambitious new multiregional Chinese restaurant in the Waldorf Astoria comes close. The Singaporean chef, Kong Khai Meng, uses strips of Berkshire pork collar, which he roasts slow and low to a soft, gelatinous tenderness. But the key is the crunchy, lacquered "crackle," which comes courtesy of the bees from the Park Avenue hotel's rooftop apiary and makes each bite taste like some ethereal form of trencherman's candy.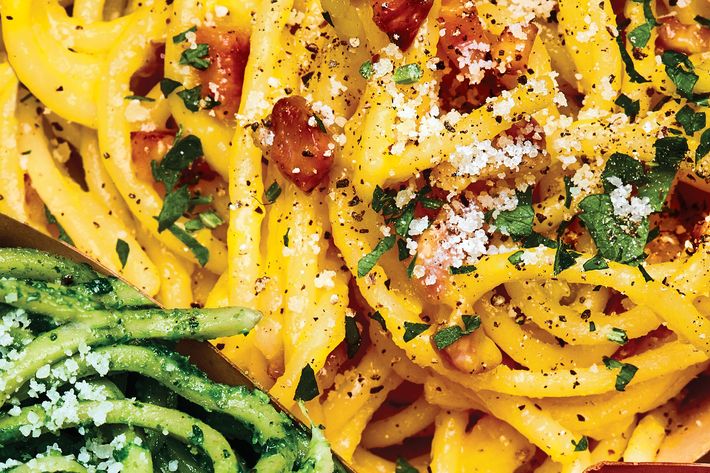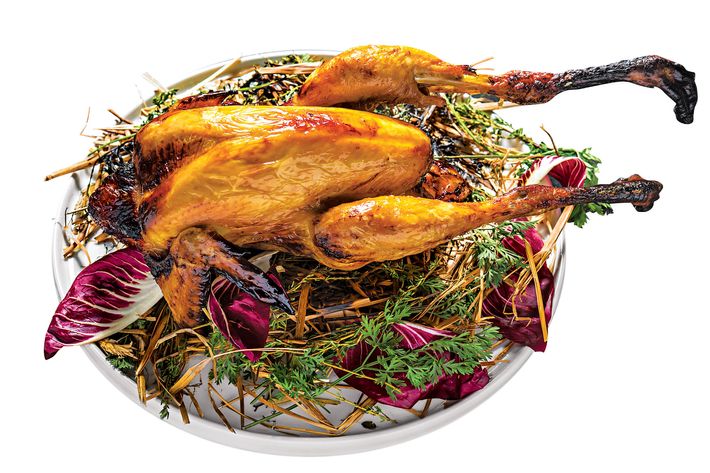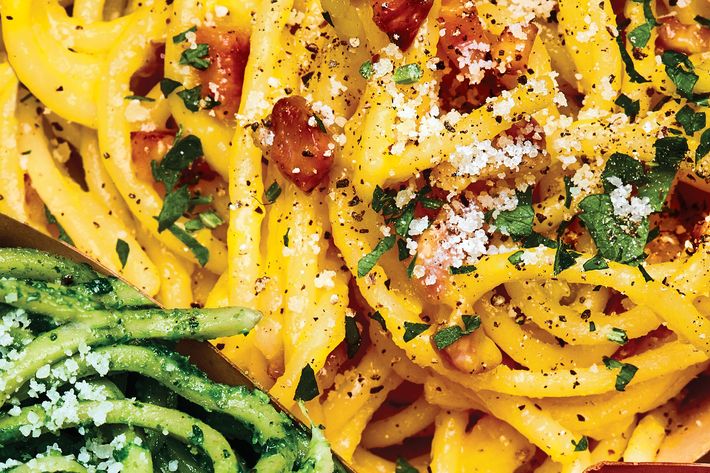 Baked Potato
Mekelburg's
293 Grand Ave., nr. Clifton Pl., Clinton Hill; 718-399-2337
Remember back when stuffed baked potatoes seemed like a viable fast-food concept? Well, that day might come again, if the spuds in question are accoutred as smartly as the ones served in the back-room beer bar of this Clinton Hill gourmet grocery. Although the black-cod-and-caviar variety has a certain swanky appeal, we're partial to the not-so-basic bacon and cheese: a substantial russet liberally massaged with olive oil and salt, impregnated with a melting cache of Raclette-style cheese from Vermont's Spring Brook Farm, lavished with sour cream, and crowned with a cube of braised double-smoked bacon.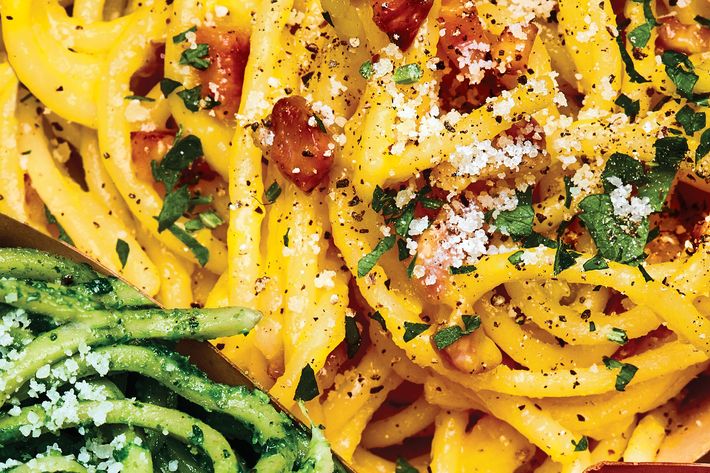 Salsa
Empellón Cocina
105 First Ave., nr. 6th St.; 212-780-0999
Last spring, Alex Stupak installed a four-seat counter in Empellón Cocina where he and his team host multicourse tasting menus. Halfway through the meal, the chef asks diners to select salsa ingredients, choose-your-own-adventure style: raw or roasted garlic ("The most divisive of all the choices," Stupak advises. "I've seen couples almost get divorced"); several different chiles; raw or toasted onion; and finally raw or roasted tomato and tomatillo. Then, watch as your bespoke salsa is used throughout the meal. Nine months after the menu launched, Stupak says, "We've never repeated a salsa yet."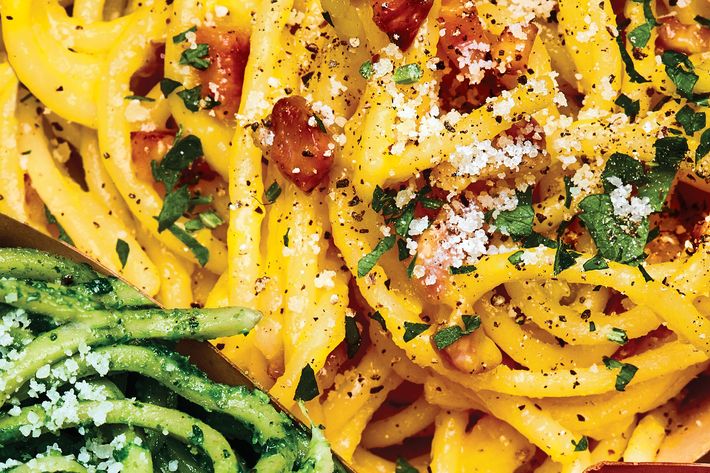 Sausage
Gabriel Kreuther
41 W. 42nd St., nr. Sixth Ave.; 212-257-5826
Gabriel Kreuther hails from that great sausage region of eastern France, Alsace, so it shouldn't come as a surprise that his version of a "country sausage," which you can enjoy in the bar area of his eponymous restaurant in midtown, contains three kinds of pork instead of just one. Bacon and pancetta are ground together with pork shoulder, along with cabbage for softness and a hint of Gruyère for bite. The filling is piped into a natural casing, blanched to a baby whiteness, roasted to a glistening brown, and served in the highest possible Alsatian style with a pot of mustard and a tangle of housemade sauerkraut.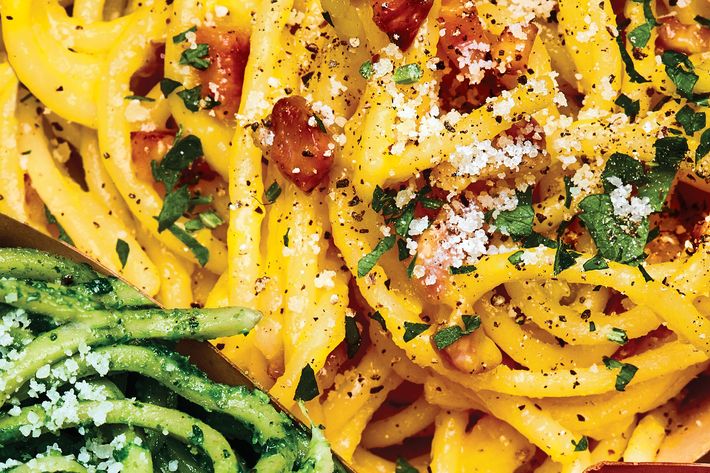 Cutlet
Wildair
142 Orchard St., nr. Rivington St. 646-964-5624
Not so long ago, the best nonliquid sustenance you could hope for at a wine bar was a slab of old pâté. But the compact little menu at this New Age Orchard Street wine bar is filled with all sorts of blue-ribbon recipes, including this pork Milanese, which wouldn't taste out of place in Milan, or even Vienna. The generous flap of pork shoulder is well tenderized and perfectly cooked. The golden, faintly eggy crust bubbles up in a most pleasing way. The sauce gribiche is stuffed with capers, bits of boiled egg, and parsley. Enjoy it with a Gamay-style bottle from Mendall, made by a former IT wizard in the hills of northeastern Spain.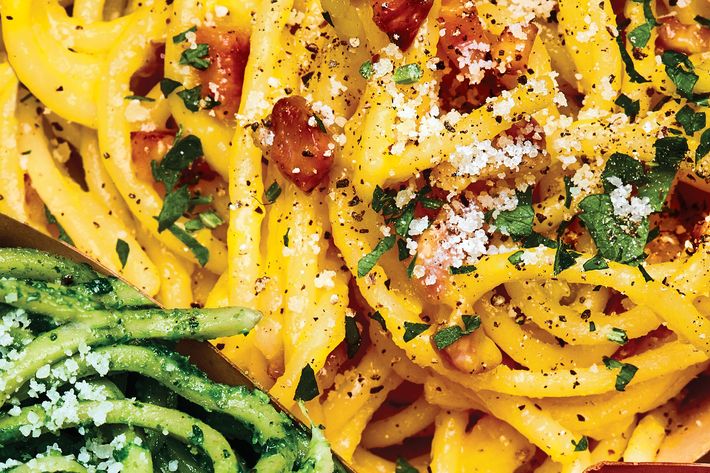 Casserole
Lupulo
835 Sixth Ave., at 29th St.; 212-290-7600
The foundation of any great casserole is the pot it's cooked in, and this one — a cannonball-black Dutch oven as big as a hubcap — is no exception. But what separates George Mendes's magisterial Portuguese classic from your grandma's Sunday casserole is that elusive combination of delicacy and heft. There is bacalhau in the mix, olive oil (but no cream), garlic, and kalamata olives, all mingled in a deep strata of potatoes, which Mendes and his cooks thinly slice like layers of a napoleon pastry and bake to a golden crisp on top. Eat it all in one sitting, if you dare, or do what we do and enjoy the leftovers the next morning, with a fried egg on top.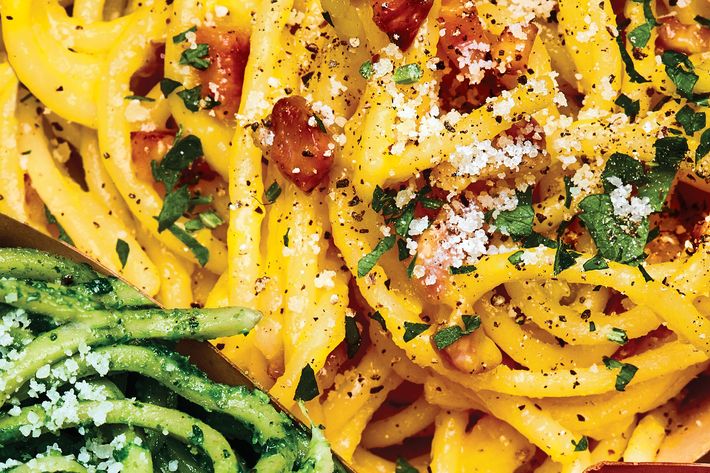 Bar Snack
The Polo Bar
1 E. 55th St., at Fifth Ave.; 212-207-8562
The celebrity-packed dining room at Mr. Lauren's restaurant has its charms, but if you're lucky enough to procure a table, we recommend you linger a bit at the upstairs bar. The drinks are pricey but well made, and because it's for dining guests only, the railroad-car space rarely feels crowded. And then there are those compulsively delicious fried olives. They're bite-size green queen olives, coated with bread crumbs and served warm in a silver bowl. Pop one in your mouth as you enjoy your martini and then another. Once you've finished the first bowl, ask politely for a second. They're free, after all, and they might just be the best thing you taste all night.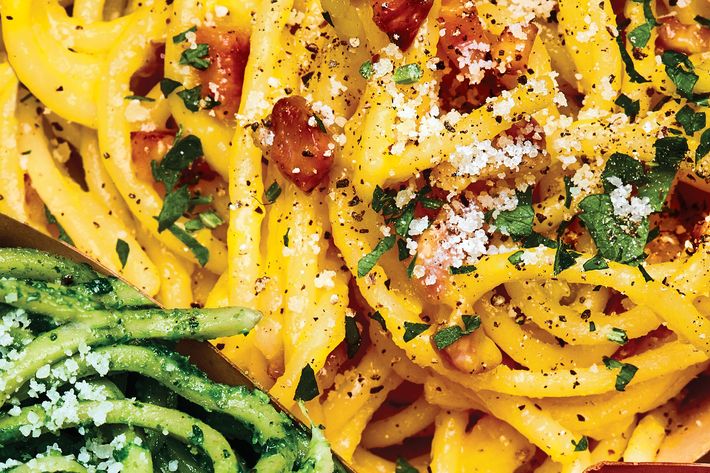 Churro
Cosme
35 E. 21st St., nr. Park Ave. S.; 212-913-9659
Like lots of popular dishes imported to this city from afar (pizza, bagels, General Tso's chicken, etc.), the churro has suffered its share of abuse over the years. Well, not anymore. This delicate confection — available for lunch and brunch at this great Mexican restaurant — is made to order and served like an elegant, twisty piece of food sculpture. Its consistency is airy and pastrylike (instead of dank and greasy). Add the gentle dusting of sugar and the Mexican hot chocolate for dipping, and it's about as different from your average big-city churro as a stale cookie is from the finest Parisian meringue.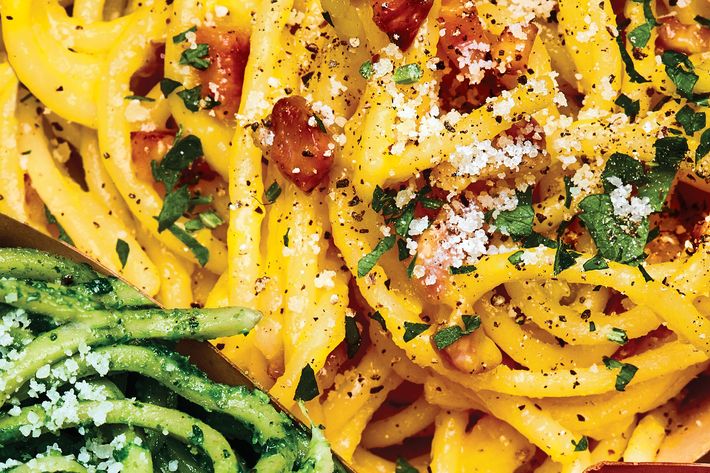 Roast Chicken
Le Turtle
177 Chrystie St., at Rivington St. 646-918-7189
It's not the presentation that makes Le Turtle's whole roast chicken the best in a burgeoning field, although this bird's grand procession from kitchen to table on a bed of burning hay is quite a show. But even if you ate the thing blindfolded, you'd discern the moistness of the meat, the crispness of the skin, the deep chicken-y flavor — all consequences of chef Greg Proechel's five-day process. His fresh-killed pullets get brined for 42 hours, hung in the walk-in for three days, roasted, rested (breast side down; this is crucial), kissed with charcoal, and blasted with lemon and porcini salt. And that's before the fireworks.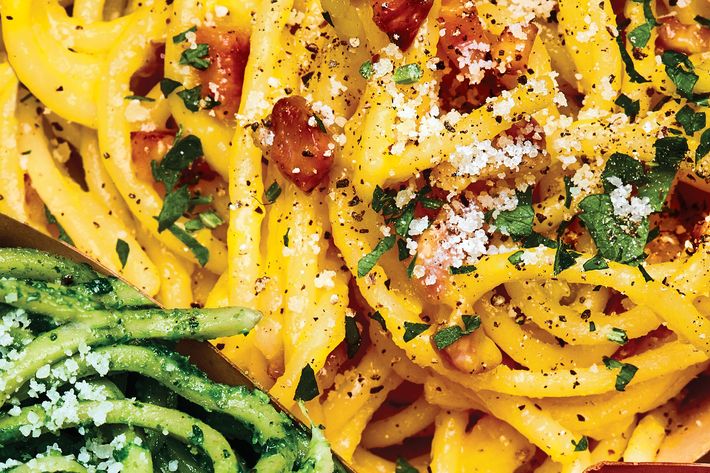 Chicken Fingers
Fuku+
15 W. 56th St., nr. Sixth Ave.; no phone
Not until this inspired collaboration between Mission Chinese Food and Fuku came along has a chicken finger truly transcended its chicken-finger-ness. Fried to a perfect crisp, the white-meat tenders are tossed with Mission Chinese's Chongqing spice blend (which Danny Bowien uses on his beloved chicken wings), chile oil, and sliced scallions, then topped with dried chiles. The result is a crunchy, tangy, mouth-numbing umami explosion that makes this unquestionably a chicken finger for grown-ups.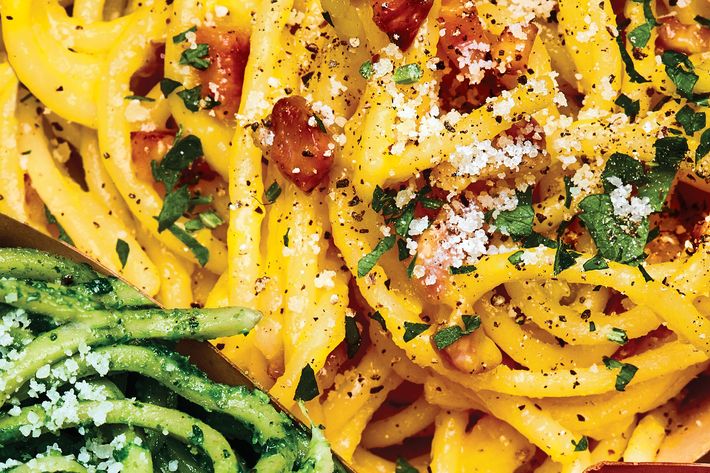 Chicken Wings
Bar Goto
245 Eldridge St., nr. E. Houston St.; 212-475-4411
Kenta Goto says the atmosphere at his seven-month-old Bar Goto draws inspiration, in part, "from the beauty and elegance of Japan." Fittingly, the bar's food is equally elegant. The standout: superlative chicken wings that arrive in a neat stack of tips, wingettes, and drumettes. Traditional hot sauce is swapped out for a milder housemade mix of miso, soy sauce, chile, ginger, and garlic. If you look around, you may notice customers eating theirs with chopsticks. But they're so satisfying — tender, a little sweet, as fatty and salty as you'd hope — that you'll want to order another round of drinks and dive in with your hands.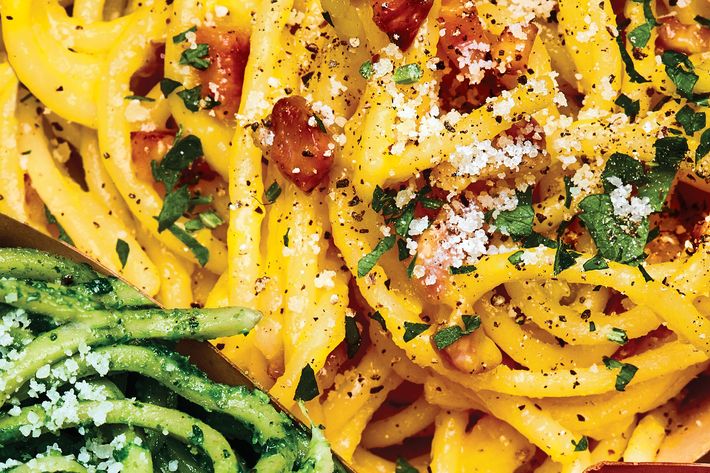 Chicken Fried
Sadelle's
463 W. Broadway, nr. Houston St.; 212-254-3000
The 24-hour buttermilk–and–"special spices" brine is one key to this tender, crunchy, supremely regal, fried-to-order bird, which appears as a regular evening special at the Major Food Group's new Soho outlet. But the thing we like best are the trimmings — the wad of wet coleslaw, the bottle of Crystal hot sauce, and the truffle honey, served with proper New York style in an etched-crystal jar.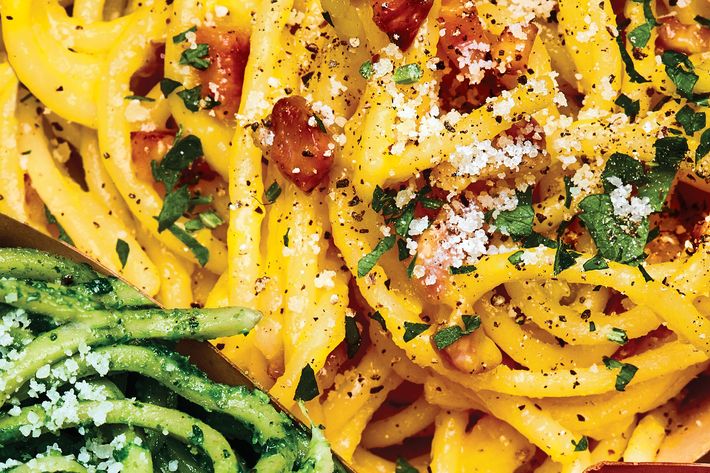 *This article appears in the March 7, 2016 issue of New York Magazine.