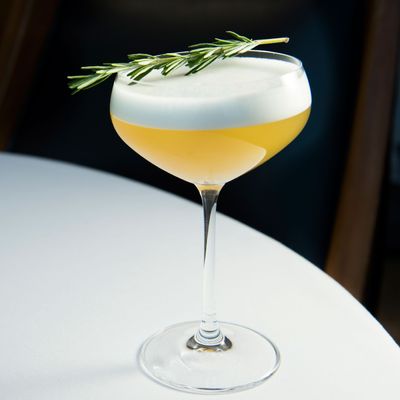 Eleven Madison Park's Into the Woods.
Photo: Liz Clayman
New York is swimming in drinks. The self-serious mixology craze appears to be over (thankfully), but exciting, original bars nevertheless open all the time. The cocktails are still excellent; people are just a little more relaxed about things, which is a welcome development. So, where are the best places to drink cocktails right now? Here are Grub Street's picks for bars that not only have superlative house drinks but will also make you the best martinis, Manhattans, or Sazeracs in New York City. Some are old favorites, some are new additions to the city's scene, and, it's worth noting, some onetime standbys have lost their magic recently and may not have made the cut at all. No matter where you end up, cheers!
67 Orange Street (Harlem)
67 Orange has been Harlem's best cocktail destination for a few years now. The space is cozy, although there's a small room downstairs that's good for a group of friends. More important, the drinks list is extensive, and the cocktails themselves are very well executed (there's also a small food menu). The bar is named after the address of the 19th-century saloon Almack's Dance Hall, so it's no surprise drinks here lean toward classics like the Hemingway Daiquiri or a Sazerac variation. Still, reverence for the past doesn't hold them back, and you'll also find nouveau drinks variously made with pisco, shochu, mezcal, and cachaça.
Angel's Share (East Village)
Arguably New York's first neo-speakeasy, the refined and romantic Japanese bar still turns out top-notch drinks more than two decades after opening. The wait can still be long on weekend nights, but other times you might find it pleasantly crowded, though easy to get into. The generally inventive menu features Japanese-style drinks like the Eastern Gibson (Ao Japanese rice vodka, junmai daiginjo rakkyo, and thinly sliced cucumber) and creative spins on classics like the Shiso Julep (Hakushu 12-year, shiso, wasanbon sugar, and water).
Amor y Amargo (East Village)
The head bartender at this tiny, charming bar — New York's first dedicated to bitters — was once a test-kitchen cook for Alton Brown's Good Eats, and he builds flavors in clever, surprising ways. Take, for example, the rye-less Eight Amaro Sazerac, which uncannily mimics the original's flavor. Along with house cocktails, there are reworked classics (a gin-and-tonic made with hopped grapefruit bitters, a Negroni variation made with mole bitters), and the bartenders will build you drinks around specific bitters if you're looking to try something new.

Attaboy (Lower East Side)
Opened in the original home of the pioneering Milk & Honey by its two key bartenders, one of whom invented the modern classic the Penicillin, Attaboy's drinks do right by the late, great Sasha Petraske. The emphasis is on amari and whiskey, and, instead of a menu, they build your drinks around your spirit of choice and whether you're looking for something light or boozy.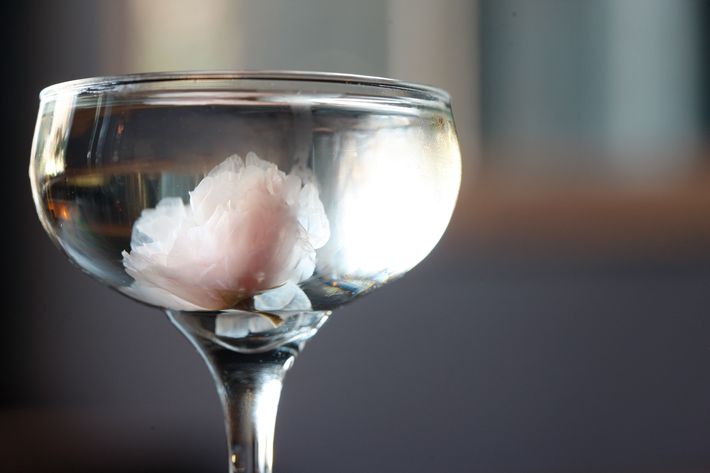 Bemelmans Bar (Upper East Side)
As far as old-fashioned, upper-crust bars are concerned, Bemelmans cannot be beat. It's quite possible the word mixology has never been uttered here, and you won't find too many newfangled drinks on offer. Instead, it is where you should go for a classic martini. Located in the swanky Carlyle Hotel and home to nightly jazz performances, the space is decorated with Ludwig Bemelmans's murals, an attraction in and of themselves.
Booker and Dax (East Village)
At this stylishly mod bar attached to Momofuku Ssäm Bar, food-science wizard Dave Arnold shows off his chops with carbonated cocktails and drinks lit up by a red-hot poker, as well as unusual ingredients and flavor combinations. You'll find savory fish sauce, cilantro, and Thai basil paired with lime and cachaça in the Turbo Monsooner, rye infused with bran, and vodka and applejack washed with milk, but this is also a place where you can find a very solid, traditional (albeit bottled) Manhattan.
Clover Club (Carroll Gardens)
Julie Reiner's Carroll Gardens spot and its Manhattan predecessor, Flatiron Lounge, combine the best parts of the mixology movement with the familiar, time-honored comforts of an outstanding neighborhood bar. The extensive menu of drinks — divided into categories like royales (made with sparkling wine), Old Fashioneds, and sours and cobblers — offers something for everyone. (A food menu that's larger than those at most bars also means you can get a full meal, if you'd prefer.)
Dutch Kills (Long Island City)
This is where Queens locals still go for stellar classic cocktails concocted in the throwback Petraske style. With its classic décor, dark lighting, and craft touches like hand-cut ice, the bar excels at all of the trademarks of that style. The drinks are always well made, but take note of the happy hour, Monday through Thursday from 5 to 7 p.m., when you'll get the same great cocktails for just $8 each.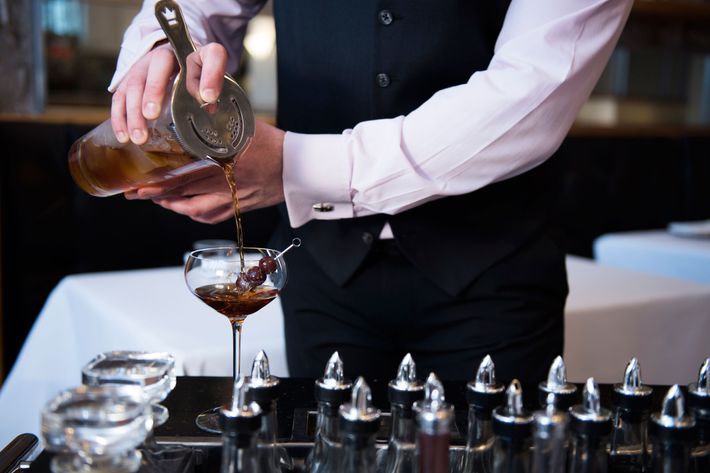 Eleven Madison Park (Nomad)
Daniel Humm and Will Guidara's extra-luxe tasting-table restaurant is the rare fine-dining establishment that takes its cocktails as seriously as its wine. The not-so-secret pro tip is that you don't have to reserve a table to get them, and you can order à la carte at the bar. Star bartender Leo Robitschek's lengthy list of drinks is divvied up into sections like soft and dark-spirited and — for people who are in the dining room — includes the theatrical, table-side Manhattan cart. The drinks are as excellent here as they are at EMP's handsome sister restaurants the NoMad and the NoMad Bar, where you'll also find large-format cocktail explosions. (In terms of choosing where to go, it's really just an issue of how luxe you want your drinking environment to be.)
End of the Century (Forest Hills)
The bar doesn't look like much, and the location is unexpected as far as cocktails go, yet the drinks here would stand out anywhere in town. The crew behind the operation have crisscrossing résumés that include many of New York's best and most interesting bars — Maison Premiere, Dutch Kills, Flatiron Lounge, the late PKNY — and it shows in their work behind the bar. The menu is a mix of tiki standards like the Kon-Tiki mai tai, scorpion bowls for groups, and classics like the Gentleman's Buck (rye, orange, ginger, lime, Angostura bitters, and soda) and Negroni. Whatever else you drink, get a daiquiri, guaranteed to be expertly made.
Grand Army (Boerum Hill)
The neighborhood spot's drinks are overseen by Damon Boelte, who used to run the show at Prime Meats but here takes a more relaxed approach. Seasonal menus are constructed around themes like railroads or the state parks of his native Oklahoma, while Boelte's team combines ingredients like tequila and toasted orgeat, for the Red Rock Canyon; or Scotch, coconut, and pineapple in the Alabaster Caverns. Along with the house drinks, the bartenders are adept at making slightly lesser known classics like, for example, the bracing Vieux Carré, a traditional mix of Bénédictine, cognac, vermouth, and whiskey that hails from New Orleans.
Little Branch (West Village)
Sure, there's a menu, but the reason everyone still heads to this sexy Seventh Avenue bar (which is literally underground and full of semiprivate booths) is because, in classic Milk & Honey fashion, the best bet is the dealer's choice. You'll be hard-pressed to find bartenders who are more studied or precise. Name a favorite liquor and the bartender or server will lay out a variety of drink options for you. The vibe is "low-key jazz club," which is to say the dim lighting and occasional live music are also part of the charm.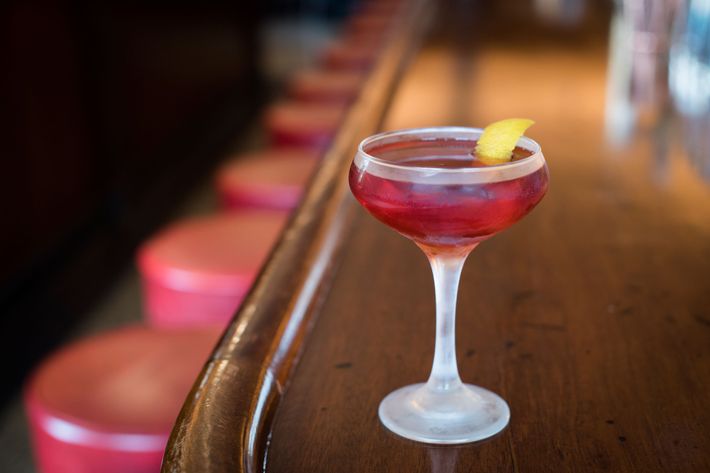 Long Island Bar (Cobble Hill)
The bar is comfortable, unpretentious, and accessible; the bartenders thoughtful and detail-oriented; and the drinks, at $12, affordably priced considering the quality (and the all-star roster of barkeeps who pull shifts here each night). The Atlantic Avenue establishment keeps its menu focused with just seven cocktails, typically straight-up classics or subtly but smartly tweaked variations of favorites, but they'll make anything you want, and it's a good bet it will be the best version you've ever had. The Boulevardier, something of a signature drink, is one of the best in town, and the food is often excellent, too.
Maison Premiere (Williamsburg)
With its New Orleans–themed décor and fogged windows that obscure the Bedford Avenue bustle, the Williamsburg boîte is a transportive place. But you're here for the excellent, sometimes elaborate drinks and expert bartenders who make them, like the seasonal Pimm's Cup, eight rotating absinthe cocktails (including a piña colada variation), and house standards like the Barber of Seville (Hidalgo Manzanilla, Cappelletti, rye, lemon, and orgeat). In the past, there's been an emphasis on food-friendly (and sometimes low-ABV) drinks, which is a boon as it's not every cocktail bar that has an Alain Ducasse alum in the kitchen. Plus, there's one of the best oyster selections and happy hours in town.
Manhattan Cricket Club (Upper West Side)
Though the posh clubhouse is stowed away on the second floor of an Upper West Side townhouse and accessed through a "secret" upholstered door inside the restaurant Burke & Wills below, it's not your typical old-timey speakeasy. With gold brocades, fine wood, and a series of high seats at small tables, it's much more Colonial-era luxurious than Prohibition throwback. Accordingly, Manhattan Cricket Club presents an even more civilized take on the genre — house rules (sigh, we know, but this place is worth it) prohibit rowdy behavior and demand decent outfits — with fittingly sharp service. The drinks are similarly refined, whether you're looking for something new like the Hakushu Highball or a slightly tweaked classic, and often incorporate rarefied ingredients. The small-plates menu is pretty good, too.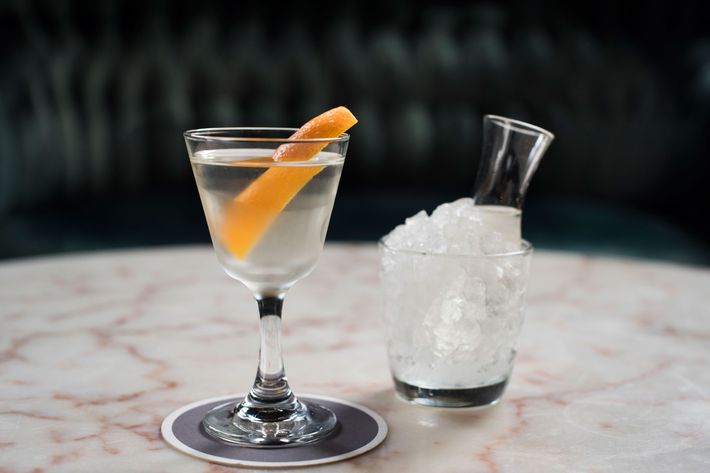 Nitecap (Lower East Side)
Especially on quiet nights, the basement bar is an oasis of civility in a neighborhood that's otherwise saturated with clichéd nightlife spots. Run by a veteran bartender and the nightlife impresarios who own Death & Co., 151, and more, they take an eclectic approach to their drinks here. The extensive menu includes large-format punches and fancy boilermakers, ranging from your basic whiskey and lager to a mini Rob Roy served with a sour ale.
Pegu Club (Soho)
To this day, you will be hard-pressed to find a wider variety of drinks more consistently made at one bar than at Audrey Saunders's iconic Houston Street destination. For a time, the upscale bar was staffed by a murderers' row of skilled bartenders who would later go on to open top-flight places of their own (many on this list), and, though it's not as hip as it once was (and a patina has started to develop on the vaguely Asian décor), its game hasn't slipped a bit, and the drinks are as polished as ever.
Pouring Ribbons (East Village)
A lot of bartenders say they want to make serious drinks in a buttoned-down atmosphere, but rarely do they seem like they're having as much fun as the ones at Pouring Ribbons. At this bar run by a group including one of Death & Co.'s original bartenders, they infuse rye with popcorn, serve gin kamikazes with Pop Rocks during '80s night, and make cocktails that are both as interesting as they are drinkable.
Seamstress (Upper East Side)
An uptown bartender's favorite, the bar here is run by star Dead Rabbit veteran Pamela Wiznitzer. Along with the rotating list of 24 house cocktails, the barkeeps are capable of making anything really well. It would be easy to say that this is a great downtown-y cocktail bar, by uptown standards, but the reality is that Seamstress can stand toe to toe with any of the other bars on this list.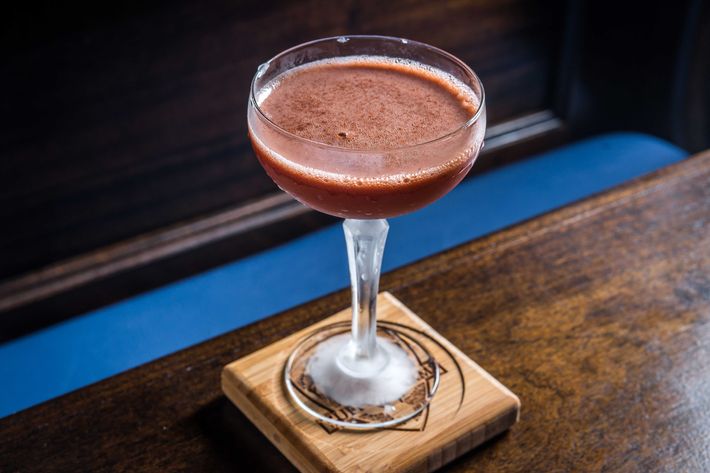 Suffolk Arms (Lower East Side)
This New York–style pub is a very recent addition to the scene, so be warned that it could be very crowded, but the drinks here already some of the best around. That won't surprise fans of journeyman bartender and partner Giuseppe González, who has worked at most of New York's excellent bars. The room is unpretentious, the tavernlike aesthetic is heavy on the New York pride, and the list of drinks is as long as it is thorough. There's also a whole section of vodka drinks, including five martini variations, as well creations like the Magic Julep (equal parts Fernet and Angostura bitters and sugar).
Tooker Alley (Crown Heights)
Del Pedro, the co-owner of this thematic cocktail lounge inspired by an old Chicago speakeasy, doesn't hesitate to show off his knowledge, once serving a historical martini menu, occasionally doling out esoteric drinks, and writing old-timey, cheekily detailed menus. (He's also happy to simply talk to you if you're sitting at his bar.) For a modern take on the martini or an Old Fashioned made with nut-infused bourbon, this laid-back room is your place on the border of Prospect Heights.
More Restaurant Suggestions From Grub Street
Where to Eat the Best Ramen in NYC
Where to Eat the Best Brunch in NYC
Where to Find the Best Tacos in NYC
Where to Eat the Best Late-Night Food in NYC
Where to Eat the Best Sushi in NYC
These Are the Best Date Restaurants in New York
The Best NYC Restaurants for Groups
Where to Drink the Best Coffee in NYC
Where to Eat the Best Steaks in NYC