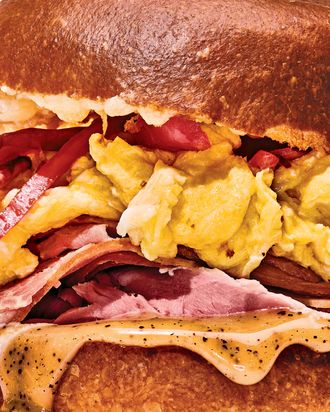 Southside Coffee breakfast sandwich.
Photo: Bobby Doherty
Because a restaurant, store, or pinball-machine-laundromat opens nearly every week in this city, "Best of New York" has traditionally meant "Best of New New York." (Typically, we draw from a pool of openings within the past year.) But for these five iconic foods, we said to hell with the new and let quality alone determine the winner — along with four worthy runners-up. After some thorough research, we found that in many cases, the upstarts trumped the classics, proving that innovation in the foodsphere — and onion ash on a Caesar salad — can be a very good thing indeed.
Breakfast Sandwiches 1. Southside Coffee 652 Sixth Ave., at 19th St., Greenwood Heights; 347-927-4870 Southside's eponymous breakfast sandwich is two organic eggs scrambled in good butter; Heritage Meats ham; Cabot Cheddar melted on a toasted Balthazar bun; pickled red onions. And the clincher: a fiendishly good concoction consisting of maple syrup, Dijon mustard, and George Howell coffee grounds emulsified with oil and egg yolks into a thickish "breakfast mayo." Do better ingredients make a better egg on a roll? In this case, absolutely.
2. Joe Junior 167 Third Ave., at 16th St.; 212-473-5150 And yet, here's the flip side to the above argument, rendered from perfectly fine but nothing-special ingredients by Ur-coffee-shop griddle ninjas in a seamless choreography of sheer muscle memory. We'll take our two fried, broken-yolk eggs with smoky bacon and American cheese on whiskey down—rye toast in short-order speak.
3. C & B 178 E. 7th St., nr. Ave. B; 212-674-2985 At his breakfast-all-day café, former Daniel cook Ali Sahin scrambles eggs as punctiliously as some chefs bake soufflés. He's no slouch at sausage-making either. His egg-and-chorizo on excellent housemade Turkish flatbread is what McMuffins dream of becoming.
4. Court Street Grocers 540 La Guardia Pl., nr. W. 3rd St.; 212-777-9292 Why cross the Hudson to cure a hangover when you can get two eggs, American cheese, and New Jersey's unofficial state meat, the bolognalike pork roll, on toasted Martin's potato bread at Court Street Grocers? Don't forget to douse it with ketchup the way they do in Trenton.
5. Saltie 378 Metropolitan Ave., nr. Havemeyer St., Williamsburg; 718-387-4777 The eggs are cooked with ricotta, seemingly by some advanced scrambling technique yielding ultracreamy results, and barely contained within a split of excellent, sea-salted focaccia. That's the zen perfection of Saltie's Ship's Biscuit. No bells. No whistles. No meat.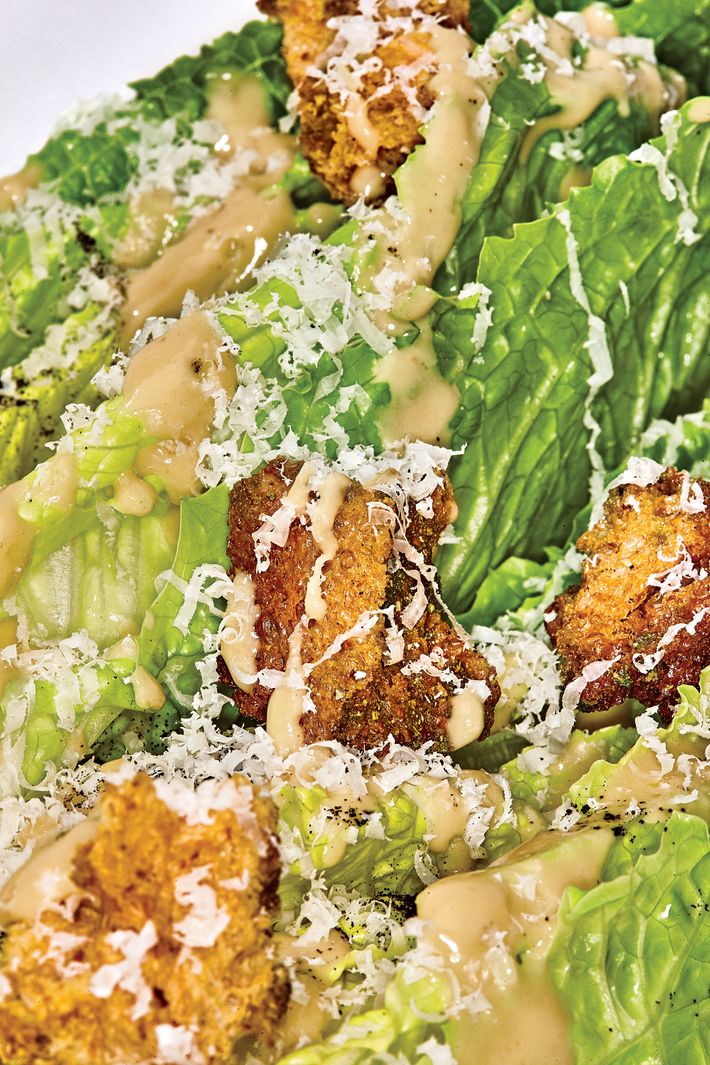 Caesar Salad 1. Salvation Burger 230 E. 51st St., nr Second Ave.; 646-277-2900 Is it possible that the city's best Caesar salad comes from a burger joint? If it's an April Bloomfield burger joint, why not? No one, after all, has done more to elevate the Caesar than Bloomfield — first at the Spotted Pig, then at the Breslin and the John Dory. Her latest effort is her best yet: half a head of cool, crisp romaine, each spear brushed with a high-octane garlic vinaigrette imbued with anchovy, Parmesan, and hot English mustard. You pick the leaves up with your fingers and pop them into your mouth like French fries — the way the salad's inventor, Caesar Cardini, originally intended. But the key to this leafy umami bomb lies, unexpectedly, in Bloomfield's new wood grill, the embers of which she uses to slow-roast the garlic and to char whole onions into a smoky, bittersweet black ash she scatters liberally over the top.
2. Pietro's 232 E. 43rd St., nr. Second Ave.; 212-682-9760 Pietro's, which opened in 1932, has been making well-dressed, unstintingly full-flavored Caesar salads almost as long as there have been Caesar salads. The motto around the mixing bowl here is more is more: more garlic, more anchovy, more Parmesan. When you have a Caesar salad at Pietro's, you know you've had a Caesar salad. Even the morning after, the memory lingers.
3. M. Wells Steakhouse 43-15 Crescent St., Long Island City; 718-786-9060 Smoked herring supplants anchovies in the dressing, an inspired tweak that makes you stop and wonder, then appreciate and savor. And the mountain of shaved Parmesan looks like a gag but tastes like a dream.
4. American Cut 363 Greenwich St., nr. Harrison St.; 212-226-4736 Marc Forgione's "OG 1924 Hotel Caesar" is presented tableside in a colossal wooden mixing bowl as a stack of romaine leaves obscured by a Melba-toast-thin plank of a Pullman-loaf crouton. Then it's whisked away to be chopped by mezzaluna, all its premium parts coalescing into a harmoniously piquant whole.
5. Upland 345 Park Ave. S., entrance on 26th St.; 212-686-1006 Chef Justin Smillie challenges romaine's hegemony, relying instead on heirloom Italian chicories. His second trick: utilizing anchovy in both the dressing and the bread crumbs he mixes with dehydrated and pulverized oil-cured fillets. Pure genius.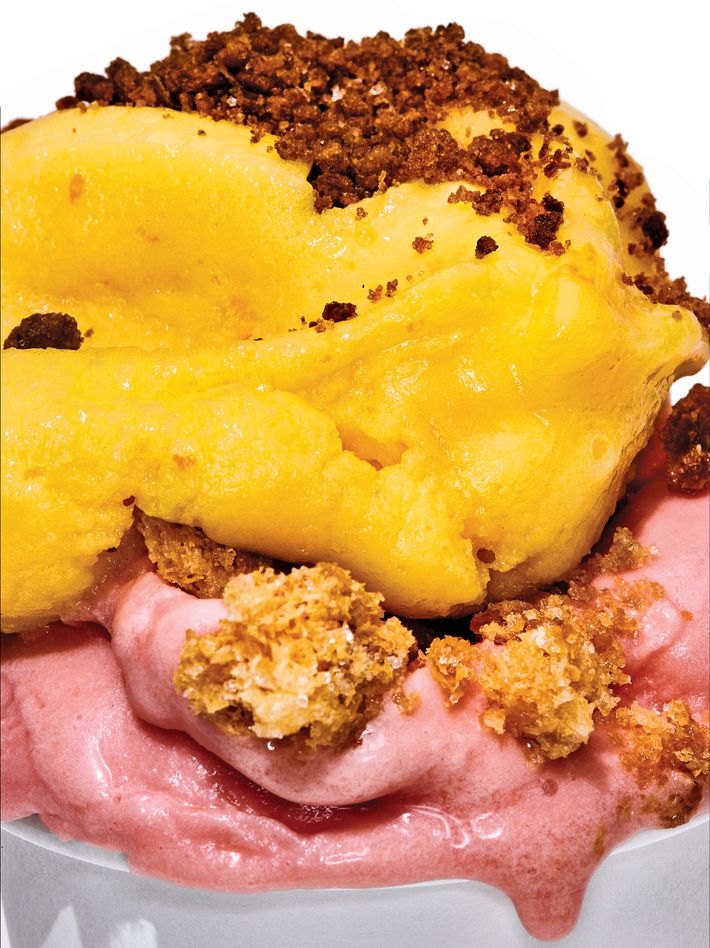 Ice Cream 1. Superiority Burger 430 E. 9th St., nr. Ave. A; 212-256-1192 Before Brooks Headley made veggie burgers cool, he was an award-winning pastry chef. That's why some folks consider Superiority an ice-cream parlor that happens to serve savory food. There's always one gelato (something milky, like labneh or cream cheese) and one seasonal-fruit sorbet, and Headley combines a scoop of each in a small paper cup for a Creamsicle-like effect. The gelato is dense and slightly chewy; the sorbet is vivid and sharp, yet remarkably creamy; and the daily combo, layered with some crunchy topping (candied bread, dehydrated burger buns) is always a happy surprise.
2. Il Laboratorio del Gelato 188 Ludlow St., at E. Houston St.; 212-343-9922 Jon Snyder is the gelato OG, continuing the chef-driven custom-flavor work he started at Ciao Bella in the '80s. Where else can you do side-by-sides of sweet potato and butternut squash; white and black sesame; black and white peppercorn?
3. Morgenstern's Finest Ice Cream 2 Rivington St., nr. Bowery; 212-209-7684 Nicholas Morgenstern is a '50s-era soda jerk trapped in the body of a 21st-century fine-dining pastry chef. He has very particular ideas about ice-cream formulas and sundae assembly — namely that butterfat and sugar should be restrained, flavors should be pronounced, and cream should be hand-whipped to order. Also, he's not afraid of durian.
4. Otto Enoteca e Pizzeria 1 Fifth Ave., at 8th St.; 212-995-9559 Mario Batali really should have named the place Otto Enoteca e Pizzeria e Gelateria, thanks to the groundbreaking work of Meredith Kurtzman, who left Otto last fall. But her station remains in good hands, and the restaurant an essential destination for the signature olive-oil flavor, plus the sumptuous sundaes called coppettas.
5. Ample Hills Various locations It's not just that this Brooklyn-based juggernaut became a modern-ice-cream-era pioneer by pasteurizing its own milk and making its own bases and mix-ins; it's also the proud creator of smash flavors like Salted Crack Caramel and limited-edition collaborations like the Star Wars-inspired the Light Side and the Dark Side.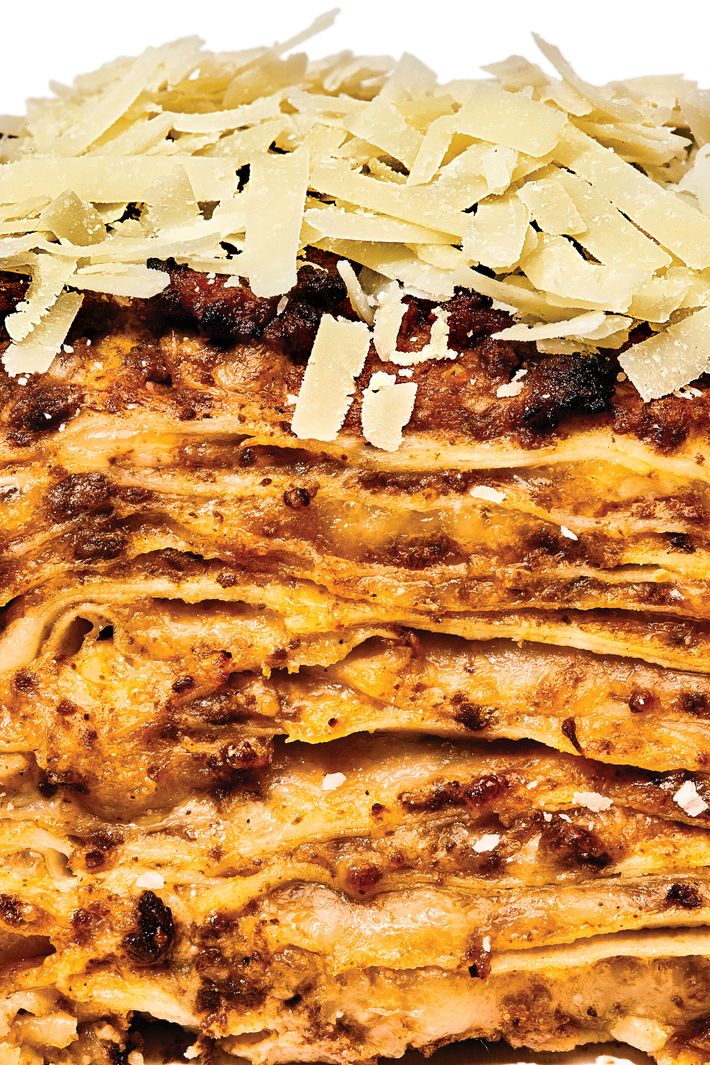 Lasagna 1. I Sodi 105 Christopher St., nr. Bleecker St.; 212-414-5774 Tuscany is not famous for lasagna, it's true. That honor belongs to Emilia-Romagna and Campania (not to mention junior-high-school cafeterias everywhere). But that hasn't stopped Tuscan native Rita Sodi from making lasagna al sugo di carne her signature dish, its firm-but-yielding strata of crisp-edged pasta sheets (Sodi says between 19 and 21) minimally sauced, amply cheesed, and stacked up as neatly as a deck of cards. She also offers an equally rich artichoke version, plus a seasonal variation — most recently lasagna al tartufo, larded with béchamel and shavings of black truffle.
2. Del Posto 85 Tenth Ave., at 16th St.; 212-497-8090 Though Mark Ladner has taken his showstopping 100-layer production off the menu, he will make it available (in meatless, meat-sauced, and gluten-free, oven-baked, or pan-seared permutations) to anyone who asks.
3. Teodora 141 E. 57th St., nr. Lexington Ave.; 212-826-7101 As satisfying a lasagna (and soulful a ragù alla bolognese) as you'd expect from an Emilia-Romagnan stronghold.
4. Il Gattopardo 13-15 W. 54th St., nr. Fifth Ave.; 212-246-0412 In a town flooded with bolognese, this kitchen channels Naples with its lasagna di Carnevale, a profusion of mini-meatballs, ricotta, and smoked mozzarella.
5. Gaia Italian Café 251 E. Houston St., nr. Norfolk St.; 646-350-3977 At only $8 a tin bowl, the pesto lasagna, enriched with buffalo ricotta and béchamel, may be New York's best baked-pasta bargain.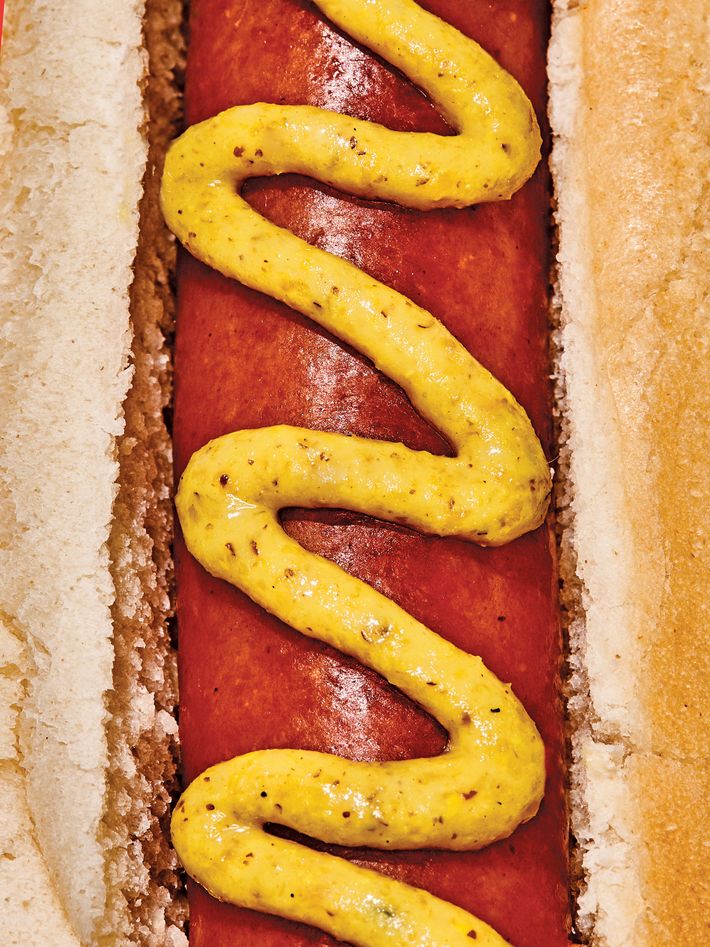 Hot Dogs 1. Katz's 205 E. Houston St., at Ludlow St.; 212-254-2246 You can't write blurbs about Katz's without mentioning that scene from When Harry Met Sally — well, you can, but suppose you couldn't. Our point is that if anything were to inspire someone to unleash a series of ecstatic yips and moans while dining here, it would most likely be the hot dogs. Everything you want in a hot dog, you see, you'll find at Katz's: a good amount of char, the essential natural-casing snap, the tongue-tingling jolt of salt, and a garlic-forward blend of spices that finds its gustatory counterpoint in the soft, bland roll that cradles it. In fact, some deli aficionados we know go here solely for the dogs while other super-fressers consider a proper meal at Katz's to consist of the following: amuse-bouche (hot dog), appetizer (potato knish), intermezzo (pickles and swig of Dr. Brown's Cel-Ray), main course (pastrami sandwich), side dish (fries), dessert (hot dog).
2. Nathan's Famous 1310 Surf Ave., at Stillwell Ave., Coney Island; 718-946-2202 If hot-dog-eating is all about context, then there is no better place in the city — maybe the world — to eat an all-beef, natural-casing tubesteak than among the flowing summertime hordes at the original Nathan's hard by the boardwalk. Salt air and ocean breezes, after all, are nearly as powerful flavor enhancers as MSG.
3. Schaller's Stube 1652 Second Ave., nr. 86th St.; 646-726-4355 This neatly designed new "sausage bar" annex to the great Schaller & Weber butcher shop serves a Swiss-cheesed, sauerkrauted, and secret-sauced all-beef frankfurter called a Steuben's Reuben that could change even the most conscientious hot-dog purist's views regarding toppings. It comes on a Balthazar brioche bun that gets ironed out in a panini press, which sounds like a bad idea for a hot-dog bun until you try it.
4. The Cannibal 113 E. 29th St., nr. Park Ave. S.; 212-686-5480 La Frieda makes the hot dogs. Chef Francis Derby makes the mapo-tofu-inspired tripe-and-ground-short-rib chili that goes on top. And Martin's makes the bun. You'll want more than one, which is why they come two to an order.
5. Hard Times Sundaes 630 Flushing Ave., nr. Bartlett St., Williamsburg Andrew Zurica serves the city's best smash burgers from a truck parked outside the Pfizer Building. His all-beef "Brooklyn style" hot dogs — bandaged like mummies with strips of bacon, deep-fried to a crisp, then smothered with gobs of chili and American cheese — are nearly as good.
See all the Best of New York Eating 2016 picks.
*A version of this article appears in the March 7, 2016 issue of New York Magazine.