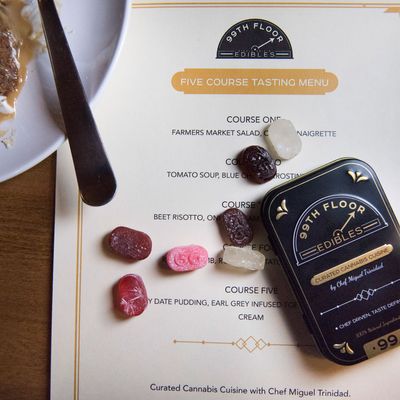 The evening's menu.
Photo: Liz Clayman/©2016 Liz Clayman
The instructions in the anonymous email were only somewhat clear: When I got to the warehouse in Brooklyn, I was supposed to walk around back, through the parking lot, and up the loading-dock stairs. I did just that and was promptly greeted and escorted through a back door, down the hall, up a flight of stairs, down another hallway, then around yet another corner. Finally, though, I arrived at the tiny dining room and makeshift kitchen where I and about 20 other guests would eat a clandestine marijuana tasting menu put together by one of New York's most well-known cooks of Filipino cuisine.
The highly secretive nature of the meal was necessary, of course, since weed is what you might call barely legal in New York State. Possession of less than 25 grams is a ticketed offense, and the state's new medical-marijuana program has some of the toughest restrictions in the entire country. In plenty of other places, though, the increased legality has led to a growing movement of talented chefs treating the plant like any other culinary ingredient: In Denver you'll find cannabis-cured lox. Celebrated pastry chef Mindy Segal is working on THC-enhanced brittle bars, granola, and a ready-made drinking-chocolate mix. Sinsemil.la, an "underground supper club," dubs itself New York City's first underground marijuana fine-dining experience. Boston's cannabis-dinner scene includes shrimp stews, deviled eggs, biscuits, and fried green tomatoes.
That list also includes New York City's Miguel Trinidad, the chef and founding partner of Maharlika and Jeepney, and Doug Cohen, who were hosting the Brooklyn dinner I attended. They were promoting their new edibles company, 99th Floor, a product line — touted as chef-curated hard candies — that will launch in California dispensaries next month. The dinners, though, are more than promotional tools. To start, snagging an invite is almost impossible. No tickets are sold, no money is exchanged, and you can't make a reservation. You have to know someone who knows someone who knows someone. Venture capitalists sit next to jewelry designers, magazine editors next to television producers, and CEOs next to bed-and-breakfast owners. As I take my own seat in the candlelit room, '90s hip-hop plays in the background, and I notice the delicate flatware and rubber-stamped place cards.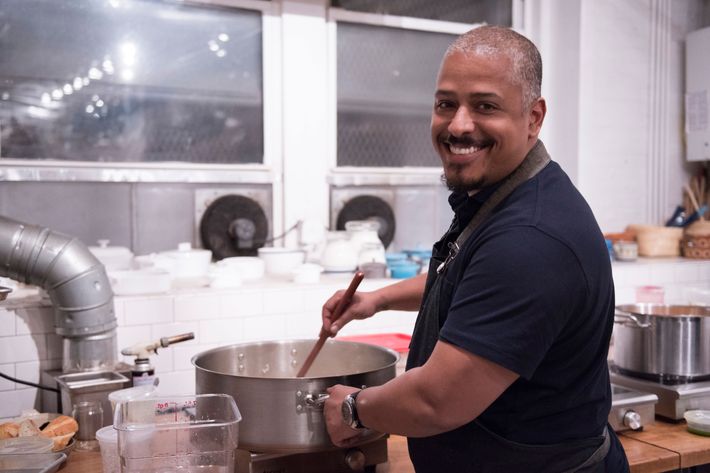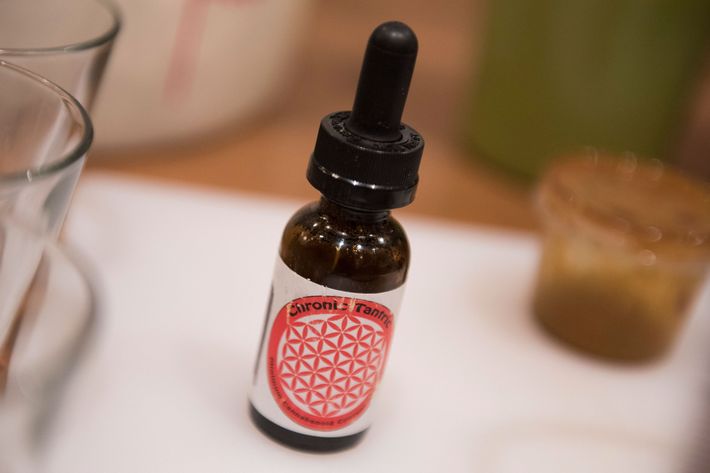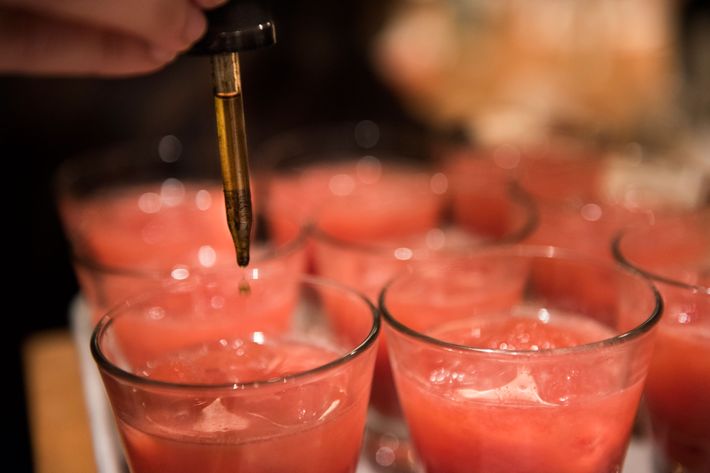 Trinidad, meanwhile, creates his own canna-oils and cannabutters to use while cooking and, like a weed sommelier, curates the meal based on the strain he has to work with. The food changes with each dinner, but Trinidad makes sure that the strain of bud is the meal's focal point. On this night, it's Hawaiian Kush. "Working with Filipino ingredients has given me an appreciation for attention to singular ingredients," Trinidad explains. "The strain is the star, and I want to make it shine in the dishes I create. Each dinner is different. You will find both Pinoy and Latino flavor profiles throughout most of our dinners."
While sourcing transparency is usually paramount for high-end, ingredient-worshipping chefs, nobody will say where tonight's supply of Hawaiian comes from, for obvious reasons. Even still, I have to wonder why Trinidad and Cohen are willing to go on the record with me and risk blowing up their spot. They point out that even though pot is still against the law in New York, recreational use is already legal in Alaska, Colorado, D.C., Oregon, and Washington State. And hemp, marijuana's non-psychoactive cousin, is featured in everything from salad bowls to body lotions. Even in New York City, it's not uncommon to see (or smell) people smoking on the street. "It's definitely a cultural shift in perception," Cohen says. "My family, my wife's family, everyone knows we do it. We know it's not 'bad.'"
The point of hosting the private dinners, Cohen explains, is to continue to push that cultural shift, and to reframe the way cannabis is perceived. "Food is such a beautiful way to do it," he says. "If we can show beautifully plated, incredible-tasting food cooked with cannabis as an ingredient, that responsible adults can enjoy themselves eating, it's pushing that conversation in that direction."
The first course of Trinidad's dinner is a creamy tomato soup, topped with a blue-cheese crostino and basil oil. (The blue cheese is medicated with two milligrams of canna-oil, and there's almost no trace of marijuana flavor.) The next course is a Greenmarket salad topped with a medicated citrus dressing. Again, the pot flavor is muted, but by the time the third course comes out — bright beet risotto medicated with cannabutter, topped with onion cream, Parmesan, and nasturtium — people are looking around, smiling, starting to feel the effects.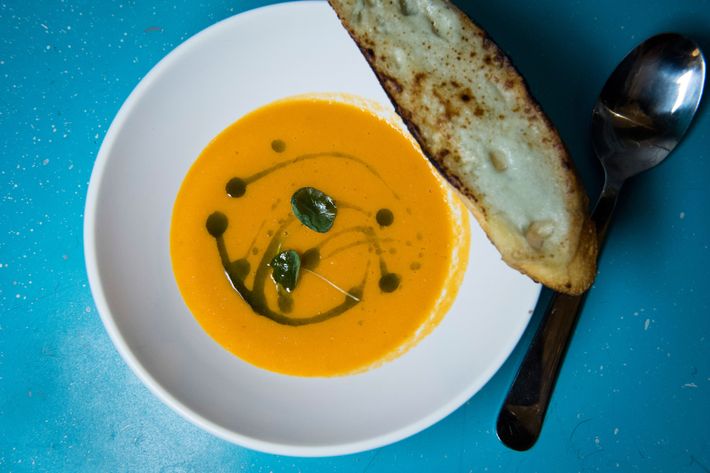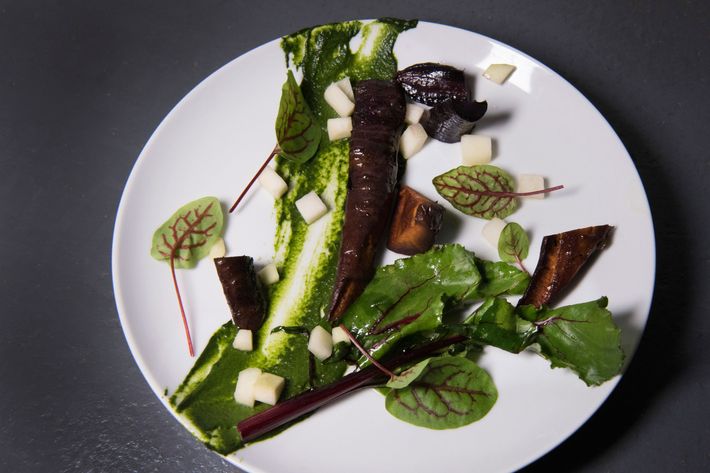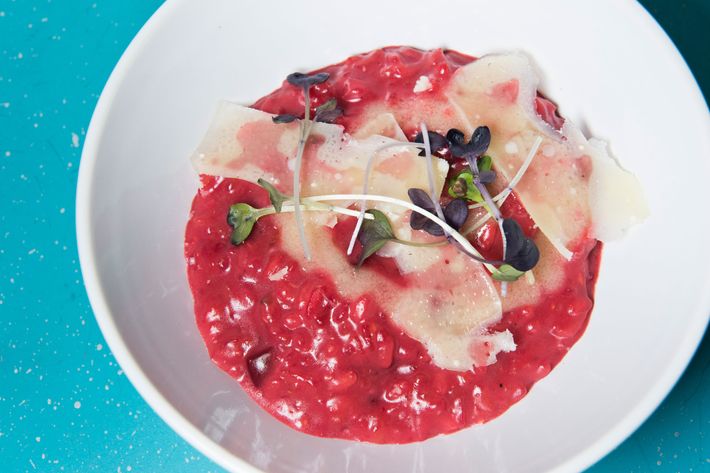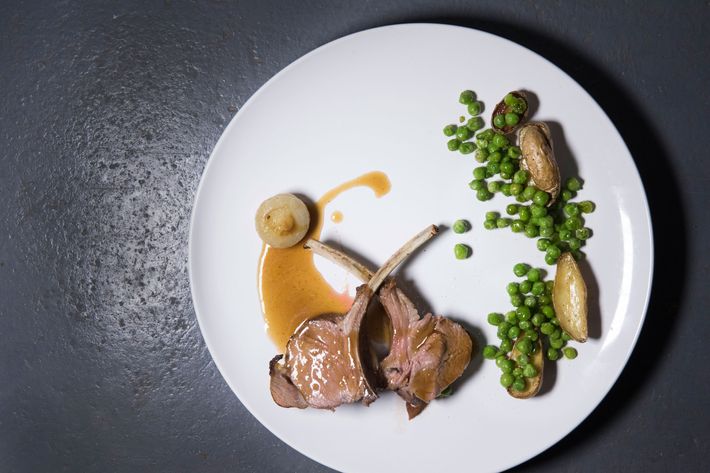 Nothing on the menu is like the weed-infused food people "cook" in their apartments or dorm rooms. The point isn't (only) to get stoned. Instead, Trinidad wants to educate people about proper dosing and demonstrate what happens when someone with technical know-how is doing the cooking. The food is delicious, but even if the offerings don't reek of pot, the high soon becomes very apparent. It's a smoother, calmer, all-over body high, without the headache or paranoia that sometimes comes with edibles. I barely have three sips of alcohol during the meal but feel (pleasantly) a few drinks deep all night long.
The dinner's final savory course is a rack of lamb, cooked sous-vide with canna-oil. On the side, peas and potatoes come tossed with cannabutter and canna-oil lamb jus. For dessert: sticky date bread pudding with three milligrams of cannabutter, Earl Grey–infused toffee, and lemon whipped cream. Much better than brownies.
As the meal ends, everyone thanks Trinidad and leaves full, happy, and totally stoned. And finding our way out of the building is even more difficult than it was getting in. Alas, until haute cannabis cookery is legal, dinners like these will have to stay in the back alleys of Brooklyn. Cohen, though, hopes they ultimately do serve a larger purpose. "As members of the cannabis community, it's our job to shift the conversation and battle the stereotypes," he says. "This is one of the ways we plan to do that."