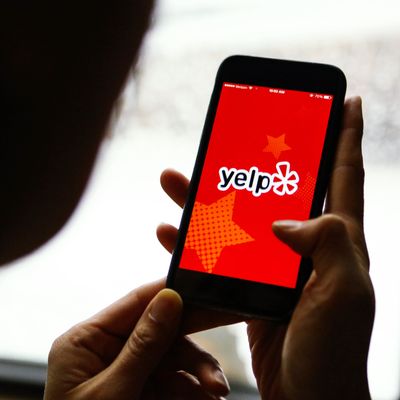 Yelp did say it agrees with "many of the points" in her letter.
Photo: Chris Goodney/Bloomberg Finance LP/Getty Images
Yelp has gotten itself into a new PR bind, but instead of it involving another restaurateur livid about reviews, the mess this time is entirely internal. On Friday evening, the company fired an Eat24 customer-service rep named Talia Jane not two hours after she tweeted an open letter to CEO Jeremy Stoppelman that she'd just published on Medium. Her missive greets Stoppelman with an informal "Dear Jeremy," then attacks him for underpaying employees while painting a fairly bleak picture:
I make $8.15 an hour after taxes. I also have to pay my gas and electric bill. Last month it was $120. According to the infograph on PG&E;'s website, that cost was because I used my heater. I've since stopped using my heater. Have you ever slept fully clothed under several blankets just so you don't get a cold and have to miss work? Have you ever drank a liter of water before going to bed so you could fall asleep without waking up a few hours later with stomach pains because the last time you ate was at work? I woke up today with stomach pains. I made myself a bowl of rice.
A spokesperson confirmed to Quartz that Yelp did fire Talia Jane after the letter went up, but said they "do not comment on personnel issues." Nothing necessarily odd about a policy like that, though, given the timing, the rest of the company's line on the mess is suspect: The rep also called Jane's letter a "real, personal narrative about what it's like to live in the Bay Area," and defended it as an "important example of freedom of speech." Stoppelman, meanwhile, has made it a point to address the controversy on social media, and his tweets add an even weirder level of what might be called toothless sympathy: