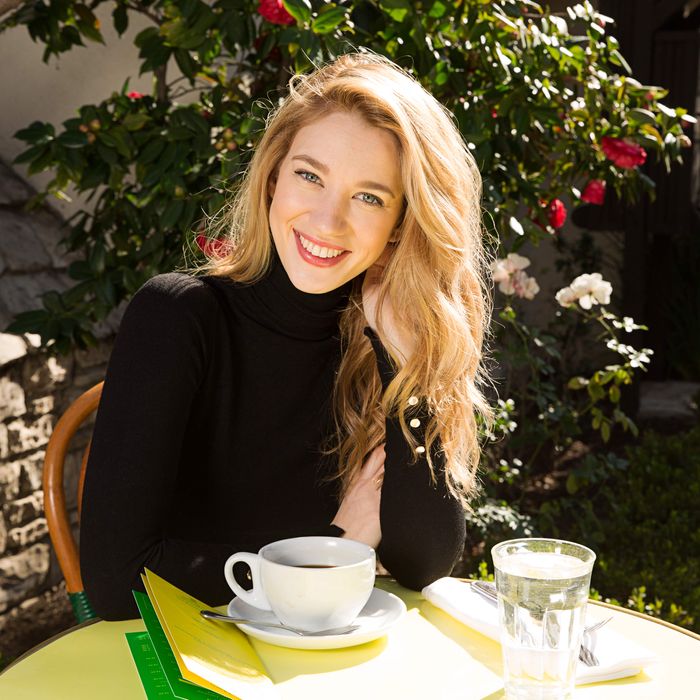 "To me, food is just an endless source of happiness."
Photo: Bradley Meinz; Hair: Ryan Richman, Makeup: Kindra Mann
"I come from a family with an Austrian mother and a French father, and food has always been what's brought us together," says Yael Grobglas, a Los Angeles–based, Israel-raised actress who currently plays Petra Solano on the CW show Jane the Virgin. "Growing up, we would eat together three times a day, and every single time was an adventure." As a result, cooking has become a huge source of pleasure for Grobglas, who this week whipped up shakshuka, shrimp and lemony pasta, and a goat-cheese quiche. She also took full advantage of the catering — and cookies — available on set. Read all about it in this week's Grub Street Diet:
Thursday, January 28
I always try and have the same thing for breakfast, no matter where I am in the world. Not for dietary reasons, really, but mainly because, with my strange hours and frequent jet lags, my stomach just won't take anything else before sunrise. I have oats with honey and cinnamon, sometimes with a banana, and a nice cup of black filtered coffee. Occasionally, I place a slice of orange peel in my coffee, which gives it a really nice citrus flavor. For a while I was sure this orange-peel deal was my invention, but I've recently heard rumors of more people doing it. So either word spread quickly, or, sadly, it might not be my invention at all. Very tasty either way. Slightly tastier if it's my invention.
At lunch I was on set filming, which mainly means one very happy thing: catering for lunch! Like every normal person, when presented with a buffet of free food, I pile it on. Cast mates and crew members are always laughing at my two trays and many plates, but hey, I need the energy! This time my plates contained an assortment of salads, salmon, pasta, some rice, half a hard-boiled egg, some collard greens, sautéed veggies, an orange juice, fruit, and a couple of cake options for dessert. Yum.
For dinner, I took one of my best friends to an Italian restaurant I have recently discovered, called Scopa, located in Marina Del Rey. It's fantastic, and I could feel the excitement building up all day. I had made a major effort not to snack between lunch and dinner to make sure I wouldn't miss out on anything, so I was properly starving by the time we arrived, and just on the verge of getting hangry. Saved by the burrata! It was wonderful — served with tangerine and baby beets and a plate of beautiful clams in some sort of a marvelous pesto. This is such a rookie mistake, but it was so good that I dipped all the table bread in the sauce and had to ask for refills before the main courses arrived.
For our main course, my friend had lasagna that I could not nibble on because I don't eat meat, and I had rigatoni in vodka sauce with ricotta. Heavenly. For dessert, we had Italian zeppoles that we dipped in chocolate panna cotta. Oh! I nearly forgot the lovely Nero wine that accompanied all this.
Friday, January 29
Breakfast oats with cinnamon, honey, and a banana, and a cup of coffee with an orange peel.
I had lunch with two of my friends at one of my favorite places in Los Angeles, called Chez Marie. I'm amazed every time I walk in this little French oasis in the middle of Santa Monica Boulevard. It has some of the best vibes in the city and looks like it's been built by hobbits. Just follow the sounds of Édith Piaf and the smell of baked goods and you'll find it. I ate a salmon tartine with cream cheese and tomato, along with a cup of orange juice. I was feeling adventurous since I usually order the crêpe, but Marie did not disappoint!
In the evening, I headed to a friend's house for a game-night gathering that led to pizza and wine for dinner.
Saturday, January 30
Breakfast? Why, oats with honey and cinnamon, of course! Oh, and a cup of coffee. With an orange peel.
I was at home for lunch, so I whipped up one of my favorite Israeli dishes: shakshuka. My version is made with eggs, colored peppers, hot pepper, tomatoes, onion, garlic, parsley, and paprika. It's served with fresh challah bread and usually eaten straight out of the pan. It's a perfect homesickness remedy.
I was feeling creative for dinner, so I decided to make myself a quiche with sweet potatoes, goat cheese, caramelized onions, and rosemary. I served it with oven-baked salmon and lemons and tarragon, and I finished it with something I do every evening: a wonderful cup of tea (usually Mariage Frères).
When my days are fuller, it's hard to find time to cook, but then I'll try to make myself something larger and eat it for a couple days. When I have more time, I'll cook for my friends. I love having small dinner parties. Or large dinner parties, actually — I had people here for Hanukkah, and I cooked for 15 people.
Sunday, January 31
Guess what? Oats with honey and cinnamon! (And a coffee with an orange peel.) After which, I headed to my favorite farmers' market and stocked up on fresh tomatoes, herbs, and fruit.
I was mainly working from home that day, so for lunch I snacked on some of a baguette with triple-cream Brie and fig marmalade. I also made myself a plate of freshly cut heirloom tomatoes with olive oil and balsamic vinegar … I do try to eat healthy, but I haven't made any cuts to my diet because of health reasons. I could never cut out bread. Bread is my friend.
For dinner, I happily ate my leftovers of quiche and salmon because it was just that good. I ended my evening with a cup of tea and lemon cookies … I love lemon cookies. I don't have much of a sweet tooth, actually. But I do enjoy desserts that are not too sweet. I have a chocolate sweet tooth, though I don't know if that's a thing.
Monday, February 1
Breakfast: You guessed it! Oats with honey and cinnamon and coffee with an orange peel.
I had an appointment in the Valley, so after I swung by one of my favorite spots, Aroma Cafe, and ordered a veggie Reuben. Unfortunately, I only moved to the States after becoming a pescatarian, so I haven't tasted the Reuben in all its glory, but meat-eating friends of mine praise this veggie one all the same!
I've been a pescatarian for about four years. Meat was not easy to give up. But I couldn't be so against something and then still contribute to it, so I had to stop eating meat. If anything, not eating meat has made me try to prove to myself, and to others, that I can eat just as well, if not better. It's been its own kind of adventure for me.
For dinner, I whipped up some shrimp with garlic, butter, lemon, and capers. I made pasta with lemon, garlic, and wild arugula from the farmers' market, and ate it with a frisée salad, along with croutons and vinaigrette that I make myself. A glass of red wine, and I was stuffed and happy.
Food makes me smile and feel good. I'm constantly sending my parents pictures of things I eat. Or I call my mom, who's in Israel, and say, "Wait, how did we make this?" We invent recipes together all the time. So it really doesn't cease to make me happy. There's nothing like cooking for people and seeing how it brings them together, or going with people to a restaurant you love and seeing them enjoy themselves. To me, food is just an endless source of happiness.
Tuesday, February 2
Breakfast? You know by now.
We had a Jane the Virgin table read at the studio, so I had lunch there. I ate veggie lasagna, some schnitzel eggplant, cauliflower, and a plate of fruit. From sheer excitement over the wonderful episode, I forgot to eat most of it, so I had to quickly eat it when we finished.
The cast calls me "Cookie Monster," because I'm constantly eating cookies. I burn a lot of energy, I think, when I'm working, or something. I don't know, but I'm constantly eating on set, and you'll usually see me snacking on a cookie.
For dinner, I was considering going with a friend to a Vietnamese place I love called Bambou Le Pho, but I learned that I'd be waking up for work at about 3:30 a.m. … so I ordered in Thai food. I'd done enough cooking for the week and was craving spring rolls. And guess what I'll be having for breakfast …