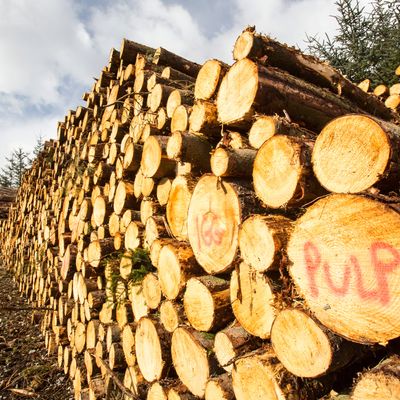 All ready for the cheese cave.
Photo: Ashley Cooper/Corbis
Earlier this week, a Bloomberg investigation revealed that some producers of Parmesan use excessive amounts of cellulose, and sometimes cheaper cheeses, in their purportedly pure products. Cellulose, which can be made from wood pulp (but also any other plant material), is used to prevent clumping in pre-shredded cheese, and is safe for consumption at levels of 2 percent to 4 percent. Two of the major brands that Bloomberg tested, Jewel-Osco and Walmart, exceeded this level, leading to accusations that they were cutting their products with cheap fillers while marketing them as pure cheese.
The most egregious offender among the cheesy con artists was Castle, which manufactured fraudulent cheese for three decades before filing for bankruptcy in 2014. Because the FDA has focused on potential health hazards over labeling issues, it's reasonable to suspect there might be other fraudulent cheeses in supermarket aisles. Some stores are now, in response to the original story's tests, pulling these products from their shelves.
Though this news caused quite a stir, it's a story that's come up several times in recent years. The First Great Wood-Pulp Panic of this decade occurred in 2011, when Taco Bell was hit with a class-action lawsuit after people realized its seasoned beef contained a significant amount of fillers, including maltodextrin, soy lecithin, and — wait for it — cellulose. (The company had already been printing ingredients lists on its website for a while by then.) The suit argued that Taco Bell's seasoned-beef mix was just 35 beef, while Yum! Brands said it is in fact a whopping 88 percent beef, thank you very much.
That year, The Wall Street Journal published an article about the widespread use of cellulose in food, and the Street posted a lengthy list of 15 major food companies that sold processed foods containing cellulose. Products that were named included Aunt Jemima Original Syrup, Cinnabon Snack Bars Original, Weight Watchers English Toffee Crunch Ice Cream Bar, Pillsbury Buffalo Chicken Crescent Pastry Puffs, the Jimmy Dean Frozen Breakfast Bowl, McDonald's Premium Southwest Salad With Grilled Chicken, and, of course, cheeses (pre-shredded and otherwise) used at major fast-food outlets such as McDonald's, Jack in the Box, and Wendy's.
Then in 2014, a year after the Food Babe put her GMO-free bull's-eye on cellulose, the Second Great Wood-Pulp Panic commenced, with news outlets reporting on the presence of wood pulp or cellulose in a wide range of fast-food items, including burgers, smoothies, honey-mustard sauce, fish fillets, and buns. Quartz tallied up the numbers and named McDonald's the No. 1 user of cellulose among the fast-food giants.
While cellulose is considered generally safe — in fact, Cooking for Geeks author Jeff Potter tells Bon Appétit that people "need non-digestible vegetable fiber in our food" — a 2015 study published in the journal Nature found evidence that emulsifiers like carboxymethyl cellulose, a derivative, "can alter the gut bacteria" and cause intestinal inflammation leading to a higher likelihood of "inflammatory bowel disease, metabolic syndrome and significant weight gain." The researchers behind this study witnessed effects even when subjects consumed one-tenth of the concentration of emulsifiers permitted by the FDA. Though this study was about a derivative, the Los Angeles Times gave it significant weight by calling it "among the first to explore whether food additives that have been deemed safe by the Food and Drug Administration may have an unrecognized dark side."
These Parmesan producers are committing culinary fraud by pretending their product is pure cheese, and they're skirting the law by not hewing to FDA standards, and benefiting from using a cheap substitute. But they're also meeting consumer demand. Along with acting as an emulsifier, cellulose has an obvious, practical function as a very cheap extender. It's an easy way to cut costs, especially because the FDA is down with it, and to make otherwise expensive food products more accessible. Food costs have risen significantly in recent years, all while consumers expect their burgers, Quesalupas, and cheese to be delivered at a certain, familiar price point (and ease). Parmesan is not a cheap product, and neither is beef, but that won't stop the American public from wanting a cheeseburger that costs $6.