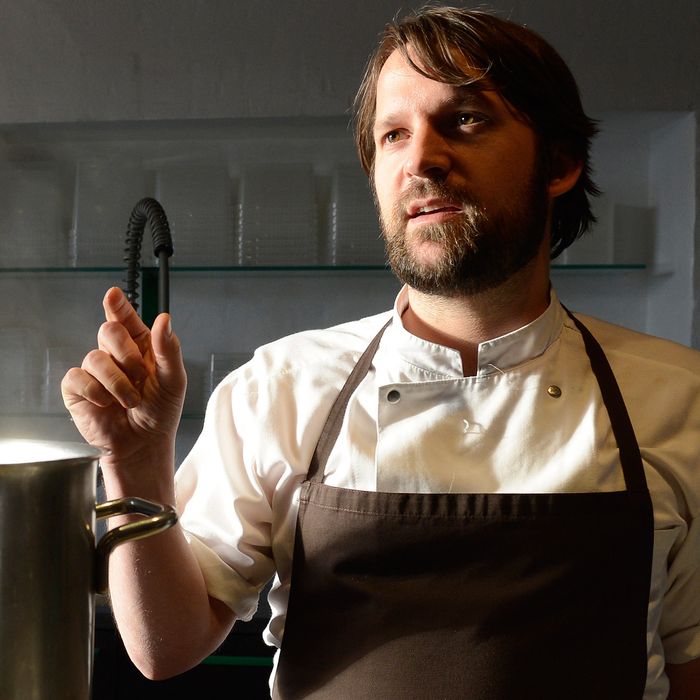 Noma's René Redzepi.
Photo: Fabian Bimmer/Reuters/Corbis
Michelin released its 2016 Nordic guide this week, and, for the first time ever, a Danish restaurant was awarded the guide's coveted three-star rating. That restaurant is — drum roll — from Copenhagen and previously held two stars, but … is not chef René Redzepi's Noma, which, as tradition dictates, held tight with two Michelin stars. Instead, Denmark's best restaurant, according to the Michelin Man, is Geranium, which was opened in 2007 by Bocuse d'Or winner Rasmus Kofoed and ex-Noma sous-chef Søren Ledet. (Oslo's acclaimed Maaemo also achieved three-star status.)
This is not to take away from those restaurants, which have done much to raise their international profile and have been universally lauded. Instead, it's about the odd fact that Noma, which many consider one of the world's most influential (and polished) restaurants, has never received Michelin's top rating. When the restaurant was awarded its second star in 2008, it was the only restaurant in Copenhagen to achieve that mark. Eight years later, it's been leapfrogged, even as it's influenced a new generation of restaurants, including Geranium. In a mixed 2009 assessment, food blog Chuck Eats described that restaurant as an attempt to take Noma's "ideals and 'civilize' them — edit and refine — into a more minimalist haute experience." Meanwhile, Noma has topped the World's 50 Best Restaurants list four times — in 2010, 2011, 2012, and 2014 — but it seems the Michelin inspectors likely don't agree with this assessment, as there are 119 other restaurants in their various guides that rank above Redzepi's.
Noma's two-star status has become a regular part of the Michelin circus and a source of frustration for miffed fans. In 2011, Bloomberg critic Richard Vines wrote about Noma's failure to get its third star, quoting Michelin editor Rebecca Burr as saying, "It will happen one day, I'm sure," but "that it still has a long way to go."
Vines followed up in 2012 with a snappier headline that accused the guide of snubbing the restaurant. English newspaper The Telegraph wrote that same year that Danes were outraged, with Danish food critic Helle Bronnum Carlsen blaming a French bias. Af Ole Troelsø, another Danish food critic, said the two-star status was a result of positioning Michelin's guide against the Noma-loving 50 Best. Michelin director Michael Ellis doubled down in 2014, saying in response to a question from Troelsø that Redzepi is "a revolutionary. But we're very strict and inflexible in our criteria," which did little to illuminate the real reasons for the perceived snub.
Redzepi himself seems at peace with it — publicly, at least — and Noma's fate as a two-star restaurant may have gained reluctant acceptance, as Jesper Uhrup Jensen, editor of the food magazine Gastro, argued this year that Noma's "dishes are too all over the place to get three stars." This speaks to the feeling among Noma sympathizers that its food does not jibe with Michelin's gastronomic expectations. Then again, it's also somewhat perplexing that there are only now two three-star restaurants in all of Scandinavia, given the outsize influence that the New Nordic movement has had over the global restaurant scene.
Burr's prediction that the restaurant would one day achieve three-star status now looks unlikely, at least as far as the original restaurant goes. Noma 1.0 will close its doors for good after its New Year's Eve service this year and will reopen, possibly next year, as an urban farm anchored by a restaurant. Once it reopens, Redzepi promises a menu shake-up and a much stricter, very ambitious-sounding seasonal approach. The world will have to wait to find out if Noma 2.0 is deemed worthy of joining Geranium as one of Denmark's three-star restaurants.