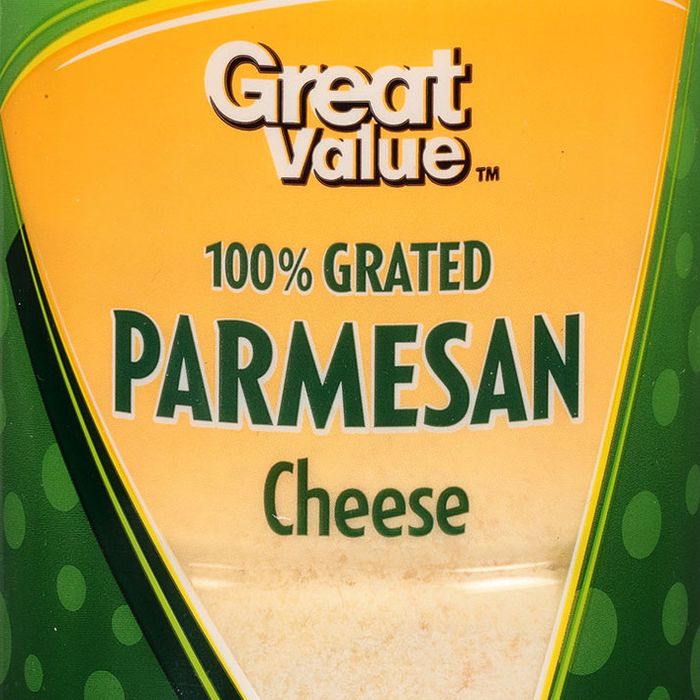 One hundred percent chance that's an inaccurate label, the lawsuit claims.
Photo: WalMart
Common sense would dictate the discovery of wood pulp in cheap Parmesan can't end well for those on the retail side, and lo and behold, it has not: Following the revelation that retailers have started pulling discredited cheeses from stores, Walmart is now facing a class-action lawsuit over the supposedly "100% Grated Parmesan Cheese" sold under its house brand, Great Value. The shopper who filed the suit says he wouldn't have bought the product if he'd known its actual cheese-to-wood ratio.
Bloomberg, which was behind the initial exposé, ran tests and found Walmart's cheeses were 7.8 percent cellulose, but the lawsuit claims other tests put the content as high as 10 percent. Whatever percentage it is, it's not the goose egg implied by the product's label, which the lawsuit says plainly "mis-characterize[s] the amount and percentage of Parmesan cheese in the container."
Walmart isn't the only Great Parmesan Con of 2016 participant now looking at legal repercussions, either. Another lawsuit, filed last week against Kraft over its purported "100% Grated Parmesan Cheese," is also seeking class-action status that would allow everyone with a canister of that stuff in their fridge to join the suit. The real question here is why slap "100%" on labels in the first place. Of all the companies out there, Kraft knows that having a product that's literally zero percent cheese doesn't necessarily hurt sales.