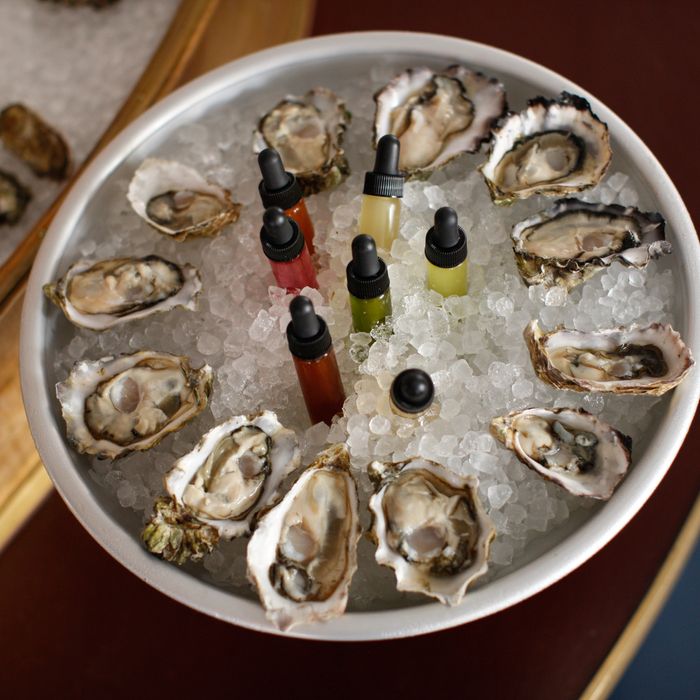 Oysters at Grand Army are good way to celebrate casually.
Photo: Melissa Hom
As it is every year, Grub's advice is to spend Valentine's Day in, cooking something nice or maybe just eating pizza and drinking a decent bottle of wine. But people remain determined to head out to dinner on a night when many restaurants swap out their usual offerings for prix fixe menus, mandatory Champagne toasts, and too much chocolate mousse. It doesn't have to be that way. Some great restaurants — including a few of New York's best date spots — will serve the menus their customers already know and love. In other words, it will be business as usual at these 16 spots.
Diner
You know it, and you love it. Andrew Tarlow's Williamsburg classic won't be changing a thing for Valentine's Day this year.
Emily
If you decide to go out for that pizza, consider the very popular Clinton Hill spot. Get an affordable bottle of red wine, and split a couple of Matt Hyland's creative pies.
El Atoradero Brooklyn
Denisse Lina Chavez's soulful southern-Mexican cooking, like stuffed meatballs in chipotle sauce and pork ribs in salsa verde, sounds a lot more interesting than chocolate-covered strawberries and heart-shaped whatever.
El Cortez
What's more romantic than piña coladas and taco salad? If you don't want to take Valentine's Day too seriously, head right here.
The Four Horsemen
Forget the Champagne and go get a bottle of sparkling chardonnay from Jura at this natural-wine-focused bar in Williamsburg.
Grand Army
The Boerum Hill bar may be Brooklyn's best first-date bar, but it's a great stop for any date after that, too. Share some raw oysters and prepared seafood dishes like confit tuna, and drink a few of Damon Boelte's cocktails.
Jeffrey's Grocery
All of Gabriel Stulman's spots will stick to their usual menus (while offering a few specials). All of these places are solid options, but the most date-worthy is Jeffrey's, where you'll be able to get your favorite cocktails and dishes like grilled oysters and lobster spaghetti.
Insa
Throw a party for two at Sohui Kim's newish Korean barbecue-and-karaoke palace, where you can start off with beers, brisket, and banchan before belting out your favorite tunes.
Maite
The Underground Gourmet raved about this under-the-radar Bushwick restaurant, which serves dishes like coca (Spanish pizette), gnocchi, and empanaditas with meaty fillings. It's reasonably priced, too, so it's a solid option for those trying not to splurge.
Marta
You could go for Nick Anderer's top-notch thin-crust pizza, but why not spend a little more and get one of the excellent wood-fired proteins like pork shoulder or a whole trout? Other Union Square Hospitality restaurants will be offering both à la carte dining and special menus.
MP Taverna
It'll be business as usual at both the Astoria and Williamsburg locations of Michael Psilakis's modern Greek tavern. Drink beers, eat simply grilled fish and meats, and keep it low-key.
M. Wells Steakhouse
If you're actually in the mood for a blowout feast, foie gras–happy chef Hugue Dufour's steakhouse will more than do.
Peasant
The Nolita restaurant's downstairs wine bar is made for lingering, and the regular restaurant — with its dim lighting, wood-fired oven, and cozy feel — is just right, too. Almost everything will be totally normal, though the restaurant does say they'll offer complimentary heart-shaped panna cotta to diners.
Resto
For a meatfest where you and your date actually get to call the shots, head to this midtown gastropub for some meat and mussels.
Seamstress
If you're looking for solid cocktails and a downtown vibe but call uptown your home base, this is the spot for you. There will be some specials, too.
Timna
How about you head to Nir Mesika's Israeli restaurant and fight over the last pieces of his spectacular kubaneh bread?