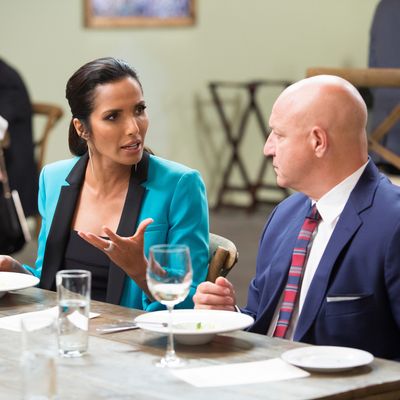 Not feeling it.
Photo: Dale Berman/Bravo
And the battle rages on! Last week, during Restaurant Wars Part One: Lunchtime, both teams produced totally adequate midday meals that earned raves such as "no harm, no foul" and "something I would eat for lunch." But while the humble Gray Team — Marjorie, Carl, Karen, and last-pick Isaac — finished their service without a hitch, the Orange Team bros — Jeremy, Phillip, Amar, and Kwame — accidentally forgot to feed most of their guests. "The way I look at it, we definitely failed lunch service," wails Phillip, blaming executive lunch chef Jeremy. "Lunch is … not as good as I thought it would be," Jeremy allows. "Holy shit," adds rival Isaac, helpfully.
"There was nothing wrong with the food; the food was all nice," Tom soothes. It's just that it was also very boring. "You're playing it too safe," suggests mock-turtlenecked guest judge Bill Chait. Luckily, everyone is about to get a chance at redemption, because dinner service starts in three hours. "It's go time, baby," Jeremy mumbles, a shell of his former self. I understand. I, too, am on a perpetual quest to redeem myself from whatever I did three hours ago.
In the classic style honed by restaurants everywhere over hundreds of years of history, everyone switches jobs right before dinner: Carl takes over executive-chef duties for the Gray Team, while Karen assumes the mantle of general manager. For the Orange Team, Amar will be executive chef, and Phillip will tap into his natural charm and manage front of house. Conveniently, Phillip actually runs the front of house at both his L.A. restaurants, brags Phillip. "I feel really good knowing that our dinner menu is a little bit more complex than our lunch menu!" chirps Carl.
A salad update: You may recall that, last week, Phillip announced his plan to make a strawberries-and-Champagne salad, a dish so delicate and rare that it cannot be described using human language. To date, only dolphins have discussed it. Sensing a brewing disaster, Kwame had naïvely suggested that Phillip might simplify the plating process by mixing olive oil and lemon together in a single squeeze bottle. Sensing criticism, Phillip said no. Tonight, Kwame tries again. "This is a perfect, opportune moment to put the lemon juice and olive oil together," he informs Phillip. "I don't have time to argue about this," Phillip informs the camera. Squeeze bottles it is!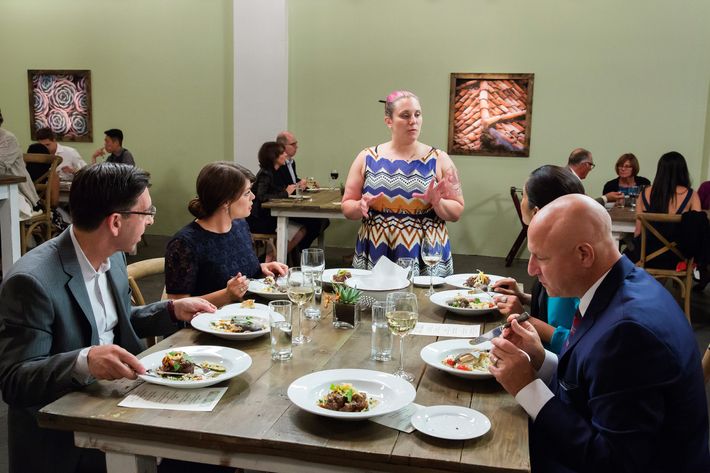 Across the kitchen, Karen is getting nervous. "I feel a little bit like I've taken on more than I should have," she reflects, still frantically extruding sheets of tortellini dough. "I'm making two and a half dishes for service, plus I'm running front of the house." Ever stalwart, Marjorie offers to start training the waitstaff so that Karen can spend more time butchering her trout, and Isaac cheerfully agrees to help her stuff it. This phenomenon, rarely seen in reality shows, is something that animal behaviorists call "cooperation."
Another salad update: Phillip, also in charge of training his staff, is giving them a lesson in the fine art of serving his strawberry syrup, which is also salad. There is just one problem: It is predictably bizarre. "Do you want to put, like, salt on these onions?" asks Kwame. Oh, Kwame, don't ask stupid questions; obviously, it's supposed to taste like that. That is the most difficult part about being a genius, Phillip knows: Nobody understands you in your lifetime.
As the doors to their respective restaurants open, Carl tries to reprise the group's now-classic musical number, "Restaurant Wars." "Restaurant wars!" Carl belts, alone. Carl, I bet, is a guy who really liked camp.
To kick off service at Orange Team restaurant District L.A., Phillip is elated to offer his motley crew of guests a surprise complementary cocktail that is made from pineapple juice and sake and is called the "Bangkok Dangerous." It is a surprise cocktail, because it is stored and poured under the hostess podium. "What kind of alcohol is in here?" says a confused lady dressed in Christmas decorations. "Pretty mild," chuckles her friend, Corporate Lawyer 3.
As the diners at District L.A. fail to get drunk on free pineapple juice, the judges pull up to Gray Team restaurant Palate. "Holy fucking hell," observes Marjorie, plaintively. First up: Marjorie's bread — triumphant as always — followed quickly by Karen and Carl's oxtail consommé with tortellini and tripe, and Carl's snapper crudo, which Padma, for one, is loving. "Wa-hoooo!" she says, decked out in her finest magician chic. "But another crudo?" asks Tom, wearily. For Gail, it is one crudo too many. "They were like, 'I know what I'm gonna do — I'm gonna make — wait for it — a cruuuuuudo!'"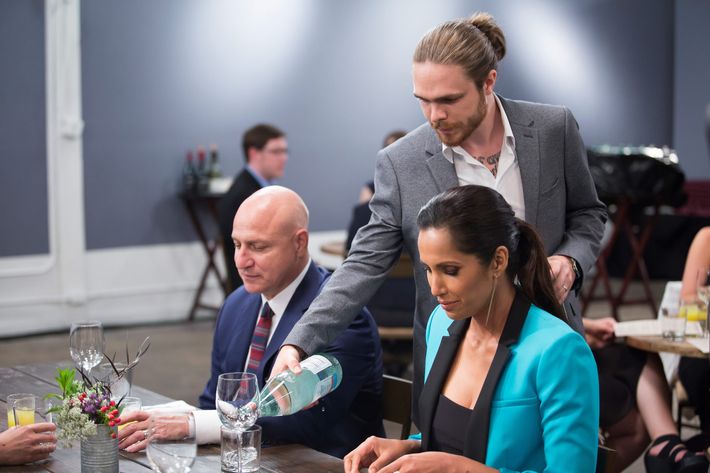 Back at District L.A., Jeremy's rib eye with miso purée is going out raw. "We need to rectify this before the judges get here!" says Phillip, frantic. "I just kind of let everybody execute their dish and do what they believe," says natural leader Amar. That kind of management philosophy always works.
Meanwhile, the judges are basking in the wonder that is Palate, and they haven't even had Phillip's free cocktail yet. "This is definitely the best piece of meat that's been served," Bill declares, praising Isaac's braised lamb. "This is definitely the best service we've had," Bill declares, praising Karen. "Well, we have to get to the next restaurant," says Padma, ever a master of the segue.
"We have your table ready," the host at District tells Padma, "but Phillip Lee would like you to try his cocktail." The way he says this, it is not a choice; it is a threat. "Hoo-kay," breathes Tom, who does not like surprises. "Wooooooow," coos Gail, who does not need this cocktail. It is downhill from here.
Salad update three: After a disastrous salt-foam amuse-bouche from Kwame it is time for the unveiling of Phillip's pièce de résistance: strawberries-and-Champagne salad with arugula and cucumber noodles. It is bad. "Take the onions off, and it's a dessert," complains Tom. "It's also totally unseasoned," Padma points out. Gail is taking it more personally. "It didn't make any sense. It felt stupid. It felt like it had no purpose," she rages. But hey: People said the same thing about Ulysses when it came out, right? "Unfortunately," Bill offers sadly, "it's a mark, in my opinion, of younger chefs that don't have the experience of working in classical restaurants."
Meanwhile in the dining room, Phillip has cornered a polite table and is now explaining his sternum tattoos to a captive audience. "So there's two of them," he says, delighted at the chance to further delve into his favorite topic, Phillip. "One says 'Wolf Am I,' and then below that, it says 'Mother Say You'll Pray for Me.'" The woman he is explaining this to, presumably a lesser AFI fan, looks horrified.
In an unusual twist, everything else is equally disastrous: It is rare, on Top Chef, to see such consistency. Kwame's chicken thigh with cauliflower is "overcooked," "bland," "boring," and "one-note," while Jeremy's artichoke risotto is one of the worst risottos in Top Chef history. "I can just look at the risotto and tell you this is a problem," Bill muses, eyeing a heap of gluey rice. Amar's braised pork belly seems to have been brined in concentrated pickle juice, and Jeremy's rib eye "won't be winning any blue ribbons at the state fair," though Tom gives it a final rating of "serviceable," which is also my father's highest praise. In keeping with the restaurant's general theme, the service is also aggressive and terrible.
"Everybody's happy!" Phillip surmises incorrectly from the kitchen. "I'm not looking forward to what the judges have to say," says Kwame, exhibiting a more conventional relationship with reality.
And yet the moment must come. At the Judges' Table, Tom begins with the good news: Restaurant Wars is now over. "After lunch, it was really neck and neck," Padma purrs. "But after dinner, there was a clear winner for all of us." And the winner is … Palate, by the Gray Team. Tom has nice things to say to everybody: Marjorie's bread was great, and she took on a lot; Karen's dinner service was impeccable, and some of her food was also good; Carl's consommé was beautiful; and Isaac made consistently flavorful dishes while simultaneously guiding his team to victory. Bill does the honors: "One person was really the anchor," he announces, naming Isaac the challenge winner. "AHHHHHHHHHHHHHHHHHHH!!!!" roars Isaac.
Which means it is on to the bad news: The Orange Team's restaurant was a train wreck. "Phillip, I like the fact that you wanted to serve us a cocktail," begins Tom, generously, but the behind-the-podium pop-up bar was bafflingly nutso. "Well, thank god I'm not judged on the cocktail, right?" chuckles Phillip. Fortunately for Phillip, there are other problems; unfortunately for Phillip, they are also with Phillip. "I really disliked that strawberry course," Gail informs him. Did she not understand? Phillip wonders; if so, he will explain it again. The judges were similarly unimpressed with Kwame's amuse-bouche ("it just wasn't amusing"), Jeremy's risotto, and Amar's heavy nacho-gazpacho. Speaking of Amar: As the executive chef, why didn't he do anything? "I don't care how good your team is. If it's not being led, this is the result," says Tom.
"This is the most proud and comfortable I've felt after any challenge," says Phillip, indicating that there will be no surprises. "Phillip," intones Padma, "please pack your knives and go."
Phillip is shocked. But the greatest thing about Phillip is that his spirit cannot be tamed. Wolf, he is. "I came into this competition thinking that no matter what, I'm going to cook flawless food," he says, meditatively. "The judges may like or dislike what I do, but they won't be able to tell me I did it wrong. And I'm going home with them telling me they didn't like it, but I know that I didn't do it wrong." With that, he disappears into the middle distance, leaving a man-bun-shape hole in our hearts.
But soldier on we must, and soldier on we shall: Next week, we're back on the road, and heading to the Bay Area, where Marjorie puppeteers some lobsters and Carl jump-starts his rap career. See you then.