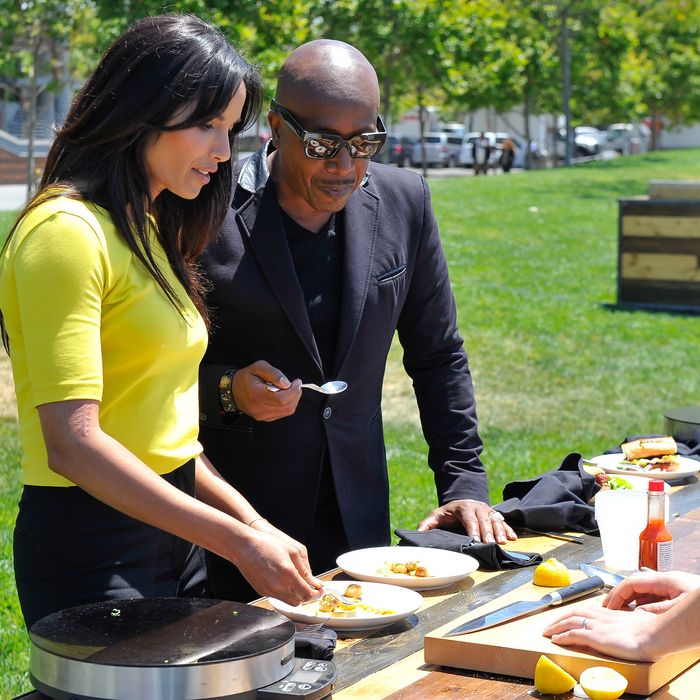 "Rap names should personify who you are."
Photo: Steve Jennings/Bravo
"Guys, Restaurant Wars was awesome," chirps Pollyanna Carl, "but let's, like, blow SoCal, man — let's go up to San Francisco!" After a harrowing two-part battle, seven chefs are back on the road, and somewhere deep in Los Angeles, newly eliminated Phillip is thickening his strawberry sauce.
"I think we're in downtown Oakland," Marjorie observes, as their black minivans pull up in downtown Oakland. "All right! Jack London Square, baby! That makes me happy," cheers apparent White Fang fan Carl. But the thrill of Jack London Square is no match for what's next, because when the chefs arrive on location, they are greeted by none other than Oaklander and hip-hop icon turned Top Chef guest judge MC Hammer. "Who saw that one coming?" asks Isaac, stunned. Technically, I did, but only because I saw the preview last week. "Oaklandish, baby!" cheers Boston native Carl.
In honor of Hammer and his hometown, Padma explains, the chefs will have to come up with their very own Hammer-inspired rap names and then create a dish to express it "both visually and conceptually." This strikes me as a nightmare, and my last name is literally already a noun that is also a food. "Rap names should personify who you are," MC Hammer sagely instructs. "I took the name Hammer, and I made sure it reflected how hard I hit the stage. So that name that you choose is very important."
Taking this advice to heart, Amar rechristens himself "Santana Lovah," inspired by the fact that his last name is Santana and he is a lovah. As a demonstration of his affections, he will be making Chilean sea bass. "My ex-girlfriend, she loved Chilean sea bass," he says, wistfully. "We were together for three years. We're, like, perfect for each other. It's just not the right time for us. I'm too busy, and she wants more commitment." Jeremy settles on the catchy "Spicy J-Rock 305," which represents his dish because 305 is his area code. He'll be making halibut with spicy Dungeness-crab broth; if you want to talk to him about it, don't forget to dial 305 first. Kwame, a.k.a. "Bay-Lish," is making a similar seafood-in-broth concoction. The main difference is that he's putting cream in his sauce, and also he once had a short-lived rap career. "I'm a definitely a better cook than I am a rapper," promises Kwame. "I'll tell you that much." This is something that Kwame and I have in common.
Isaac — now "Toups Legit" — decides to embrace his New Orleans roots for once with a scallops-and-grits combo. Marjorie goes with "Miss Punch-A-Lot" to complement her punchy fried-chicken sandwiches; Karen, who is making hot-and-sour soup, is now "The Pink Dragon," and Carl, who is about to keel over from excitement, assumes a new identity as "Dr. Funky Fresh." "The doctor is ready to get to work," announces Carl, gleefully testing out his new tagline while rolling beef-tartare lettuce wraps. This would also be a good tagline if he ever became a serial killer.
At the tasting, the artist formerly known as Carl debuts his new persona in rhyme. "I'm Dr. Funky Fresh and this is my most delish dish," he raps. "The beef is tartare and the sauce is made from fish / I'm representing TC 13 while staying Oaklandish!" Having achieved a lifelong dream, Carl glows. Not content to let the music stop, Padma demands that Kwame to also rap for Hammer. "Like, who knows if you'll get another chance to be in front of Hammer," she peer-pressures. Kwame is helpless before such power. "Oh god," he yelps, launching into a semi-consensual, semi-musical performance. For Kwame, becoming a chef was the right choice. "That's pretty good, sweetheart," purrs Padma, kissing his cheek. In this way, Kwame has also achieved a lifelong dream. Everyone else gets to serve their food using regular words, which is a relief to us all.
Unfortunately, Kwame's admirable willingness to publicly humiliate himself is not enough to save him from the bottom, along with Marjorie and her not-so-punchy chicken sandwiches and Lovah Amar and his Chilean sea bass. ("I probably would want more than just fish," says MC Hammer, underscoring what is surely one of many differences between him and Amar's ex-girlfriend.) Dr. Funky Fresh, on the other hand, gets the old Hammer seal of approval for his beef tartare, as does Karen, the Pink Dragon, whose soup captured the fiery essence of her name. But the winner is Isaac and New Orleans scallops; true to his name, he is indeed Toups Legit to Quit.
"Well, that was a fun throwback," Padma says, dismissing MC Hammer along with the possibility of his contemporary relevance. "But now it's time to take it back even further." With this, guest judge and giant of California cuisine Jonathan Waxman enters carrying a vintage globe covered in tiny flags. For the elimination challenge, each chef must select a flag representing a different period in culinary history and then create a dish based on that era. Based on knife draw, Isaac, who is on a roll here, gets to choose his era first. Inspired by his own facial hair, he goes with the Vikings. Human puppy Dr. Funky Fresh picks ancient Greece. Amar, who is classically trained, wants belle époque Paris. Marjorie boldly claims ancient India. Kwame takes Beijing circa the Han Dynasty, thus stealing Karen's dreams ("I would have rocked that," mumbles Karen). Jeremy picks the San Francisco Gold Rush. Last but not least, Karen accepts her fate and assumes responsibility for the Empire of Japan.
Having claimed their places in world history, the chefs pile into their now-spacious minivans and head not to Whole Foods but to the San Francisco Public Library for research. Karen brightens at this, because her mom used to be a librarian. We also learn that Karen minored in women's studies.
"I picked the Golden Rush era," Jeremy proclaims, proudly. "Gold Rush," corrects stickler-for-details Marjorie. "It's Golden Rush to me," maintains Jeremy. Jeremy, according to Jeremy, has never been a "book guy"; on the other hand, his school did offer a surfing elective. As he pores over "really awesome" Golden Rush menus, Karen tries to convince herself that Japanese food is basically Chinese food. "This is the same point in time where influence from China comes into play," she points out, with resolute brightness. "So I'm excited — this is definitely in my wheelhouse." Across the library, Marjorie frantically looks for information that does not exist.
Armed with nothing but two hours' worth of haphazard research, a dream, and a selection of era-appropriate specialty proteins, the chefs hit the kitchen. Marjorie still isn't totally sure what they ate in the Indus Valley in 1300 BC, but she does know they cultivated wheat and liked lentils. Lamb kabobs it is! Amar is worried because the belle époque seems easy, but accordingly has to be perfect; Karen is worried because Japan still isn't China; and Marjorie is worried because she just realized she's cooking Indian food for Padma. Also, her parathas are burning. As though he hasn't had enough embarrassment for one day, Kwame offers Tom a sample of his Han Dynasty duck, which turns out to be raw. Otherwise, though, everything is going great.
As the chefs plate, Padma, who is dressed in what appears to be a country-western tablecloth, gathers her all-star judging panel before her in the grand dining room. First up: Carl's ode to ancient Greece, marinated mackerel and calamari with olives and grapes. "I really love your dish," muses guest judge Mourad Lahlou. "It's reminiscent of something that you would have in Greece, which is the abundance of food on a plate." I agree; abundance of food on a plate is my criteria for most meals. The judges are similarly charmed by Isaac's Viking cumin-and-mustard-crusted venison, which is served on wooden planks and is accompanied by caramelized onion groutr (groutr is Viking barley porridge; why it is not available in artisanal Brooklyn is beyond me). They agree that Kwame's coriander-crusted duck with black-sesame duck jus, eggplant, and lapsang souchong cream is delicious, while Amar's Parisian squab with foie gras and sweetbreads is nothing less than a culinary triumph.
But if Top Chef has taught us anything, it is that we cannot all be winners. Marjorie's ancient-Indian feast is a general miss, despite her balanced spicing and endearing personality. According to Padma, the paratha is unforgivably greasy; according to Jonathan Waxman, the kabobs are too rare. Jeremy, who has spent most of the episode insisting that what Golden Rush miners really want is a delicate crab broth garnished with a single halibut chunk, discovers that his is a minority opinion. "I'm a miner!" cries Jonathan Waxman. "I spent a lot of money for this. I wanna see some crab, dude!" Another thing Jonathan Waxman wants to see is actual Japanese food from Karen, who has delivered an overly complicated soba noodle and beef extravaganza steeped in modern Chinese influences.
Deliberation is swift; judgment is kind. "I know you're all nervous because the table was packed with a lot chefs who were expecting a lot, and I think they're all really impressed, so nice job," Tom assures the chefs. On top: Kwame, for his boldly minimalist approach; Carl, for his pleasantly sweet mackerel medley; and Amar, whose impeccable technique wins him the challenge. "Yesssssssssss!" beams Amar.
Even the losers cooked well, Tom begins, gearing up for the moment of truth. Marjorie is facing elimination for her oily paratha and inadequately charred lamb; Jeremy is in the running for a fussy chowder unsuitable for miners. But in the end, it is Karen who is sent packing. "It was an honor to cook with every single one of you," she declares through tears. And then there were six.
Next week: the return of Phillip, a fast-casual restaurant challenge, and a special guest appearance from my childhood idol, Martin Yan. See you then!