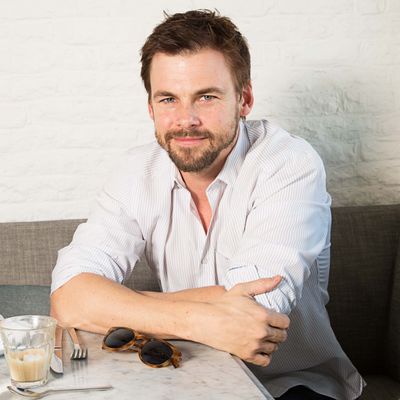 "This was a get-it-together-you-idiot day after the long weekend."
Photo: Bradley Meinz
Tommy Dewey — whom you may have seen in Casual, The Mindy Project, and Code Black — grew up in Birmingham, Alabama, and admits he still has some self-proclaimed "redneck-y" food habits, like mixing chicken fingers with spicy tuna rolls. He also believes fully in the maxim that breakfast is the most important meal of the day, and takes time each morning to eat something hearty (preferably including bacon) while reading over scripts. This week, that meant bagel sandwiches, breakfast tacos, a pseudo-healthy rice bowl, and even two consecutive brunches ("not the first time I've done that," he says). Read all about it in this week's Grub Street Diet.
Thursday, February 11
I started with a veggie omelette, bacon, and wheat toast from catering. Many a long workday starts with this combo, and I've conveniently convinced myself that bacon makes me a better actor, so this meal comes guilt-free.
Maybe it's because the bacon takes me back to my childhood. My mother served us some ridiculous stuff. She would get Krispy Kreme doughnuts early in the week, and then, by the end of the week, she'd take the stale ones and butter and toast them. Was she trying to kill us? And there was a lot of bacon. My mother has something called a warming drawer, and there's always a stack of bacon that she prepared first thing in the morning. So I'm not being a total jokester. It's just a good way to start the day.
Lunch was grilled chicken and a salad from the salad bar. When left to me, the salads get baroque — I'm talking ten-plus ingredients here, and banana peppers and blue cheese are almost always involved.
The day ended with tomato soup at craft services. A full day of eating for free. Oh, and some Granny Smith apples joined the fun throughout the day.
Friday, February 12
I began with an elegant meal with a view of the 405, from the driver's side of my car — a Noah's Bagels Santa Fe breakfast sandwich on a toasted nine-grain bagel. This is one of my go-tos, and I won't apologize for it. I keep things pretty local. I live in Marina del Rey. This place Joni's is down the block, essentially, from Noah's Bagels, and one morning the Joni's line was too long, and I was starving. I got the sandwich with egg whites, turkey sausage, and hot sauce of some sort, and it stuck.
Lunch on set was an arugula salad with artichoke hearts and grilled chicken. Kept it light, since Jason Reitman made me eat several waffles over the course of a scene earlier in the day. We have a little callback to the waffles in season one. And, incidentally, our wrap gift from Hulu was waffle-makers. Also, kudos to our props department — they're very good waffles.
Dinner was a variety of sliders at the Code Black wrap party. Dessert was wine. Second dessert was whiskey.
Saturday, February 13
Back-to-back brunches (this is not a joke) at two of my favorite spots in Marina Del Rey: calamari and chicken wings at Sunny Spot, followed by prosciutto, burrata, and scallops at Scopa. Stepping back, I realize that these may have been back-to-back lunches, but let's not nitpick. Fun fact: These establishments are next door to one another. We knew midway through the first meal, which wasn't great, that we'd be following up with the place next door.
We were so glutted. The very idea of doing back-to-back meals induced enough guilt that I didn't eat dinner that night.
Sunday, February 14
More brunching, this time at Superba Bread in Venice — potato-and- mushroom hash, avocado toast, and the "Green Drink," which was obviously super healthy. How else does green make it into the name? That place is killer. It has moved to the top of the list for me.
Dinner was at a friend's house: cheese and charcuterie (a recurring theme in my life), baked salmon, and a quinoa salad. The food and the company were both excellent.
I do cook a little bit myself. I moved into a new spot in August, and immediately I jumped into work for the show, and then was asked to come to Code Black. I have all new cookware, and very little of it has touched the stove. But my Big Green Egg, which is a giant smoker, is my real passion. I love smoking meat. I have a butcher in Santa Monica. I know my way around an omelette, but I can't get as excited as I do with the Egg.
Monday, February 15
It was Presidents' Day, so I honored our leaders by indulging in several breakfast tacos from HomeState in Silver Lake. It's a good spot — it feels hole-in-the-wall-y, though there are lines out the door.
After a photo shoot (for this!), I had a coconut water and lime elixir from Juicebox on Abbott Kinney and, later, a delivered dinner of chicken schnitzel and a chopped spinach salad from Sauce in Santa Monica. It got me through a week's worth of DVR'd TV. If I get home late, I call for delivery. We live in an era of all these food apps, where you just scroll through 100 places. That was a pretty lazy meal.
Tuesday, February 16
I started with the Four Season's bowl — egg whites, brown rice, avocado, and black beans — from Joni's. This was a get-it-together-you-idiot day after the long weekend. The bowl has the appearance of being healthy, but I didn't tell you how big it is. Joni's is a chill place. The guys who run it know my name — that's pretty great, I think.
Lunch was another elaborate salad on set, and dinner was spicy tuna hand rolls and chicken fingers from Whole Foods. That's the kind of surf-and-turf meal that says, "This is a seriously classy guy." That was a very redneck-y meal. I read the scenes for the next day and fell asleep.