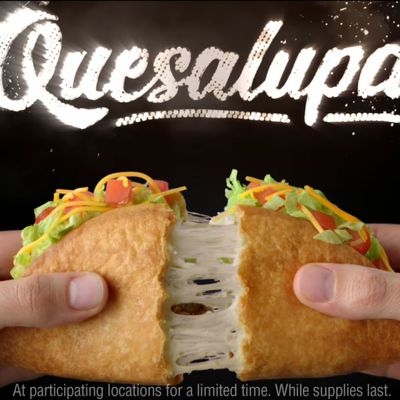 Disappointingly, Taco Bell's new mystery food item is not a green brick after all. Surprising almost no one, it's a Quesalupa, the thing everybody predicted it was going to be, and it's available starting today.
Here was its big Super Bowl reveal, in case you missed it:
The chain has found no shortage of superlatives for the Quesalupa (its "biggest food creation yet," its "most craveable innovation yet," something "#BiggerThanEverything"), but isn't saying much about what's in it. Here's a spoiler, then: It's essentially a cheese quesadilla that got the chain's customary new-product maneuver, then filled with ground beef. The -lupa on the end is because it's also basically a Chalupa, just with melted cheese inside its puffy shell. If this seems confusing (that a new food could be like a preexisting menu item while being equal parts another, very different menu item), now would be a good time to recall that everything at Taco Bell is six repackaged ingredients: a tortilla, some meat, shredded cheese, sour cream, and diced lettuce and tomatoes. That means this item could've just as easily been the new cheese-stuffed Crunchy Taco Supreme. Or a new Gordita, stuffed with cheese and then deep-fried. Or even an exciting new Fiesta Taco Salad, also once stuffed with cheese, half of its lettuce removed, and folded in half.
In other words, the Quesalupa puts Taco Bell one step closer to its goal of menu singularity, where every imaginable use of tortillas, ground beef, and cheese is available for $2 or $3.