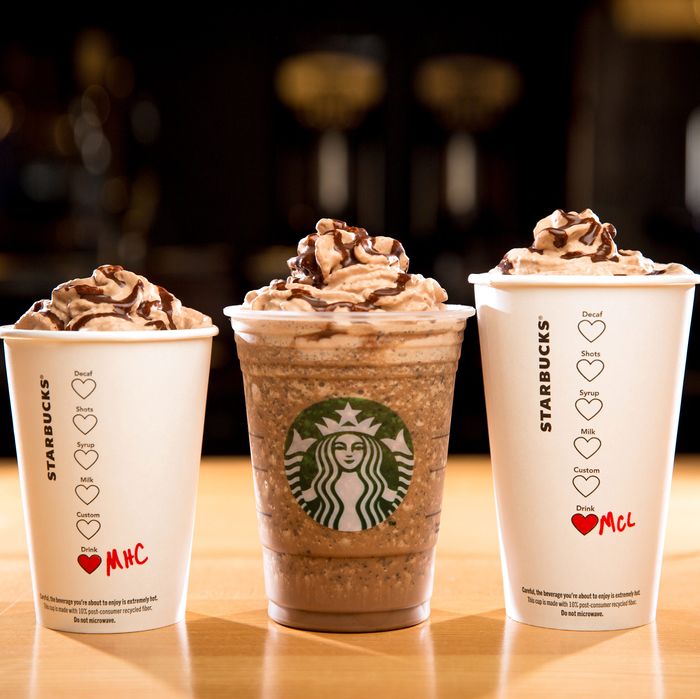 Real, if you just asked, "How popular?"
Photo: Joshua Trujillo/Starbucks
For Valentine's this week, Starbucks rolled out a trio of festive drinks — there's a Molten Chocolate Latte with "chocolatey chips" melted into the espresso, a Molten Chocolate Frappuccino with "chocolatey chips" blended in, and a Molten Hot Chocolate with "chocolatey chips" folded into some steamed milk.
Wait — with chocolate-what chips?
Turns out that as far as the FDA is concerned, the new drinks' ingredients are technically chocolate-ish, not chocolate. That means the chain can't use the word people commonly associate with little pieces of chocolate. One of Consumerist's readers noticed the odd terminology, and the blog writes that this is "all the federal Food and Drug Administration's fault," but that's only true in the sense that the agency decides what is and isn't technically chocolate. Starbucks gets to choose which chocolate-flavored bits it uses, and it went with some that can't, per the FDA's standard, use the word chocolate on the label. (Fans of the Double Chocolaty Chip Frappuccino finally have an explanation for that drink's cutesy name, too — and yes, there's no e in it.)
The FDA's standard for sweet chocolate (that is, not milk chocolate or bittersweet chocolate, which both have different standards) is that it must contain "not less than 15 percent by weight of chocolate liquor." Chocolate liquor is chocolatier-speak for liquid cocoa mass (for the booze version, it's liqueur). Here, now, is the ingredient list for Starbucks's chocolatey chips:
Confectionery Coating (Sugar, 100% RSPO Palm Kernel And Palm Oils, Cocoa Processed With Alkali, Soy Lecithin, Vanilla, Milk), Cocoa Processed With Alkali, Cookie Crumbs (Unbleached Unenriched Wheat Flour, Sugar, Palm And Palm Kernel Oil, Cocoa Processed With Alkali, Chocolate Mass, Salt, Baking Soda, Soy Lecithin, Natural Flavor), Chocolate Mass (2%), And Salt.
Other ingredients include versions of cocoa as well, but "chocolate mass" comes in late and low, at 2 percent. For comparison, here's what's in a bag of Hershey's semisweet chocolate chips that you can buy at Walmart for baking purposes:
Semi-sweet Chocolate (Sugar; Chocolate; Cocoa Butter; Milk Fat; Soy Lecithin; Vanillin; Artificial Flavor; Milk)
Consumerist asked Starbucks why they didn't use actual chocolate chips, and the company's rep explained: "This is the best recipe for ease of melting in our Molten Chocolate handcrafted beverages and blending into Frappuccino Blended Beverages." The translation seems to be that real chocolate chips are pricey for a mass-produced drink that can only sell for $5.