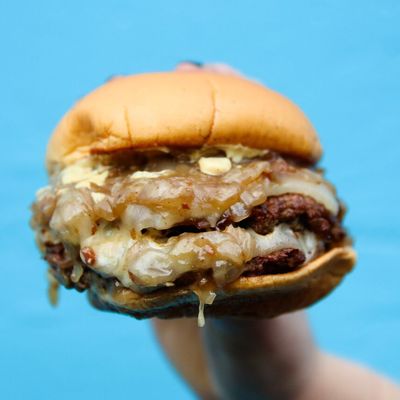 Why are you trying to make us jealous?
Photo: Holly Liss
As Shake Shack expands into more cities across the country, it's started creating tribute burgers as a way to ingratiate itself with the locals and maintain that little-guy luster. For its Austin arrival, the chain debuted the Lockhart Link, made with jalapeño-cheese sausages from barbecue icon Kreuz Market. Now, for its big Los Angeles splash, it's unveiling a brand-new, exclusive creation: the Roadside Double, which culinary director Mark Rosati says is inspired by the French dip at Los Angeles institutions Cole's and Phillipe.
Set to be a permanent menu item at the West Hollywood location when it opens this spring, the Roadside Double comes topped with Swiss cheese, Dijon mustard, and onions cooked with bacon and beer. It sounds delicious, but there's one big problem: This burger will not be available in New York. (Even the Lockhart Link burger had a weeklong run at the shop's east-midtown store.) The slight feels particularly egregious given that this city is in need of a few more good French dips. It's also a sign that Shake Shack is truly starting to move away from its NYC origins, developing its own personality now that it's been spending some time on the West Coast. But New York needs this burger. Bring it home, Rosati.
[FWF, Eater L.A.]