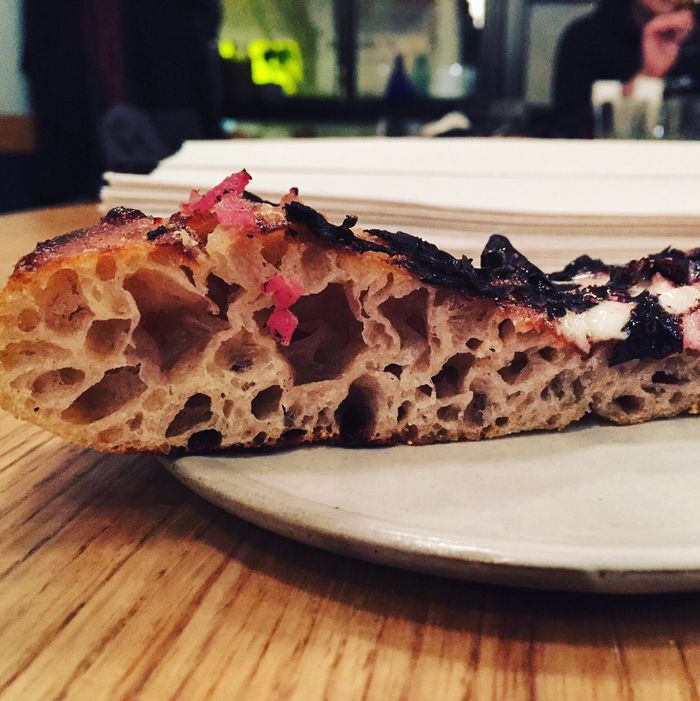 Serious fermentation.
Photo: Courtesy of Semilla
What happens when one of New York's best bread bakers tries her hand at pizza? Find out February 28, when Semilla's Pam Yung will be serving naturally leavened pan pizza by the slice, or al taglio, to accompany natural wines from Partida Creus, a winery run by an Italian couple living in Catalonia, Spain.
Yung is using the same levain and overnight fermentation that she employs for her spectacular sourdough loaves. Her aim, she says, is an airy, open crumb and a thin and crisp crust. Although she's still experimenting with the blend of flours, the toppings are mostly decided: There will be a red pie topped with locally made smoked mozzarella and Pecorino; a ham, cheese, and truffle pie; a white pie with housemade crème fraîche, guanciale, arugula, and citrus zest; and a pie loosely inspired by a Spanish tortilla, garnished with potato, egg, and onion.
In addition to rarities from the visiting winemaker — some poured from large-format bottles — the entire Semilla list will be available. Wine and food will be sold à la carte, and the party is standing-room only. For more info, go to semillabk.com.