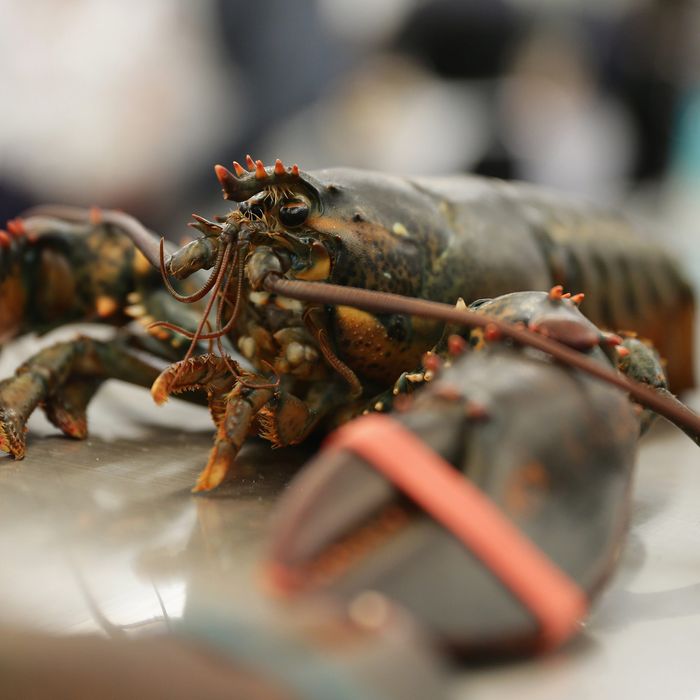 Good news for this guy, at least.
Photo: Neilson Barnard/Getty Images
A new lobster-meat exposé by Inside Edition is going to prove awkward for some big-name seafood spots around the country. Reporters visited 28 restaurants for the investigation, which CBS aired Monday night, and the places include Red Lobster, classic joints in Little Italy, and Nathan's on the Coney Island boardwalk. Almost all of them had issues with their priciest crustaceans being entirely lobster (or in several cases, being lobster at all): The program's team ordered dishes supposedly containing the shellfish, then sent the meat off for DNA testing. Thirty-five percent of the samples had cheap fish substitutes like whiting or pollock.
Seinfeld's the Original SoupMan was the only place that put 100 percent lobster in its purported dish (a famous bisque). At Nathan's, the lobster-salad sandwich was all whiting. Reporters also tried out the lobster ravioli at Sofia's in Little Italy, and its single-ingredient filling ended up the biggest stretch of all: cheese. Red Lobster's eponymous fish has actually been suspicious for years, but several cups of the chain's lobster bisque were tested anyhow, and, no surprise, they turned out to contain either lobster's quasi-cousin langostino or a mix of part langostino, part lobster.
Reps told Inside Edition they're seafood pros at Red Lobster, and as any expert would understand, the bisque has several types of fish because lobster's seasonality "can fluctuate." The fact that some soups were unfortunately all langostino was dismissed as "what we call 'the luck of the ladle.'"