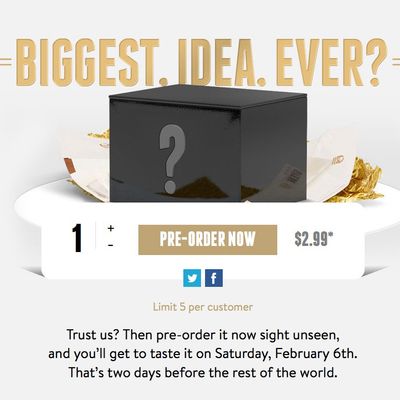 Weirdly enough, Taco Bell is offering the option to "blindly preorder" a new mystery item it's been plugging for weeks, sight unseen. The product's big unveiling is Sunday during the Super Bowl, and it hits stores the following day, February 8. But if you preorder this pseudo-Mexican food doohickey now, Taco Bell locations will let you pick it up Saturday afternoon, two entire days early.
The Mad Libs–style press release the chain put out in the first week of January merely teases that "a ████ and ████ are coming together" to create Taco Bell's "biggest food creation yet." But there's almost zero doubt that it's just a cheese-stuffed taco the chain's calling the Quesalupa.
Taco Bell is staying in character, though. The ad team merely handed confused spokesmen James Harden (the NBA player) and Giorgio Tsoukalos (an "alien expert") a green brick to hold in their respective spots:
Still, there's about a 0.1 percent chance it's not a Quesalupa, and the funny thing is: People really want to know for sure! They're running around trying to "uncover further details" and busy scouring the allergen info's ingredients list (again, all signs point to a cheese-stuffed taco). In other words, Taco Bell has won.