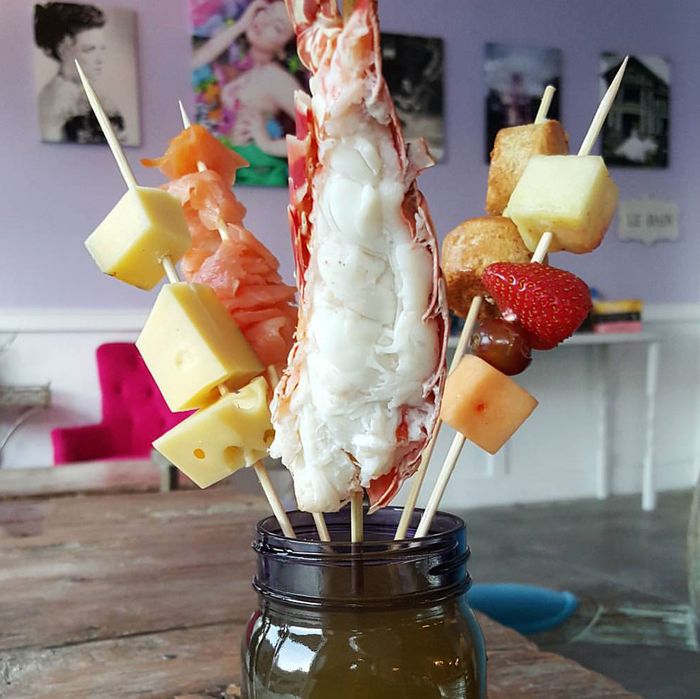 Oh, there's cheese and fruit, too.
Photo: Nectar Wine Bar & Ale House/Facebook
Once upon a time, in a more innocent age, decent and respectable citizens could go into their local neighborhood restaurants for brunch and reasonably expect that the only cocktail "garnished" with nonsense like a lobster tail or a whole chicken would be the Bloody Mary. At this point, it's just an accepted fact that the once-proud day drink has become a canvas upon which bartenders and owners inflict their worst ideas.
But, last week, a San Antonio restaurant called Nectar Wine Bar and Ale House unleashed the so-called "Ultimate Mimosa." There is no reason to mess with the otherwise ideal combination of orange juice and Champagne, a lovely drink when made with high-quality ingredients. But that's exactly what Nectar's staff has done, serving this drink in a tinted mason jar and garnishing it — if you want to call it that — with caviar, cheese, fruit, half a lobster tail, a muffin, and smoked salmon. The price tag: $28.
We've already lost Bloody Marys and milkshakes to Instagram-fueled lunacy. Now mimosas have fallen, too. It's probably only a matter of time before someone breaks out a Manhattan with a spare rib dangling off the glass.