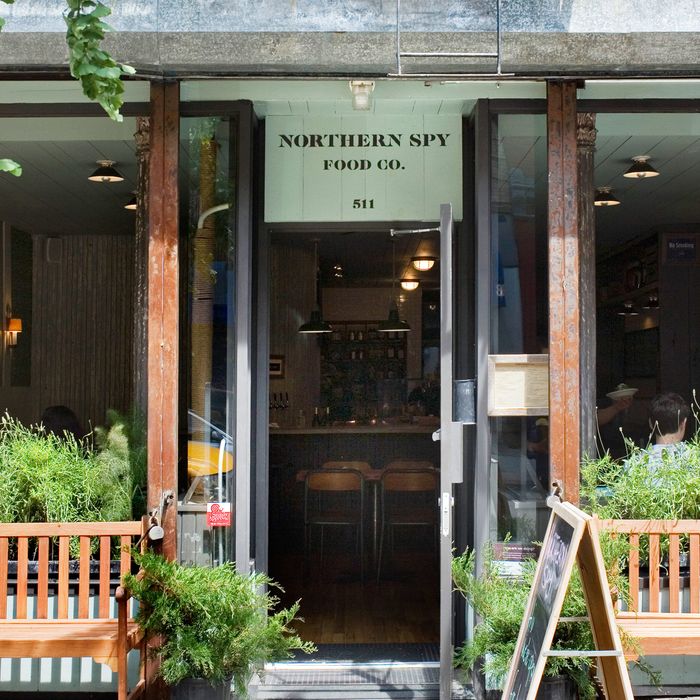 "We're hanging it up while we still have the buttons on our pants."
Photo: Konstantin Sergeyev
This one seriously stings: Northern Spy Food Co., a beloved East Village restaurant that championed locally sourced ingredients before it became super trendy to do so, will permanently close on February 17 after six years of business. Owner Chris Ronis writes:
We've had a great run and are very proud of what we accomplished in this space in the last six years, but 2015 was a tough year and we did not manage to pull the nose up to restore the flight altitude we once enjoyed. We're hanging it up while we still have the buttons on our pants. The upshot we have about two weeks left before it's lights-out for Northern Spy, with our final service being Wednesday, February 17th.
Since the very early days, Northern Spy was an amazing and surprising place — busy and beloved, cramped and ad hoc, constantly evolving, always warm and welcoming. A huge thank you goes out to every customer who ever set foot in our restaurant. It has been our pleasure to cook and serve and to get to know you.
In 2014, Northern Spy lost both its executive and pastry chefs, and hired Pete Lipson. It's the platonic ideal of a neighborhood restaurant: excellent comfort food, kind staff, and a warm, welcoming vibe. At least its many regulars will have time to eat one last serving of pork sticky rolls.