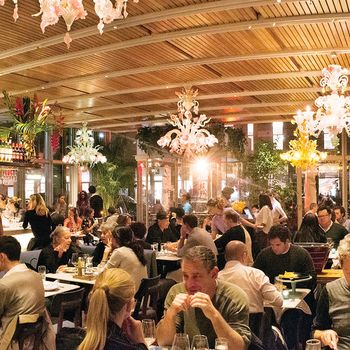 Santina will be a lot less crowded on Sunday.
Photo: Tirzah Brott/New York Magazine
As you no doubt know, this Sunday marks the arrival of Super Bowl 50. For most people, it will be a chance to eat too many nachos and watch the Broncos take on the Panthers. For people in the hospitality industry, it is typically one of the all-time slowest nights of the year. And it's great news for people who either don't care about football, or plan to just watch the game later on their DVRs, because it means you can get in to basically any restaurant in town and the staff will be so grateful to see you. Many of the city's hottest spots have more available reservations than normal, and waits for walk-ins will certainly be shorter (or likely nonexistent). Here are 20 spots where it will be business as usual on Sunday and where there is, at the moment, plenty of availability.
Lilia
Missy Robbins's brand-new Italian spot has been buzzing since it opened earlier this month, and the tables have been filled pretty much all night, every night. (The spacious bar, FYI, offers ample room for dinner.) Plenty of reservations are available from open to close on Sunday, so go find out why everyone is raving about the wood-fired clams and cacio e pepe–like malfadine.
Babu Ji
If you haven't made it to Jessi and Jennifer Singh's Indian restaurant, it's probably because you were quoted a wait that would have taken you past your bedtime. Consider this your opportunity to sneak in and finally try the potato croquettes and butter chicken.
High Street on Hudson
The Philadelphia import is New York's hottest restaurant right now and just launched dinner service last week. You likely won't have an easier go at getting in for a long time, so go eat their excellent bread and try out dishes like razor clams with habanero buttermilk.
Dimes
The Super Bowl is mostly about consuming as much meat and beer as humanly possible, but more health-minded people can head here for something much lighter.
Bar Goto
Just because you aren't watching the game doesn't mean you don't deserve a drink, so get a few of Kenta Goto's excellent Japanese-ish cocktails. The food is equally impressive, so you can make a meal of it.
Nishi
Momofuku's Korean-Italian mash-up is still in experimentation mode, but you can expect fusion dishes like that killer ceci e pepe with fermented chickpea and really good desserts. Momofuku Nishi's reservations are currently booked for the night, but the place always accommodates walk-ins.
Bruno
Last year's most polarizing pizza place is still going strong. There are plenty of reservations available all night long on Sunday, too, so if you don't feel like rolling the low-risk dice on the pepperoni pie, snag one of those.
Llama Inn
Spend your night feasting on this modern Peruvian restaurant's creative take on lomo saltado, the beef-tenderloin stir fry with French fries.
The Cecil
Head up to Harlem and make a night out of chef Joseph "JJ" Johnson's Afro-Asian-American menu. That smoked chicken gumbo sounds about right.
Upland
It's never a bad time for Justin Smillie's excellent short-rib dish for two, but Sunday will be a better time because the crowds will surely dissipate, meaning you can focus all of your attention on the crisp maitake mushrooms and always-fantastic pasta with chicken livers.
Untitled
All of Danny Meyer's Union Square Hospitality Restaurants (except the Flatiron location of Blue Smoke) will be game-free. But maybe it's time, if you've somehow avoided it so far, that you finally went to the Meatpacking District for Michael Anthony's excellent seasonal cooking. Then again, hitting the permanently mobbed Gramercy Tavern on a slow night is never a bad idea, either.
Acme
Scoring a table at the scene-y downtown restaurant will be easy, so go check out its revamped French-Italian bistro menu.
Santina
Now's your chance to get a prime-time slot at the Torrisi boys' coastal Italian hit, which, like their other restaurants, will remain open. Get the cecina, eat your vegetables, and pretend you're somewhere much warmer.
The Nomad
Daniel Humm's whole roasted chicken for two is an excellent way to start off your week; it'll just be easier to get it without having to walk in.
RedFarm
Sunday is for Chinese food, and Monday is Chinese New Year, so go celebrate with this restaurant's modern Chinese-American dim sum, which invariably means at least a couple orders of the Pac Man dumplings.
Reynard
All of Andrew Tarlow's restaurants will be playing it cool, though Marlow & Daughters is offering football-specific specials, but you might as well take the opportunity to spoil yourself with a meal at Tarlow's Wythe Hotel restaurant. Plenty of tables are available, so go and get yourself one of those excellent house-butchered steaks.
The Clocktower
If you're in the mood for some retro opulence — think roasted skate, duck à l'orange, and massive steaks — head to Stephen Starr's restaurant in the Edition Hotel.
Noreetuh
The East Village Hawaiian restaurant is known for its impressive wine selection, so go splurge on a bottle to go with your pork croquettes and garlic shrimp.
Estela
It's only open until 8:30 on Sunday, but as long as you don't want to do a late-night meal, you can definitely still snag a reservation. You know you've been thinking about Ignacio Mattos's mussels en escabeche.
Little Park
The fashionable, vegetable-centric restaurant from Andrew Carmellini continues to impress, so go get yourself a seat on a night when everyone else is staying home. All other Noho Hospitality Group restaurants — like Locanda Verde and the Dutch — will be ignoring the game as well, though Bar Primi is offering a special takeout menu.