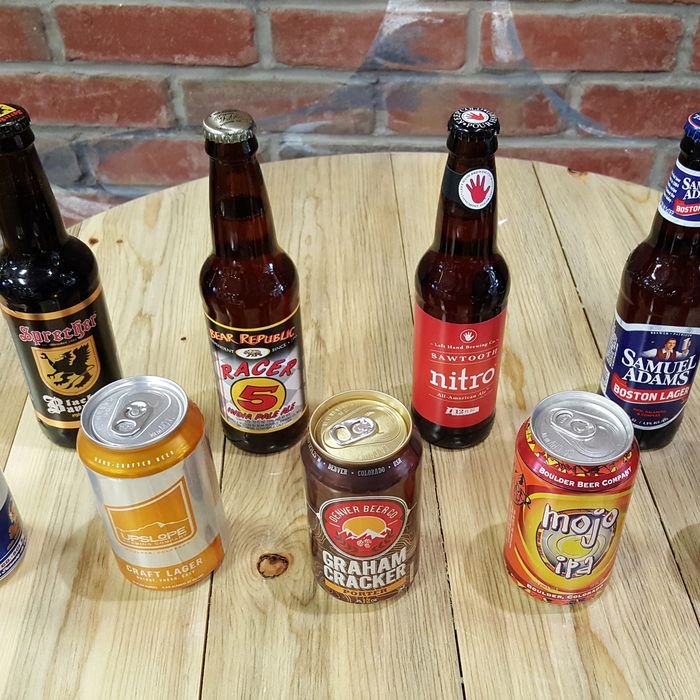 Manning's haul from the "care pack."
Photo: Brewers Association
The beer allegiances of anyone whose Super Bowl victory plan boils down to "I'm going to drink a lot of Budweiser tonight … I promise you that" are pretty unambiguous, but craft beer always loves itself a good underdog fight. Perhaps not surprisingly, on Wednesday the industry's trade group, the Brewers Association, mailed Peyton Manning a postgame "care pack" of beers whose distributors he doesn't own stakes in.
Brewers Association executive Julia Herz explains:
While the feat did indeed earn Mr. Manning the right to kick back with his teammates for a beer or two, the seemingly shameless plug of the World's largest beer company made many in craft beer land confused.

…

So, the Brewers Association … put together a care package for the talented quarterback in hopes of helping him find another post-game refreshment. Since Peyton happens to play in one of the most beer-centric states in the nation, we made sure to include a good number of beers that were local to Colorado in addition to a few other classic and approachable options from around the country.
It was actually two care packs — one to Broncos headquarters, and one to Manning's agent. (A really cynical person would point out a third to his wife also might've been a safe play.) The packs contained ten beers each, including six from Manning's own Colorado: Sprecher's Black Bavarian, Dry Dock's Apricot Blonde, Upslope's Craft Lager, Steamworks' Colorado Kolsch, Beer Republic's Racer 5 IPA, Sam Adams's Boston Lager, Boulder Beer's Mojo IPA, Left Hand's Sawtooth Ale Nitro, Full Sail's Session Cream Summer Ale, and Denver Beer Co.'s Graham Cracker Porter.
Of the selection process, Herz says: "I handpicked them out yesterday with the idea of variety, style diversity, sessionability because Budweiser's a brand that's very drinkable and sessionable and also wanting to stretch his palate out further." The group also included a letter pleading with Manning to come in for a chat at his local microbrewery sometime. He seems pretty content with his King of Beers and Papa John's, though, so everything about this whole deal sounds like a tall order. Either way, thanks to Manning's plug, the "macro brew" is faring infinitely better after this Super Bowl than it did the last go-around.