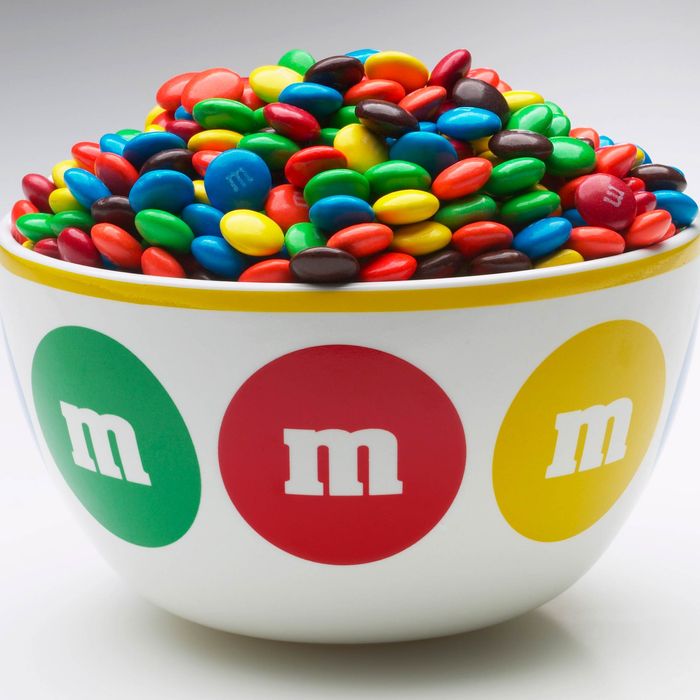 You're going to get a lot more tan ones.
Photo: Envision/Corbis
Mars — maker of all sorts of mass-market candy — is the latest company to announce it's removing all artificial dyes from its products in an attempt to "meet evolving consumer preferences." Some Mars products are already free of fake colors, but that practice will now expand to Mars's entire line of chocolates, gums, candies, and other food and drinks, including M&Ms;, Life Savers, Skittles, and Starburst — all things that are kind of built on the premise of being artificially, appealingly Technicolor.
When General Mills announced it was giving Trix cereal an all-natural makeover, the results were obvious. Mars, however, says its changes will take five years to fully implement because they want to work closely with suppliers to find natural alternatives capable of maintaining the "vibrant, fun colors" customers expect when they open these bags.
It all makes you wonder if it's even worth it. These are the ingredients in Skittles: sugar, corn syrup, hydrogenated palm kernel oil, citric acid, tapioca dextrin, modified corn starch, natural and artificial flavors, titanium dioxide, red 40 lake, yellow 6 lake, yellow 5 lake, blue 2 lake, blue 1 lake, yellow 6, red 40, yellow 5, blue 1, sodium citrate, and carnauba wax. M&Ms;, meanwhile, are made of: milk chocolate, sugar, cornstarch, corn syrup, dextrin, blue 1 lake, yellow 6, red 40, yellow 5, blue 1, red 40 lake, blue 2 lake, yellow 6 lake, blue 2, and gum acacia.
If anything, the point of candy is that it can't occur in nature: